QSlide on the LG G2: A quick way to access frequently-used tools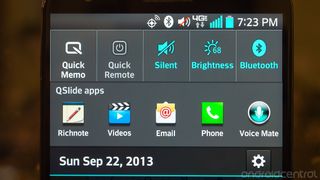 LG is using the G2 as a platform for launching many new software features, one of which is QSlide — a new way to use small utility apps quickly without pulling you away from whatever else you're doing. Not to be confused with "Slide Aside" (that's a full-app multitasking feature), QSlide is a collection of apps launched from the notification shade that pop up over your current activity so you can multitask in a different way.
Simply pull down the notification shade and tap one of the handful of available options under the quick settings: Richnote, Videos, Email, Phone, Voice Mate, File Manager, Calendar or Calculator. A small windowed app will pop up without exiting your current app, letting you quickly get a task done and go back to the first. If you need to reference something else while you have a QSlide app open, just use the slider at the top of the window to change the transparency.
Once you've set the app to be transparent, you can interact with anything that is "underneath" it just as if it wasn't there. Go copy text, reference a web page or whatever else and then come back to your Richnote or Calculator entry. The apps can also be expanded to a full screen with just one tap. QSlide is an interesting feature that can save you from having a "tools' folder on your home screen for these common functions. Hang tight after the break for a video walkthrough of using QSlide on the LG G2.
Andrew was an Executive Editor, U.S. at Android Central between 2012 and 2020.
My opinion on the G2 keeps getting better and better! It's amazing hardware and brilliant features make it better then the S4 and HTC One in most aspects. It's sad that this device isn't getting as much hype as it's competitors.

It is undoubtedly better than the S4. The One, well, it will always hold a special place in my heart.

how is it better than the s4 that's just fanboy talk Posted via Android Central App

Bigger battery, bigger and better display, faster processor than the s4. Posted via Android Central App

numerous ways; no lag, which was a biggie to me. Much faster, better UI and on screen buttons are better. Knock on/off, it seemed to me when I had (Doh, a user who actually had it!) the s4 that the it was loaded with features that were gimmicks and cool for the first day. LG kept it to a minimum. Camera is way better in my opinion. I could never get a good pick from my s4.

I Hate LG ui. It has good features, but they copy Samsung too much. Posted via Android Central App

You can customize the UI to some extent by using custom launchers.

What you really just said: "You can customize the UI to some extent by using a different UI entirely"

I picked the G2 up on launch day and fell in love. I can't believe the sub-par/bad reviews it's getting from other sites. It's an incredible device really. Very intuitive with how I use it daily.

There have been some extremely positive reviews as well, from places like gsmarena and whathifi, among others, for example. I think the negative reviews just might be standing out though because they were SO negative. Speaking particularly about the Arstechnica, Gizmodo and Android Police reviews. The best review in the world however is your own.

Had the g2 from its release date, absolutely stunning phone, no lag, extremely fast, great battery life and beautiful display, what else could you possibly ask for Posted via Android Central App

I got a Verizon G2 last week and one of the first things I did was completely get rid of the absolutely worthless QSlide shortcuts in the notification drawer. LG put a ton of bloat (I'm sorry, "features") on this phone that really are better when they go away. To get rid of this thing that provides no value and wastes space in your notification drawer, go to the very right of the toggles also in the notification drawer, hit Edit, then check the box for QSlide. This will add a QSlide toggle, which you toggle off, and you gain back the notification drawer space from QSlide. You can then un-check the QSlide toggle so you never have to see it again. I love this phone, but only after I spent a couple hours de-bloating it. Would have much preferred the Nexus 5 but since it's not coming to Verizon the G2 is the best I could do.

Hopefully you will be able to unlock the bootloader on it soon as well. Posted via my thumb(s) and the Submit button

wow you're lucky that's pretty easy way to kill qslides... on the g pro you have to use cwm and flash a custom zip file to disable qslides :(

I doubt the Nexus version will be as similar as people think. I'm really liking this phone. I would leave VZW a little early if only it had an SD card for my music. I even tried uploading my files to G Music to get a way from local storage but that didn't end well. Google somehow streams edited versions of my songs. SMH. Not sure what I will do.

I think streaming the edit version of a song is a settings thing.

When I had the gs4 nova was a must. I feel no major need for a launcher on this phone. I really don't get why some people don't like the ui here. It's really not that crazy Posted via Android Central App

On the Verizon G2, the LG launcher forces all the LG and Verizon bloat to the front of the app drawer. It's almost 2 whole pages of bloat before you can get to any of your downloaded apps. I tried going with the stock LG launcher but once I realized that little tidbit, I went running for Nova.

You can set it for alphabetical. Posted via Android Central App

Does no one else care that LG's design aesthetic is hideous?

Function over form, makes perfect sense to me. Who looks at the back of the phone anyway? Posted via Android Central App

Very cool! I love it. Got my g2 Friday, keep the tips coming, very useful. Posted via Android Central App

I have the LG Optimus L9 on Tmobile and the first thing I did upon rooting was flash a script that disables all this QSlide junk. Now I have tons of more space now on the notification bar!!! Script should work on this variant as well.

You don't need a script, just hit the QSlide toggle in the notification bar and they disappear.

The P769 (T-Mobile) version of the LG Optimus L9 did not include a toggle to disable QSlide. I also flashed a script to get rid of them. They just took up too much notification space for something I seldom used.

Can't wait for it to come to Spain. No news yet though. Posted via Android Central App

Qslide from what i have seen is missing a text app... That's huge for me a note2 owner.... Most of the time i use my split screen to reply to a text... If there was a way to do this on the Qslide ... I really would consider this phone even more... For now these small little difference will keep me from canceling my note3 order... I really want the size of the G2 though Posted via Android Central App

The LG text app has little popup reply windows that sprout from the notification bar, if you like that sort of thing. Personally I disabled them and then completely ditched the LG text app for Chomp SMS.

+1 thanks!... If i got it that would have to do.. I hope for the people that have it they have an update that adds the text app to Qslide... seems obvious imo.. I love to keep my YouTube going as i reply to a text.. .but it's still a nice phone Posted via Android Central App

When you receive a text a small text box appears to reply without having to open the messaging app. Posted via Android Central App

+1 Posted via Android Central App

how to unlock front sreen Posted via Android Central App

I've had the G2 for around a year now and tis by far the best, fastest, smoothest running phone I've ever had. I originally purchased the LG G2 after looking at this review - http://www.thorntonreviews.com/lg-g2/. This review hypes up the G2 and convinced me to make the purchase, which was one of the best purchase decisions I ever made. The QSlide feature was actually a feature I was curious about after reading about it from that review, and after testing it it makes so much sense and it makes me wonder why all new and upcoming phones don't have this convenient little feature.
Android Central Newsletter
Get the best of Android Central in in your inbox, every day!
Thank you for signing up to Android Central. You will receive a verification email shortly.
There was a problem. Please refresh the page and try again.