PUBG Mobile is now available across the globe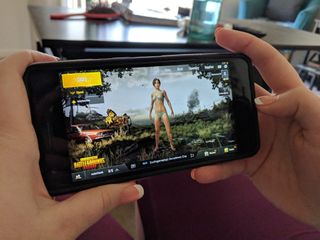 After launching in China late last year, PlayerUnknown's Battlegrounds Mobile is finally coming to additional markets. This news comes just a few short days after developer Tencent Games began running a beta in Canada on March 15, and I don't imagine anyone will be complaining about the rapid expansion.
Tencent and PUBG Corp. note that the game is "now available in many regions around the world" and that it'll be added to "more regions" later on.
Per Tencent Games' Vice President, Chen Jerry —
Lower graphics aside, PUBG Mobile has just about everything you've come to know and love from the PC and Xbox version of the game. You and 99 other players jump out of a plane, collect any loot you can find, and fight to be the last one standing to be the winner of a chicken dinner.
The game currently has a rating of 4.7 stars on the Play Store, with some of the highlights being the gameplay, graphics, and controls. I'm still holding out for Fortnite's Android release, but in the meantime, this does look like something that'll be holding my attention until then.
If you're a PUBG fan, are you excited for the release of its mobile port?
Download: PUBG Mobile (free) (opens in new tab)
Android Central Newsletter
Get instant access to breaking news, the hottest reviews, great deals and helpful tips
Joe Maring was a Senior Editor for Android Central between 2017 and 2021. You can reach him on Twitter at @JoeMaring1.
No one should be holding out for fortnite. I'm tired of this garbage. 85% of the market is android. The consumers have spoken with their purchases. But time and time again, case companies, third party add one, and developers keep trying to cram iOS down our throats. When I was on Windows Phone, all you heard from the developers was that user numbers dictate where they make apps and games for. Well apparently that logic goes put the Windows for the 14% of the Apple users. Boycott these idiots u til they get the point that we already voted with our pockets.

Damn typos and it won't let me edit it. Sorry.

Funny you talk a out consumers speaking, yet ignore the fact that iOS app devs continue to make more money than Android app devs. Not to mention the technical issues that arise when attempting to create a game like this on Android. Be mad all you want, but you're more likely to get an Apple user to spend money on your app than an Android user.

The money spent thing goes out the window when you are giving it away for free. When you give it away for free, it comes down to the number of users at that point. Funny you over looked that. Funny.

Funny that you're overlooking the in app purchases in these games. Funny.

It's a lot easier to develop something for a handful of slightly different iOS devices running the same OS opposed to millions of different Android devices with so many different combinations of specs and software versions. It's common sense really.

I was on Windows Phone before. Moved to android. Still considered as a second zone client.

I've been involved with app development, iOS was easy compared to Android. We had a lot of scaling issues and menu sizes being horribly messed up on a variety of Android devices. iOS developers also make more money, iOS users have proven they are willing to pay more for apps. I don't like it, but it makes perfect sense from a business perspective to focus on iOS first.

This type of game is awful on mobile...why do people even like playing fps games on a ******* phone? The controls are a nightmare

Isn't this game third person?

I find this type of game awful on console yet it's clearly popular. Shooters belong on a keyboard/mouse set up as far as I'm concerned and no where else.

I thought it would be too but I managed to score a chicken! Not bad at all, I'll be returning to it for sure.

It actually isn't that bad. I was surprised.

This get actually plays really well on mobile. I'm happy with it.

Feel this is just another game that's going for a money grab. It's not even optimized for console and they are pushing it into the phone market.

Not available for my trusty Honor 8 ... Why is that so ?

Because it isn't compatible

Not available in the UK yet.

It looks like it's now available in the UK as I'm downloading it now. A lot of you commenting seem to be judging it before playing it and while I agree that an FPS doesn't really work on a touchscreen why not try it first as it's free to play.

Hmmmmm, still not available for me. I don't like this waiting business.

It does say in the app itself that it's rolling out slowly to the store.

This quite simply is not on.

Looks like my winging has worked. Now downloading.

Does this support controllers?
Android Central Newsletter
Get instant access to breaking news, the hottest reviews, great deals and helpful tips
Thank you for signing up to Android Central. You will receive a verification email shortly.
There was a problem. Please refresh the page and try again.