PSA: Don't update to Android Pie if you have a Samsung Gear wearable [Update]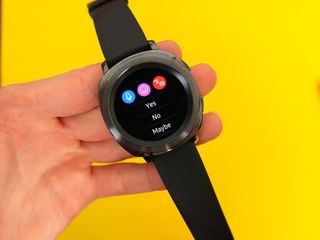 Updated August 14, 2018: At long last, Samsung's finally rolled out Android 9 Pie support for its Gear wearables. This comes as part of the v2.2.21.18080361 update, and in addition to Pie support, also rebrands the app from "Samsung Gear" to "Galaxy Wearable" to match the new Galaxy Watch branding.
As of this past Monday, Android 9 Pie officially began rolling out to the Pixel/Pixel XL, Pixel 2/Pixel 2 XL, and the Essential Phone. We've been having a blast with Google's latest flavor of Android, but according to numerous reports from users, the new software isn't so hot if you're using a Samsung Gear product.
Take a quick visit to the r/Android subreddit, and you'll find a heap of users reporting that Android Pie completely breaks any and all functionality with Samsung's Gear devices (such as the Gear Sport, Gear S3, Gear Fit 2, etc.).
Gear devices that are paired to non-Samsung phones require users to install a few different Samsung apps, and despite the first P developer preview coming out in March, it would appear that Samsung still hasn't updated its apps to support the new version of the OS.
One member on the XDA forums has come up with a temporary fix that allows Gear devices to keep working like usual on Pie, and while that's fine in the interim, it'd be nice to see Samsung address this sooner rather than later.
Other Gear owners are reporting that their gadgets are working just fine while connected to Pie phones, however, so your mileage may vary.
Joe Maring was a Senior Editor for Android Central between 2017 and 2021. You can reach him on Twitter at @JoeMaring1.
Well given that my G5 Plus still hasn't been updated to Oreo, I'm gonna guess Samsung will have that fixed by the time Motorola gets to Pie.

Victim of this very problem here. For the time being my gear is completely standalone and not connected to my Pixel. Its not like Samsung doesn't have money and didn't have access to the Beta for months. My next watch will not beSamsung.

Yeah I had that happen to me.. The app is totally useless right now. I reset my watch to see if that would solve the issue nope it was the app. So now my watch is useless as well

I had this same issue when on Android p beta. The watch worked absolutely fine until I opened the Samsung gear app. That's when everything died. I was able to get it working again but it was a hassle. I had to re install Oreo, re pair the watch and then re install Android pie. Watch works fine now but in the mean time i just have to remember to never open the Samsung gear app until they update it.

My Gear S3 Frontier is working fine with my Pixel 2XL with Android Pie.

FYI I found a work around that reconnects the watch to your Android Pie phone. The Galaxy Gear app still crashes and disconnects the watch but just do this... open the music app on the watch, it will give you an option to connect to your phone. Go through the prompts and bingo - connected and getting notifications on the watch again.

Thexda fix has been working great for me since the first beta.

I slightly addressed it in my S3 video, but yes, the app itself breaks when trying to access via the phone. If you use the watch to bring the settings up on the phone to manage notifications, then it'll work. That's how I finally updated my watch to 3.0.0.2.

This has been an ongoing issue for all the Android P betas too. I know the issue has been reported multiple times and Samsung has been untesponsive. They will probably update only when Samsung phones are nearing Android 9.

As others have mentioned, this issue has been around for months during the Developer Previews. Many of use left comments on the app review and Samsung replied by saying, "We dont support beta software. It will work when official Android 9 is released" Of course it's still not working. What's more frustrating is the fact that they dont seem to understand what a "developer preview" is for. It's so when the official version drops for all users, bugs like this dont affect everyone on Android 9 with a Samsung wearable.. So tired of Samsung scumbaggery.

No issues here with my Samsung Gear Sport and Pixel 2 XL running Pie.

If you have a Galaxy Watch or Gear S3 and want Android 9, then go to this link: https://forum.xda-developers.com/gear-s3/help/gear-s3-gear-devices-incom...

I have been on the open beta since the beginning and warning Samsung that this was coming. I'm actually a bit pissed about it. This might be the end of me getting Samsung products actually.

To clarify, I have had some nagging issues with Samsung for a while anyhow. I switched from a Note to a Nexus 2 years ago and I'm on a Pixel XL now. The actual device (Gear S2 Classic for me) is actually exceptional, but the Tizen OS is a bit limited for my tastes. I have tasted "stock" Android and I want it on all of my mobile devices.

My S3 Frontier is actually working better with my Pixel 2xl on Pie than it did on Oreo. I can actually use the watch now to answer calls and make calls where on Oreo I heard nothing on my watch and/or phone. The Gear app is working as good as it always was and better actually.

Yeah it didn't seem to work in beta stage either. According the Samsung they were gonna have it working once the stable android 9.0 aka android pie released.

Heads up. My phoned got bricked when i hit the restart button after Android finished downloading.

As if I needed another reason not to buy a Samsung Tizen watch!

For those on Pie or the P beta, if your Gear device works, DO NOT FACTORY RESET YOUR PHONE! This will require you to reconnect the watch, and that won't work. Best case scenario is that you're stuck in standalone mode. Worst case is you'll get into the process, your watch will reset in preparation for reconnecting, and then the Gear app will crash, leaving the watch in setup mode and unusable. That's what happened to me when I did a factory reset on my Pixel 2 XL while running the P beta. What pisses me off is that Samsung is well aware of this and has been for months, yet, not only have they not done a thing to fix it, but they haven't even acknowledged it until now. Funny that they did it on the same day they announced their new watch. Well, they fooled me once, but they never will again.

Weird....no issues here with S3 and Pixel 2 XL. Hope they get it fixed quick.

Only minor issues with a Gear Sport and Pixel XL so far. Issue is actually stemming from the watch notifying *too much* - any time a notification is updated with new information, changing the text, adding a picture, replying to a text, etc...it notifies a second+ time. In the past, not a huge issue, but the new 'low' battery notifications that come up when remaining battery life falls to 3 hours, they get updated every 1-15 seconds and will result in nearly non-stop notifications on my watch until i clear the notification (notif in the shade is updated with new battery dead time and new battery % level as often as possible). Perhaps related, but also seeing increased battery drain by 10-20%/day since the 9.0 update. Not ideal.

My Gear S3 became useless on the P beta on the Pixel 2 XL, rolled back to Oreo and all was good and now have updated to full Pie and no issues on the S3

My Gear S2 is working fine with the exception of not being able to answer calls from the watch. However, when I try to connect the Gear app to my Icon X headphones it crashes.
Android Central Newsletter
Thank you for signing up to Android Central. You will receive a verification email shortly.
There was a problem. Please refresh the page and try again.