Project Fi emails are hitting inboxes, but they're not the illustrious invites you're looking for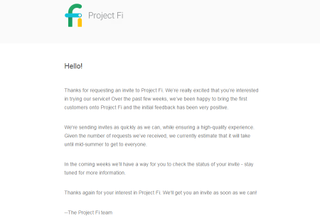 According to an email that was just sent out to potential Project Fi customers, invites are being pushed out as fast as possible while keeping user experience in mind, and it may take until the middle of summer to finish processing the backlog of invite requests. Apparently the new wireless service is seeing "very positive" feedback from those who have received Google's SIM card in the mail, which doesn't come as much of a surprise considering the audience for Project Fi right now.
READ: Comparing Project Fi pricing to other no-contract carrier offerings
If you have yet to receive that coveted Project Fi invite, join the club — just know that there will be an invite hitting your inbox soon enough.
Andrew was an Executive Editor, U.S. at Android Central between 2012 and 2020.
I'm betting August. =/ Posted via the AC App on my Nexus 6

I got that email saying just that. Also got a second email with my invite to google fi. Just waiting on my nexus 6 to come in Posted via the Android Central App

yep and i already own a nexus 6! I guess owning the hardware already isn't a quick way to cut line.

I got an actual invite (already have a Nexus 6 on Sprint, so...). I don't think I'll be accepting it. I'd have to pay off my phone (about $430) and give up my unlimited plan. I might save a few bucks monthly, but not certain to. Also, T-Mobile only has 2G in my area, so what is the point?

I'm also on Sprint and in your same situation. After having unlimited data it's hard to go back to a data cap. I might do straight talk when my contract is up. Unlimited talk text and 5gbs of data for $45.00.............we'll see. Andriod All Day Everyday!

If that's your assessment, then why even request the invite in the first place?

that's how i feel too. don't waste people's time by requesting invites to things you have no plans on doing. At least he has a device to make a decision but I bet most people just signed up to get picked and then do nothing with it.

I thought it used t-mobile and Sprint? If you have good sprint service why would you expect on t-mobile levels? Posted via Android Central App

Curious, how much data do you currently use? I'm almost always around Wi-Fi and only use 1.5 gigs Posted via the Android Central App

Day 29 of waiting for the invite. I'm starting to lose interest and I'm starting to feel like I'm begging a company to hurry up and let me spend my money on them. Think I'll just take my Nexus 6 and just get on Straight Talk instead. Andriod All Day Everyday!

After I posted the above comment I got a gmail notification from Project Fi. Here it is. Hello!
Thanks for requesting an invite to Project Fi. We're really excited that you're interested in trying our service! Over the past few weeks, we've been happy to bring the first customers onto Project Fi and the initial feedback has been very positive.
We're sending invites as quickly as we can, while ensuring a high-quality experience. Given the number of requests we've received, we currently estimate that it will take until mid-summer to get to everyone.
In the coming weeks we'll have a way for you to check the status of your invite - stay tuned for more information. Andriod All Day Everyday!

That would be the same email as is in the image for this article, yes. =P Posted via the AC App on my Nexus 6

Yup Andriod All Day Everyday!

That was pretty pointless then.

Actual invite email: You're invited to join Project Fi We're excited to invite you to Project Fi. Earlier on, you requested an invite, and now we're ready to bring you onboard. Just click the button below to sign up or head to fi.google.com/signup. If you have questions along the way, give us a call at 1-844-TALK-2-FI to get help from a Fi Expert.
SIGN UP FOR PROJECT FI 5 things to know about Project Fi
Say hello to fast speeds, easy communication and simple pricing.
Tap into a network of networks
Project Fi uses new technology to give you better coverage by intelligently connecting you to the fastest network at your location whether it's Wi-Fi or our two LTE network partners.
Secure connections to fast, reliable Wi-Fi networks
We automatically connect you to over a million Wi-Fi networks we've verified as fast and reliable. When we connect you to an open network, we secure your data through encryption.
Wi-Fi enabled calls provide even more coverage
When you're on the move, calls seamlessly transition between Wi-Fi and cellular, so you can keep your conversation going.
One simple plan
Our plan starts with the Fi Basics for $20 per month, which includes: unlimited domestic talk and text, unlimited international texts, Wi-Fi tethering, and access to coverage in 120+ countries. Then it's $10 per GB for data. $10 for 1GB, $20 for 2GB $30 for 3GB, and so on. That's it. With no annual contract required.
Never pay for unused data
Our plan is designed to save you money. Let's say you go with 3 GB for $30 and only use 1.4 GB one month. You'll get $16 back — you only pay for what you use.

I wonder what are the Wi-Fi they are automatically connecting you to. I am curious about that. Does anyone have info on that? Posted via the Android Central App

Google approved Wi-Fi spots. When I'm out and about I keep my Wi-Fi turned off anyway. Andriod All Day Everyday!

Google builds a database of access points that you can join without jumping though hoops Posted via the Android Central App

I wonder how many signed up on April 22nd for Google not to give out invites even for those people

I signed up on the 22nd and have not gotten an invite.

I requested an invite on day 1, but now that StraightTalk has upped their data cap to 5GB, I'm not as interested in Fi. I think 5GB for $45/mo (or $42/mo if you buy the 90 day renewals) is a better deal. And StraightTalk on AT&T still has better coverage than Sprint & T-mobile combined.

That's interesting because shortly after Fi was announced straight talk upped their data. I have friends and family who've been on Straight Talk for some time now and they've had very good luck with it. Andriod All Day Everyday!

Just dont stream music, watch video, or anything else that will get you throttled or banned and you'll be great on ST. /s

I've been on ST for about 6 months now and have hit the 3GB cap a few times. I have not been banned for streaming audio or video. I think a 5GB cap will be just right for my monthly use.

Lol. Got mine today. In fine with the progress and heads up. Moto X anyway, gonna have to switch to a N6 to partake. But I will in that day. Posted via the Android Central App on my 5.1 X Pure

"Invites" oh, wow! Stupid, stupid "invites! Whatever happened to just having doors open for business to ANYONE who wants to walk in and do business??? Posted via the Android Central App

Because this is very much a beta service? You can't test something well by throwing open the doors and overloading your servers and by giving it to people not willing to report back. Sloths fight leopards. You can't open a bag of chips. Clearly humans are the weaker species.

That'll start after the beta :) Posted via the Android Central App

I can wait to test it out. My daily driver is an S6 for now. Will get another line for my nexus 6 if/when I get an invite.

The amount of 'entitled' in these comments is astounding.

Andrew - Do any of you at AC need an invite?

I do, or do you mean folks who work at AC?

Google could at least offer a discounted price for the N6 when purchased direct from them and signing up for Fi, seeing how T-Mo has already dropped it $100.

If they do give some money away, I see it as a credit to our bills instead of a discount on the phone. The discount might entice not beta types to try out the service... Posted via the Android Central App

i really hope that they would extend support to other devices that already work on Tmo networks. such as *coughonepluscough*

Got my invite, but leaving a family plan with 30GBs and roll-over, with almost all of it mine. Plus I'd have to get the Nexus 6 which I find a bit large, even though I'm 6' 2". UGH DECISIONS DECISIONS DECISIONS! Posted via the Android Central App

I lied, I signed up after all. Got the Project Fi sim and the welcome kit (headphones, case, and external battery) even though I already had Nexus 6 from Sprint and did not buy one from Google. Activation was difficult. Software update went fine, but could not make calls over WiFi or Sprint for the first day, Almost gave up and went to another carrier, but everything worked once my Google Voice forwarding was broken. See, the gmail account associated with your Project Fi account becomes a google voice number ($.10 credit even transfers), and you cannot forward one google voice number to another, so this seems to have been the problem.

Yeah I got the same hurry up and wait email as well. I have been looking at some of the other services like cricket, boost, ans ST as well.
Might just go with one of those instead of waiting for Fi.
Like others have already posted I think already having the device puts you at the back of the line.

Got my invite today! :) does anyone know if they can be given to another person?
Android Central Newsletter
Get the best of Android Central in in your inbox, every day!
Thank you for signing up to Android Central. You will receive a verification email shortly.
There was a problem. Please refresh the page and try again.