Forspoken for PS5: Everything you need to know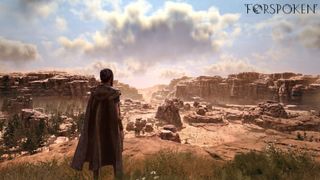 (Image credit: Square Enix)
First revealed during the June 2020 "The Future of Gaming" PS5 showcase, Forspoken is a new IP from Square Enix. Though little of it was shown when it was revealed, its distinctive visuals and gameplay immediately captured the interest of gamers. We've since learned more of the game from Square Enix — though what we have learned is even more intriguing.
Forspoken is a third-person fantasy action-adventure title and could possibly end up as one of the best PS5 games available, depending on how it pans out. Here's everything you need to know about Forspoken on PS5.
What is Forspoken?
Forspoken is a new IP being developed by Luminous Productions, a studio under Square Enix. Luminous Productions is primarily made up of developers who worked on Final Fantasy 15, with the studio itself founded in 2018. Final Fantasy 16 is instead being developed by a team who previously worked on the Final Fantasy 14 MMO.
Originally revealed under the name "Project Athia," the official title was revealed during Square Enix's Spring Showcase in March. We also got more details about the story at the time. The protagonist is a woman named Frey Holland (played by Ella Balinska), and the world she's exploring is called Athia. But this beautiful, hostile land is not her world, and, according to Square Enix, she "must learn to harness magical abilities to survive." She has come to Athia from our world, and is still wearing jeans and a t-shirt when she arrives. She must learn to survive and adapt in the new world.
Forspoken trailers
Square Enix released the above trailer at Sony's June 2020 Future of Gaming showcase in order to tease the then-titled Project Athia. It revealed little about the game, but the fact that the game was a new IP intrigued many who saw it.
The official title announcement trailer revealed both the title Forspoken and the name of the protagonist. Another version, called the Extended Cut, features a slightly longer cutscene showing Frey hiding from the dragon, as well as an extended interview with Frey's actress, Ella Balinska.
Sony showed off more of the gameplay at its PlayStation showcase event. This trailer showed off Frey's life in the modern world and how she found her way to Athia. It also gives a better look at her battle moves, including what a boss battle against a character called Tanta Sila. The trailer also shows off some of the game's humor, which hadn't been apparent up to that point.
Forspoken gameplay and features
The gameplay we've seen in the trailers and promotional images so far indicates Forspoken will be a third-person adventure game, likely with action and RPG elements. Protagonist Frey will battle numerous beasts in the land of Athia, with images showing mutated bear-like creatures, a volcanic hound-like beast, and what appear to be giant golems. She will also take on other human or human-like enemies, as shown in her battle against Tanta Sila.
The game is definitely a fantasy, as evidenced by the use of magic and the appearance of dragons in both of the trailers — Frey even expresses surprise at seeing the latter. Square Enix describes the game as a "narrative-driven adventure," which suggests it's not going to be as heavy on the role-playing elements as a straight RPG. Frey uses several magical spells in the trailers, including what appears to be telekinesis and summoning plants from the ground to grapple her enemies.
As for the narrative itself, the game appears to be based entirely on the journey of Frey, as the tagline for the Project Athia trailer said, "She will rise." Frey appears to have quite a lot of quick movement techniques, as the trailers show her more or less flying over the Athian landscape. She also appears to have a helper within her bracelet, as shown in the PlayStation Showcase trailer, and it can be heard telling her to hide from a dragon in another trailer.
Luminous Productions is developing this game using the proprietary Luminous Engine, which was previously developed for Final Fantasy 15.
Is Forspoken coming to Xbox?
Forspoken was initially announced for PS5 and PC, with no mention of when or if it'll come to other platforms like Xbox Series X and S. According to disclaimer text from an official sizzle reel of upcoming PS5 games from Sony, Forspoken is a timed console exclusive for two years, meaning that Xbox players will eventually get to play it but it'll be a ways off even after it releases on PS5 and PC.
When is Forspoken's release date?
The PlayStation Showcase trailer gives the game the release window of "Spring 2022." Given the number of PS5 games delayed in the last year, it'd make sense for the studio to not commit to a firm date just yet. We will update if any more definite release date is revealed.
Sign up for Black Friday email alerts!
Get the hottest deals available in your inbox plus news, reviews, opinion, analysis and more from the Android Central team.
Rachel Kaser is an Android Central gaming contributor, who's been writing since 2013 and gaming since the age of five. She's covered everything from gaming news, reviews, and analysis -- if it exists in gaming, she knows about it. She also contributes to Future's other sites, iMore and Windows Central. If you want to hear her opinions on games, pop culture, tech, and everything in between, follow her on Twitter @rachelkaser