Preview: Bell Mobile TV for Android - streaming live and on-demand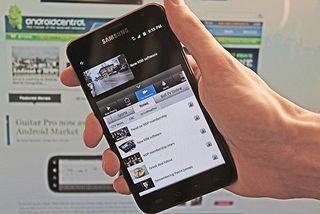 One of Canada's big three carriers, Bell, recently shot me a build of their upcoming on-demand streaming TV app for Android and a Samsung Galaxy Note to try it out on. I've already established that I'm a fan of the Note's big screen, and I was eager to make use of it with some high-quality streaming video. That, plus it's a ton of fun taking screencaps of the evening news guy and drawing a moustache on him with the stylus. Nyuk, nyuk.
YouTube link for mobile viewing
Bell Mobile TV offers shows currently playing live, but you can also call up shows on demand. You can browse a program guide to find out what's playing when, and set alerts for shows that you want to catch as they air. As an added bonus, Bell Mobile TV also provides support for Sirius Satellite Radio, though you've got to pay extra for it.
The whole shebang costs $5/month, and includes 5 hours of viewing that doesn't count towards your usual monthly data limit. Beyond that, it's an extra $1/hour. There are also some premium channels, like HBO, that cost an extra $5/month for mobile access. Unfortunately, just like real TV, you still have to sit through commercials, even for the on-demand stuff.
The selection of program selection is decent, but not great. Even if you pay an extra for HBO, you only get The Sopranos and Sex and the City on demand (though you can still tune in live). The only show on Comedy Central that I was really excited to watch on demand was Ugly Americans. As you might expect, CTV has a ton of stuff, like The Colbert Report, The Big Bang Theory, Grey's Anatomy, and lots of others.
Bell's emphasis on TV is particularly important because they actually own CTV, which is one of Canada's biggest networks. Along with Rogers, Bell has come under a fair bit of fire, since such a set-up (usually called "vertical integration") used to allow them to retain programming exclusivity in channels like mobile, but I won't get too mired in the politics of it all. You can read up more on it here.
Bell has recently expanded their LTE network to include Montreal, Vancouver, and my current home, Ottawa, Ontario. While that's really helpful for services like this mobile TV app that demand high-speed data access, coverage is still spotty. I wasn't able to get my LTE service at my home in the west end of town with the Samsung Galaxy Note, but even on HSPA+, all you have to deal with is an extra little bit of buffering time. In all fairness, Rogers LTE is still hit and miss in the area too. The video quality itself is good enough, but the real sacrifice is made in audio. Even with headphones on, don't expect anything incredible.
Since I'm not a big TV-watcher anyway, I'm not sure I would find a lot of use for this kind of service, but if it included the ability to shunt video out to the TV over DLNA or HDMI, then I might consider it. Even if you're already hooked up with Bell TV, they've got a remote PVR app available manage which shows you're recording while far from home. In the long haul, I probably wouldn't be too happy with the 5 hour limit each month for mobile TV, and there seems to be a lot nikel-and-diming to get access to the channels you really want. I'm sure sports fans will love being able to tune in live and pull up game highlights, but since that's not me, I'll be sticking to Netflix. For more information, hit up Bell's Mobile TV minisite.
Oh, and you guys should stick around ... We'll be giving away a Samsung Galaxy Note from Bell soon!
Get the Android Central Newsletter
Instant access to breaking news, the hottest reviews, great deals and helpful tips.
Simon has been covering mobile since before the first iPhone came out. After producing news articles, podcasts, review videos, and everything in between, he's now helping industry partners get the word about their latest products. Get in touch with him at simon@futurenet.com.