Press update adds DashClock Widget support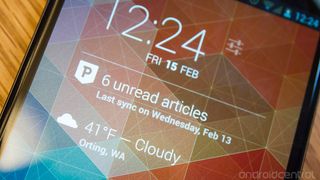 Google Reader client Press has just added support for the popular new widget DashClock just a few days after its release. DashClock Widget provides a platform to make "extensions" that plug into the widget from other apps to put pertinent notifications and information on your screen. Users on Android 4.2 with DashClock installed now have the ability to see their Press unread count and last sync time on the widget. This should play nicely with the recent update to Press that added background syncing support.
So far we've got Falcon Pro and Press that have updated to support the widget's extensions, along with the built-in items like weather and Gmail, and we're sure to see more as DashClock Widget becomes even more popular.
Andrew was an Executive Editor, U.S. at Android Central between 2012 and 2020.
DashClock is turning out to be awesome

Please, someone tell me what this background is I want it for my phone!!

pretty sure its from andy gilmore (crowquills.com) though where he got such a high res copy is beyond me. actually came to the comments hoping this would get answered!
tl;dr: hd crowquills repository please!

Do you have a full version?

@tehkraft No, you aren't pretty sure of anything :-) This wallpaper was created for iPad retina by Simon C Page and you can download it along with other great wallpapers at http://simoncpage.co.uk/blog/2012/03/ipad-hd-retina-wallpaper/

Tried it. A big annoyance is this is "always on", even when there are no unread articles. Like the default calls, texts and Gmail ones, these really need to hide when not in use - Falcon Pro's has a similar problem (I'd much rather have one only for mentions and DMs and to be hidden when I have neither). I want a nice order of icons - with only 3 icons appearing when you turn the screen on, I want "new" stuff appearing if they have something to say, and weather, battery and next alarm is there is nothing interesting.

Maybe I'm misunderstanding your complaint, but I never see Gmail and texts when there's nothing new to read.

He agrees with that and is saying that he wishes the other extensions would act like those.

Currently don't use Falcon Pro or Press but I'm liking DashClock quite a bit. Perfect upgrade from the stock version for me, so simple and feels like built in stock application.

Dashclock has a very promising future

Perhaps someone can help me with DashClock. I've made it my main lockscreen per their instructions. However, if I then slide left and then right again, back to it, DashClock displays the data differently than when the phone is first turned on. I prefer this second appearance but can't seem to figure out how to make it the default. Anyone figure this out?

D'oh! I see I get the same screen by swiping down. Still, would prefer it was always just expanded.

But that's Google's fault and not Roman Nurik's.

Orting, WA? I didn't realize anybody lived there.
Android Central Newsletter
Get the best of Android Central in in your inbox, every day!
Thank you for signing up to Android Central. You will receive a verification email shortly.
There was a problem. Please refresh the page and try again.