Popeyes App now tells you when its chicken sandwich is in stock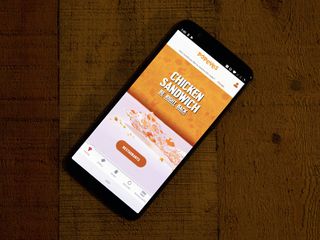 What you need to know
Popeyes has a new chicken sandwich and it's basically impossible to find right now.
If you install the Popeyes app and pick a store, you'll be notified when the sandwich is back.
You have to enable notifications for this to work.
Popeyes has taken the United States by storm this past week thanks to its new chicken sandwich. Early reports that it topped the nationally recognized best fast food chicken sandwich made by Chik-Fil-A were mocked initially, but more as lines started to form in these restaurants the joke faded. Now it's almost impossible to get one of these sandwiches in some places unless you're in the store when the shipment arrives. Photos with signs claiming a two sandwich limit in some stores have gone viral alongisde and endless parade of signs explaining the meal was sold out have dominated social networks this week.
How to you get your hands on one of these things absent blind luck? According to Popeyes, you just install the app (opens in new tab).
As soon as you open the app, Popeye's presents you with the ability to choose a store near you. As long as that store is online enabled, you'll be able to select it as a destination for the sandwich. When the sandwiches are ready, you'll get a notification to head to your store to grab one. It all seems pretty easy, but worth noting not every store supports this feature right now. In fact, after checking the ten closest stores by me, only one supported notifications for the chicken sandwich.
Push button, receive sandwich. Doesn't get much easier than that. You know, aside from not running out of stock in the first place.
Russell is a Contributing Editor at Android Central. He's a former server admin who has been using Android since the HTC G1, and quite literally wrote the book on Android tablets. You can usually find him chasing the next tech trend, much to the pain of his wallet. Find him on Facebook and Twitter
Popeyes chicken is forkin' awesome! That was a reference, I've actually never had it.

That must be some sandwich. I'll have to put that on my bucket list tho since my town doesnt have a Popeyes restaurant. The nearest one is about 60 miles away. I suspect it's not worth driving that far to get.

No food is worth driving that far. It's a very good sandwich though (by chain standards,) and deserves the hype it's received.

This was super smart of them.

We have a store that is nearby, and it was fairly quiet until this thing happened. We have a handicapped son who loves their regular chicken, and now he can't get it because the place is a madhouse. I've never had their sandwich, but their regular chicken and strips are delicious.

I was lucky enough to try one of the Popeyes spicy chicken sandwiches and it was one of the best things I EVER tasted!!

Tried it. I'll give them props. It's friggin delicious. Not ready to crown then the king of chicken though.

I had to wait in the drive-through line for 20 minutes to get one this weekend. After eating it, I was perfectly fine with the wait.

KFC is going to have to bring back the Double Down.... It was soooo unhealthy, but soooo good
Android Central Newsletter
Get the best of Android Central in in your inbox, every day!
Thank you for signing up to Android Central. You will receive a verification email shortly.
There was a problem. Please refresh the page and try again.