Galaxy S8 vs. Galaxy Note 8: The hype train [#acpodcast]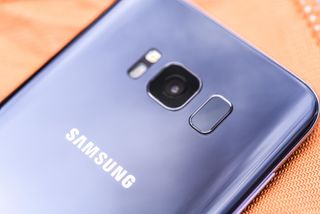 This week, Daniel is joined by Alex Dobie, Florence Ion and Jerry Hildenbrand to talk about the Galaxy S8, and whether some of the things that have been criticized about it will be fixed in the Galaxy Note 8 later this year. Will Samsung return the Note series to its specs-heavy glory, or choose to keep specs and features conservative after a rough 2016?
And the LG G6 is available this week, and it's better than we expected it to be! Does that matter when the Galaxy S8 is ready to be unboxed in under two weeks? Did LG do enough to hype it?
Finally, Comcast is launching its own wireless service called Xfinity Mobile. It's a mess of caveats and bloatware, but it also may be the best option for current Comcast customers, since it runs on Verizon's network.
Note: There is a bit of swearing in this week's episode, but it's confined to the last five minutes of the show.
Daniel Bader was a former Android Central Editor-in-Chief and Executive Editor for iMore and Windows Central.
Hi everyone. A couple things: first, we're working on the layout above, and it should be fixed shortly. Second, I am traveling and was using my handheld microphone to record and got a bit too close. You'll hear some blowouts when I emphasize Ps and Ts, so I don't recommend using headphones to listen to this one, or at least turn the sound down. Really sorry for the inconvenience — it won't happen again, and I hope it doesn't distract too much from what I think is a really good discussion.

For what it's worth, I listened to the podcast with headphones and didn't notice that.

I rather have back button on the right.

I saw an early review that mentioned that the back button would be moved to the left side and I was disappointed as well, but I still per-ordered the s8+. I was at the sprint store last night though and noticed that their demo versions of both the s8 and the s8+ had the back button on the right, right were Samsung has always placed it. It should be noted that the rep @ the store said that the demo versions had very limited functionality (especially when it comes to bixby) so I guess we'll have to wait 2 more weeks to see.

It can be swapped in the display settings. I switched it on two different display units in the store yesterday.
You can have your back button wherever you like!!!

So do I, but I strongly believe allowing the user to switch it up ia something all device manufacturers should be doing.

Pixel looks like an iPhone 4

I predict "note 8" will become a verb.

The S8 is quite lackluster so the Note 8 is on track to be even more yawn-inducing than the last two Notes which were little more than deluxe versions of the S, instead of Notes having their own identity like they used to. I want to see another manufacturer (Excluding LG/bootloopers) challenge Samsung in the stylus phablet market, which Samsung currently has 100% market share of. I did contact HTC after/about the disappointing Note 7 unveil and got a genuine interesting response. I can only hope that after the Note 7 recall that then followed, HTC saw even more opportunity to make a high end stylus phone of their own and release it ahead of the Note 8. Any manufacturer who knows how to make a true high end stylus phone, without holding back on specs, should also know there's millions of unit sales there waiting to be scooped up.
Even if HTC only release something that's equal to the Note 8, I'll buy it anyway cause it'd show they're trying, rather than Samsung who have given up due to having no stylus-phablet competition whatsoever.

HTC is grossly misguided and will not be able to produce anything to hire Samsung unless they completely gut the company.

Yeah, I'm not sure HTC is the one to do any of what he said lol. Honestly, Apple is the only one that could come close to what Samsung has done with the Note series.

My ZteMaxPro is so better than HTC no contest ever.

You always come in saying that your zte is god and yet always mention the next phone you're getting. Go home trollolol.

I am really hoping that Samsung feels a heavy weight of responsibility to redeem the Note line from shame. Above all else, specs and corresponding fine tuning for high performance are crucial. Here's what I'd be willing to pay for:
- Same form factor as the Note 7. (I have huge hands, need a big phone.)
- 6-8GB RAM with excellent fine tuning.
- 256GB or better internal storage.
- Well implemented dual rear/primary cameras.
- New and improved S-Pen
- Inherit all the good stuff from the S8's. Nice to haves:
- Move the fingerprint scanner down below the cameras.
- Dual selfie cameras.
- Stereo speakers.
- Quad DAC like the LG V20.
- Significantly improved cameras.
- A foldable version of the Note. (Note 8X?)
- Android O.
- IR blaster.
- Surprise me. Deal-breakers:
- Only 64GB internal storage.
- Only 4GB RAM.
- Failure to deliver on the promise of "a truly safe and innovative Note."

Sorry, but if you found the Note 7 to be lackluster (prior to the fires of course) then the Note series simply isn't for you anyway. The only questionable thing on the Note 7, was non removable battery. But when you're looking at software, the Note 7 experience was FAR different and far better than the S line. If we're only looking at hardware, I agree with you. But software was so much better on the Note 7. And also, why do people expect the Note to be completely different from the S series anyway? That would be such an unbelievable waste of resources to re-invent something that is already doing gangbusters, just for the satisfaction of people who will immediately jump to HTC or LG at a moments notice.

Microsoft gets it ... Surface Phone ... 2019 ... and running Windows Mobile. Shame, really because I'd bet the Surface Phone hardware (and presumed stylus) will be better than anything out. But the app situation is too big to overcome at this point, sadly.

What is the hype about the essay S8 plus it's an S7 wrapped in the new show largest screen same specs crap crap

The hype is due to the S8 plus being the best phone in the market Wich it is

Not quite. You have to factor in what it's running. TouchWiz is inconsistent and degrades over time. IMO when asking which is the best Android phone, it also has to perform as well as an iPhone side by side. I'd say the pixel is it but the bulky iPhone like shape and size was. No go. The 3t right now has everyone beat IMO. It's a powerhouse that runs the best performing and looking software on Android.

Why do you keep saying essay FFS?

Being unable to get one that's your problem. It's an industry leading handset the S8 and S8Plus. I can admit I can't afford it but I'm not going to down play unnecessarily.

... The most important part of any phone is the screen. And we all know Samsung dominates that category. The Note-8 will be the greatest cell phone ever made. Which is why I'm passing on the s8 and waiting for the Note. ®️

Its doubtful man. Have you seen how a galaxy S7 performed next to an iPhone 7? Or a OnePlus 3? It'll have the best hardware for sure, but the software has to be the best the most consistent and the 3/3T just smash Samsung's best. TouchWiz is far too bloated and heavily modified and it shows over time. Ive seen it on the S5, note 4, and note 5. I use a note 5 for work and it's become a slug. With the chipset it has this should be almost impossible. The octocore 7420 is still a powerful SoC and Google was able to show it up with the 6P ( I know because I have both)

Samsung have made great electronics for a long time, and the S8 must have Apple quaking in their boots

Doubtful. I don't think Apple does much "quaking in their boots" over anybody.

Jerry is so lost it's sad. If he would pick an LG phone he's definitely clueless

Or I care about the things my phone is doing when it's on the desk with the screen off as well as when it's in my hands. I'll get an S8. Then I'll spend two weeks gutting the nonsense out of it like I did with the S3. S4. S5. etc. etc. Double the battery life and not having to worry about those terms and (non)privacy agreement Samsung forced you to accept when you turned it on the first time is worth it. That's not nearly as big of a deal with a phone from LG.

Galaxy Note 8 specs:
- 4K HDR 6.4" SuperAMOLED Display
- Qualcomm MSM8998 Snapdragon 835 or Exynos 8895 Octa
- 6GB RAM; 64/128GB ROM
- Primary Dual Camera 12MP f/1.7, OIS, LED flash; Secondary camera 8MP AF f/1.7
- Ultrasound Fingerprint scanner built into the display (Synaptics Technology); Iris Scanner; Face Detection...
- 3600 mAh Battery.

Branding: Samsung Galaxy S8-N
Genius!!

Excellent discussion everyone! Keep up the good work.

Yup.. Got to this a bit late - but always enjoy the commentary.

Great Pod. I don't mind the longer podcast.
Android Central Newsletter
Get the best of Android Central in in your inbox, every day!
Thank you for signing up to Android Central. You will receive a verification email shortly.
There was a problem. Please refresh the page and try again.