The fewest points of failure [#acpodcast]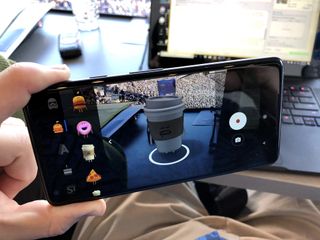 In this episode, Daniel Bader, Andrew Martonik, Alex Dobie, and Russell Holly wax philosophical about the 5G, the Snapdragon 845 SoC, and why the Pixel's AR stickers are the most fun you can have with a camera. They also talk about the OnePlus 5T Star Wars Limited Edition phone and a few spoiler-free thoughts on 'The Last Jedi'.
The crew also delves into Synaptics' new in-display fingerprint sensor and the Vivo phone it is launching on. Oreo is coming to the Galaxy S8 and renders have been leaked of the Galaxy S9. Finally, net neutrality has been killed by the FCC. What happens next?
Show Notes and Links:
Snapdragon 845: Top 5 reasons to get excited
Synaptics announces world's first in-display fingerprint sensor, launching with a 'top 5' smartphone OEM
In-display fingerprint sensor launching first on a Vivo phone
Samsung Galaxy S8 Oreo update: Top features + what's new!
This is the Samsung Galaxy S9
Sponsors:
Mint Mobile

(opens in new tab)

: Voice, data, and text for less. Get free first-class shipping with code IMFREESHIP.
Thrifter.com: All the best deals from Amazon, Best Buy, and more, fussily curated and constantly updated.
GameStash: Hundreds of awesome games on your Android phone. Try it free for 14 days!
Where is Jerry? Seems like he hasn't been on the podcast in forever....

He'll be back. They said so at the end of last week's episode.

I believe he had back issues. I've only had back issues once - and it involved long lasting true excruciating pain - so I have deep respect for people with back pain.

so they skirted around the fact that under glass fingerprint sensor would solve many things, but NOT the ability to quickly be located with device OFF and turn on and authenticate in one step like current solutions. that's a huge problem.

Completely disagree with your opinion of a under the glass fingerprint sensor. I have my Pixel 2 XL on a surface (desk, counter top, nightstand) most of the time. I use doubletap to wake the phone 90% of the time and do NOT pick up the phone. UtGFS would be very useful to me.
Android Central Newsletter
Thank you for signing up to Android Central. You will receive a verification email shortly.
There was a problem. Please refresh the page and try again.