A bad look for Google and the Pixel 2 XL [#acpodcast]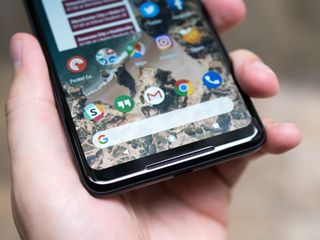 Writer and analyst Daniel Matte from techspecs.blog joins Daniel Bader, Alex Dobie, and Russell Holly to discuss the issues, real and perceived, with the display used on Google's Pixel 2 XL. They also talk about the software changes Google has promised to help address problems with the device.
To wrap things up, the crew chats about the Pixelbook, OnePlus 5T rumors, and the Android 8.1 beta!
Show Notes and Links:
Google to address Pixel 2 XL screen issues with several software changes
Google has a software fix for the Pixel 2 speaker 'clicking' problem
Why the hell did they ever use LG everyone knows LG sucks, but somehow one of the biggest companies in the world can't figure that out?

Totally agree! Will never spend money on an LG phone. Junk

They got cheaper deal, they know no matter what they release everyone will buy it

Not I..it's sad cause I was really looking forward to the XL.

I wish everyone would stop buying them, Pixel 3 would be a great phone

So you think if people quit buying them the 3 would come out quicker? Yeah right, that's good logic...

No, it means Google would actually spend time on qa

You have about zero logic here.....thats not what anyone is talking about. Go back to mamaz basement

Everyone except the millions of people who buy and love LG phones

People are blowing this way out of proportion! As for LG, I could have bought any phone on the market and bought the V30. Incredible phone and would do it again in a heartbeat. I've had every Galaxy phone except the S5 and just recently replacing a S7 Edge with the V30. As far as I'm concerned the V30 blows the S7 Edge out of the water. A few things that standout compared the the S7 Edge are way better battery life, always listening Google Assistant (screen off/no power!), Quad DAC, no lag, don't need to reboot as often to maintain performance, You can get your microscope out and tell me the screen is not as good but I don't care, it's as good under normal real world usage and that is what matters to me. I know I'm comparing a current gen phone to a last gen phone but let's be real, the S7 Edge is a great phone. S8 is better but crippled by Samsung software and now that there is an alternative to Samsung who makes just as good of hardware i'm done with Samsung...

yeah i know right? No body liked the nexus 4 or nexus 5, they were terrible phones..../s

That is why I am waiting for the Pixel XL 3

All dogs are good dogs? Tell that to mine, who just jumped up on the couch next to me, farted right on me, and then jumped down and got into her bed. ...dammit, she's still a good girl.

I have no issues so far and am enjoying my phone.

Ahh, my Friday night go to sleep listen and my Saturday morning listen for the things I didn't catch after I fell asleep lol.

IPhone X is all that matters now. Android is dead. 😜

Wow, as someone who uses Android and iOS, that is an absolutely TopNotch comment. 😂

Ha ha, you notch right.lol

I prefer to see all of my screen.

Me too. Especially vivid Samsung panels that aren't washed out. 🤠

Oh you mean the panels stuck to phones that blow up 😂😂😂

Love my XL. The performance is like no other Android. That's the real news.

True that. Really liking mine so far. It's been interesting adapting to the much more stripped down version of Android after using Samsung phones for so many years, but I like not having the bloat and convolution of Samsung's software. As for the screen, you really forget about it almost immediately.

I'm not sure why but this comment made me sad a little.

I think a big part of the problem with the screen and the"blue shift" is that the screen is tuned so cold to begin with, so it makes the blue hue of looking at the phone off axis particularly pronounced. If Google tuned the screen warmer, or gave Pixil owners a setting to custom tune the color temperature of their screen, in think it would ameliorate a lot of the obviousness of the blue shift.

They are sending out a saturated mode software update for google pixel 2 and 2xl. So the colors are going to pop for those who like that.

This phone is D.O.A. while I enjoyed the podcast. The average consumer does not want charts, graphs and math equations when buying a phone. For a thousand dollars they shouldn't have to wait for software updates to "fix" issues with a new phone. In my opinion Google is back to being at the Nexus level of a phone manufacturer. Which for some people is fine, a very select audience, but that's not what Google wants. They want to have mainstream hardware products. They have fumbled out of the gates two years in a row. The iPhone X basically sold out overnight at the same price and will have a Samsung display that will blow away people's minds. Also good to hear that the one thousand dollar PixelBook has crap speakers.

I'm a Google fan and love my Pixel but I have to say it doesn't look good for the 2 XL.
Most phones will need software updates to fix issues iPhones included but sub par screens will always be sub par screens.

Lol! Cool your jets a bit. That display may blow away Apple fans minds, but it won't be better than what Samsung uses for it's own phones.

People like Russell who make excuses for a phone that costs $850 are the reason that companies keep putting out bad products at premium prices. DEMAND MORE for your hard earned money. The average consumer who spends that kind of money is stuck with the phone for a year or two and deserves to get what they paid for. The screen on a phone is not negotiable in 2017.

On last week's podcast Russell told people to "shut up"about the display. Three days later Android Central posted a video about screen burn in on the Pixel XL. This week he defends the phone by saying it's $100 cheaper than the iPhone X which will no doubt have a superior Samsung display. He also berated people last week on the podcast for threatening to return the phones "sight unseen". This week on the podcast he said he admittedly hadn't spent a significant amount of time with the Pixel XL to be aware of all the screen issues. He's all over the map.

Perhaps he jumped the gun on it initially and that's okay. My biggest issue is with the tech bloggers out there who didn't spent their hard earned $ on the phone initially only to conclude that the screen on the 2 XL is for the most part a non issue or something he or she can life with. Hell, give me one on loner and I'll gladly live with it's bluish tint & screen burn-in too.

It's almost like there's a linear progression of experiences there, with new information coming in as time moves forward.

There's been so much going on that I completely forgot about the darks being crushed.
Variations are expected, but it's up to the manufacturer to limit that range. LG may have tightened up an the allowed variations (decreasing yield) once people started talking. Does Samsung actually calibrate the panels, or HTC? Just asking because I do not know.
I don't think that LG switching to LCD at this point would help. I have never like LG's LCD panels anyways, so I'm not sure it would be an improvement. I don't know who makes the U11 display, but now that we have the iPhone 8 Plus in our house and can make direct compairsons, the U11 panel is better. If LG sourced an LCD panel of the same quaility, it would be a step up from the P-OLED panel in the 2 XL, but it would also invalidate the device from being Daydream ready. Ahh, screen door: my buddy from when I first tried Google Cardboard with an iPhone 5c! More like chicken wire! On the 5C's resolution, you could NOT ignore it. Moving up to the HTC M8's 1080p display, the screen door was still there, but is was fine enough that I forgot about it after a minute, and it was not an issue. QHD solves the problem, and with 534 PPI, you only get a faint shadow of a dot where the screen door lines would normally intersect.

Great podcast minus Alex 😂

Great podcast! I learned alot! I didn't realize Samsungs Amoled was criticized originally. Now it's class leading! Good info!
Android Central Newsletter
Get the best of Android Central in in your inbox, every day!
Thank you for signing up to Android Central. You will receive a verification email shortly.
There was a problem. Please refresh the page and try again.