AC Podcast 326: All about MWC 2017 (LG G6, BlackBerry KeyOne ... Nokia 3310?!)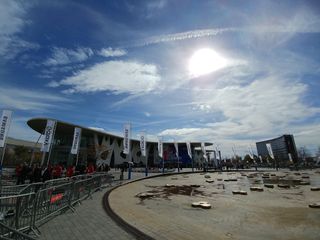 There was no shortage of big announcements from Mobile World Congress 2017!
From the BlackBerry KeyOne to the LG G6, Moto G5, Huawei P10 + P10 Plus, the Huawei Watch 2, Sony Xperia XZ Premium and new phones from Nokia, what's old is new again, and what's new is way less gimmicky than last year!
Join Daniel Bader, Andrew Martonik, Derek Kessler, Michael Fisher (aka MrMobile), and Alex Dobie (with a special appearance by CrackBerry Kevin Michaluk) as they go over all of the big news from MWC 2017!
Get the Android Central Newsletter
Instant access to breaking news, the hottest reviews, great deals and helpful tips.
Daniel Bader was a former Android Central Editor-in-Chief and Executive Editor for iMore and Windows Central.
"We're going to try to keep it short..." [glances at BeyondPod] "107 minutes left"

Make these longer, they're always fun to listen to when I'm driving

Definitely. I don't know who these people are that want a shorter podcast. Why don't they just stop listening when they're bored of it? Lol

I don't think this one could have gone any longer, but you can look forward to a couple of these a year!

Agreed! Love the podcasts every week! Makes my commute go by faster!

"All the news fit to jamón the page." Outstanding. Ya bunch-a prosciuttos !

"Don't worry we'll cut this part out" Welp

We've done that many times before :P

Just for the record, I also would be very happy if the podcasts were longer. I get like 1 days worth of commute out of them and am always sad when they're done. Love the discussion and hearing your perspectives and opinions on things.

More is always better of everything good!

321 Jim, restart here...
I don't think Jim listens to the podcast. Could have cut out the extra minute of Kevin coming in. Lol. Not a big deal just found it funny

Always good. But I'm one for more storage - 64 minimum... I'm not a big fan of adoptable storage... It's basically a cheap extension that has limited bandwidth / functionality and has data that can't be transfered to other phones... So unique, but to me, not desirable...

Nokia hasn't made anything good for 10 years? Come on! I know this is AC, but this comment is still pretty ignorant... You don't like Windows Phone, fine, but the Nokia lumias were beautiful, durable, great to hold, had better outdoor displays than anyone else, had curved displays before anyone else, had wireless charging before anyone else and were unsurpassed in camera quality all the way to the 950... For crying out loud, it took iOS and Android (and Windows too) 6 years to reach the basic functionality of Symbian, if we disregard the app availability...!

What about the Moto Mods announcements? I was looking forward to your guys' thoughts on Moto Mods for 2017... not being sarcastic either.