Player FM for Android Auto: Simple playback but cluttered listings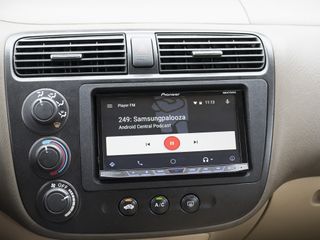 There's absolutely no shortage of podcast players available for Android Auto. In our 'tour of Android Auto apps, we've already taken a look at several from the usual suspects. But Player FM admittedly was a new one for me, despite it being in the same 500,000 to 1 million downloads category as our current favorite podcatcher. Turns out it's a highly capable app with a bevy of features that even the most hard-core podcast listener would demand.
Player FM also supports Android Auto. But, like every other Android Auto-capable app, not all of its features made the trip into our cars.
Let's see what's left.
Image 1 of 9
Player FM has all the bells and whistles you could ask for in a podcatcher. That much is clear after even after just a few minutes of use. It's got Google sign-in for keeping things synced across devices without having to remember a separate password. It's got a nice queue. It's got variable speed playback. But none of that is available once you're plugged in to your car. That's not all that surprising, though, and it's really no different than every other podcatcher we've used.
What you do get is a simple and easy-to-use interface. The menu structure doesn't go too deep. You've got "Series" subscriptions — that's your list of shows your subscribed to. There's also an episodes list, where you can see the most recents in one fell swoop. There's also "Play Later" and "Downloads," which can wind up just being the same thing, depending on your download settings. So there's no in-car discovery or anything. What you're subscribed to is what you'll see. And that's not necessarily a bad thing — I'd contend that while you're driving probably isn't the best time to be learning about new shows.
The playback screen is extremely simple. (And for whatever reason the Android Central Podcast album art refused to download in its proper resolution. I saw other shows have that problem as well, but not to the same extent.) You get play/pause, and forward and back for changing tracks. And, well, that's it. Player FM would benefit from the 30-second skip and 10-second reverse buttons that most other Android Auto podcatchers use. That's the only real glaring omission here.
The bigger issue I have is when in a list of episodes. The episode title — arguable the most important thing to see in this view — gets truncated in favor of including the track run time, publish date (xx days/weeks ago), and whether you're streaming or playing off a download. That's too much extraneous information at the expense of the episode title. Maybe I'm picking nits, but that certainly stands out against all the other podcatchers I've used.
Still, Player FM is a perfectly capable and very nicely designed app. The Material Yolo fans will find that especially pleasing. And you can't beat the price: Free.
Get the Android Central Newsletter
Instant access to breaking news, the hottest reviews, great deals and helpful tips.