Pixel Plus: How to make your phone look like a Pixel (and better)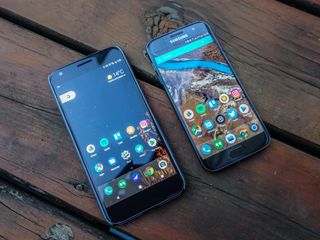 The clean lines of the redesigned Google widget atop the screen, the whimsical portholes for folder icons, the faint white bar behind the dock … Google did a lot of interesting things with its new launcher layout, and while I'm all for the Pixel look, let's face it: not all of us have 800 bucks for a Pixel. And even those with a Pixel can get fed up with the launcher's limitations when it comes to desktop grid size and icon packs. Don't worry! You don't have to give up your sweet Pixely theme just because you're giving up the Pixel Launcher.
Luckily for us, two of the most popular replacement launchers on the market have already done most of the work for us; all we have to do is turn the proper settings on. We'll show you how to bring out the Pixel in Nova Launcher and Action Launcher, and how to put it all together.
Google Wallpapers
I've said before in themes like these that stock wallpapers are boring as hell, make me sad and shouldn't be used. Thankfully, I don't have to say that this time because the Wallpapers app that ships on the Pixel and is available on Google Play (opens in new tab) has dozens and dozens of beautiful and diverse wallpapers ranging from Google Earth and Landscapes to Life and Textures. They even have daily wallpaper settings so that your wallpaper can't get stale and sad, because you can wake up every morning to a new one! Yay!
See our review of Google Wallpapers
Icons
The Pixel uses round icons. Woo. Hoo. There are a lot (by which I mean a metric crapton) of round icon packs out there, but we've come to the two we prefer over all others, and indeed over the mismatched stock icons on the Pixel.
Pixel UI Icon Pack, left, and Dives - Icon Pack, right
Pixel Icon Pack (Free)

(opens in new tab)

is a free icon pack with the Pixel icons we've come to love (or not), along with a decent amount of themed third-party icons and a masking tool for icons that don't have an icon in the pack yet. There aren't a lot of alternate icons, but it looks decent in the app drawer and on the home screen, is easy to apply and easy to navigate if you're looking for a specific icon or alternate.
Dives - Icon Pack ($0.99)

(opens in new tab)

is by Vertumus, a developers with some very robust and beautiful packs, and while you can find the standard Pixel icons here for stock apps along with round icons for thousands of apps, what we also have here are alternate icons for apps like Google Play Music that look SO MUCH BETTER than the one Google is using. In fact use the alt_3 icon for all the Google Play apps. Oh, and the icon pack is on sale for a dollar right now, half off its usual $2 price tag.
Pixel via Action Launcher (aka the easy way)
Action Launcher recognizes that changing settings across an entire launcher takes a while, which is why they were gracious enough to provide a shortcut. Here's how to find it again if you didn't use it the first time it popped up:
Open Action 3 Settings.
Swipe up to scroll down to the bottom of the settings menu.
Tap Help.
Tap Looking for Pixel Launcher features.
Action Launcher will then list and explain all of the Pixel features and styles it has. It'll tell you where you can activate each individual one.
Tap Apply All.
Action Launcher will tell you what all it is about to change and ask you if that's what you wanted. Tap OK.
Tap the back button to get back into the main menu of Action 3 Settings.
Scroll up and tap Display.
Tap Icon pack.
Select Dives or Pixel Icon Pack. Action Launcher has some of the default Pixel icon built in, but you'll want a real icon pack to put some consistency on your launcher.
This will get you everything for the Pixel theme except the Google search bar, which isn't available in Quickbar but instead as a standalone widget at the top of the widget drawer. While this does mean that you can put that little pill wherever you want on the screen and that you don't look the entire top bar of your screen like you do on other launchers, you can't customize the color like Action Launcher's signature Quickbars, nor can you get the date or weather. Shame.
Pixel via Nova Launcher (aka the hard way)
Nova Launcher is the Old Faithful of third-party launchers: it is beautiful, it is dependable, and it's the best quarter I ever spent in Google Play back in the day. While you can get most of the way to Pixel with the free version of Nova Launcher, you need Nova Launcher Prime for the gesture actions we're going to be using for the app drawer. The Pill search bar is still in beta for Nova Launcher, which you can opt into here.
If you didn't already use Nova Launcher, you can import your current layout to Nova upon installing it by going into Nova Settings. In the Backup & import settings, tap Import and select your launcher. You'll have to click through a few warnings about deleting your current Nova layout, but if you just installed the launcher, you're just losing the default layout
Open Nova Settings.
Tap Desktop.
Tap Desktop grid.
Set the desktop grid to 4 rows by 5 columns. Tap Done to return to Desktop settings.
Tap Width Padding and select Medium.
Tap Height padding and select Large.
Tap Persistent search bar to turn it on.
Tap Search bar style.
Tap the pill-shaped Pixel Bar style.
Tap Bar color
Set it to white.
Scroll down to Logo style and select the colorful G.
Scroll down and tap Weather to turn on weather content in the search bar. NOTE: Nova has since moved this to Nova Settings > Labs.
Tap the back button twice to return to the main menu in Nova Settings.
Tap App & widget drawers.
Tap Drawer App Grid.
Set to 6 rows by 5 columns.
Tap Done to return to App & widget drawer settings.
Tap Frequently used apps to turn it on.
Tap App drawer style.
Tap to select Vertical.
Make sure Card background is turned off.
Tap Swipe to open to turn it on.
Tap Background.
Select White and set Transparency to 0%.
Tap Enable fast scrollbar to turn it on.
Tap Scroll accent color
Select Teal (fourth row, first column).
Tap Search bar to turn it on.
Tap the back button to return to the main menu in Nova Settings.
Tap Dock.
Tap Dock Background
Select Rectangle.
Tap Color.
Select White.
Drag Transparency to 70%
Tap Draw behind navigation bar to turn it on if you have on-screen navigation buttons.
Tap the back button to return to Dock settings.
Tap Dock icons.
Set to 5. Tap Done to return to Dock settings.
Tap Width padding and select Medium.
Tap Height padding and select Large.
Tap the back button to return to the main menu in Nova Settings.
Tap Folders.
Tap Folder Preview.
Select Grid.
Tap Folder Background.
Select N Preview.
Tap Background.
Select White and set Transparency to 0%.
Tap the back button to return to the main menu in Nova Settings.
Tap Look & feel.
Tap Icon theme.
Select Dives or *Pixel Icon Pack**.
If you want an extra way to swipe open your app drawer, tap Gestures & inputs.
Tap Swipe up.
Tap app drawer.
Going beyond the Pixel
The stock Pixel theme we've described up above brings a nice, clean, bright look to our launchers, but there's no saying we have to follow the Pixel theme to the letter. Here are a few ways to make your Pixel theme a little more flexible, fun, and fitting:
Folder Fun: By changing the color of your folder Background in Nova or Folder icon background away from white, you can make your folders pop with a colored ring on that porthole preview. It can be a challenge to pick a hue that looks good on your theme as both a preview and folder background color, but when pulled off properly it can be quite stunning.
Pretty Pill: While you can't customize the color of your Pixel search widget in Action Launcher, Nova will let you customize the color of the search bar to better match your wallpaper or theme colors. I don't know about you, but white widgets hurt my soul.
So, how Pixely do you like your launcher? Have any circular icon packs that we may have overlooked? Chime in below in the comments, and if you have any themes you'd like me to tackle, sing out!
Ara Wagoner was a staff writer at Android Central. She themes phones and pokes YouTube Music with a stick. When she's not writing about cases, Chromebooks, or customization, she's wandering around Walt Disney World. If you see her without headphones, RUN. You can follow her on Twitter at @arawagco.
Why not download the Pixel Launcher apk? The only downside is the fact that you can't swipe left to Google Now.

So you can get a bigger grid than 4x5? So you can use a consistent icon pack? So you can tweak the colors of the theme to be a little less white bread?

Definitely all great reasons. I guess that I'm just much, much too lazy to tweak, so didn't give much thought to it lol.

You can also get Google Assistant through the Beta Program, how I got it on my Nexus 6

No doubt. Grid size settings are what keeps me with nova.

4x4 was fine on a 4" screen. Not so much on a 5-6" screen. Currently rocking an 8x6 grid on Nova

Pixel Launcher is now on the Google Play Store. But no left Google Now left screen as you said. If maybe someone installed it in the root partition using an apk file and then rebooted the phone. That's what I did. Voila! I now have the left Google Now screen.

How did you do it, can you please tell where did you got the apk file and does the phone needs to be rooted?

how did you do that? does the phone needs to be rooted? is there any apk on the play store?

There is an apk, but it's meh and the pixel launcher in the store is only compatible with pixel phone's

It shows on CM13 on my Honor 5X

The hard way looks better in my opinion. Sure it's more steps, but to me it looks more like the Pixel launcher.

Nova does Pixel better than Pixel.
Nova is awesome like that. And it's a lot of steps but it's still less than five minutes.

If you cannot swipe left it is not better than the original.

Take any of the other gestures in Nova Launcher and have them launch Google Now. It won't be a swipe left, but you could do double-tap for Google Now... or swipe up for Google Now.

That's on Google for not writing an API

Yeah if they only let developers to access that. Currently they have given access to few OEM like Sony but hoping developers can get access as well. Then Nova will be my default#1.

I've heard the developers of both Nova and Action Launcher say on podcasts that the day the API is public, it'll be in their launchers. So, maybe it'll happen eventually.

Wonder if there is a ticket that people have created to have that as a future option.

Yep. I've been a Nova evangelist forever, but putting it on my Pixel just felt...old. I'm highly aware of the gestures, but nothing beats the left (or is it right?) swipe. Stock on the Pixel for the first time ever. It's just nice when things work properly out of the box.

Well, the way I have it I bet it beats the PIXEL Launcher, a swipe up, plus you can do this on any screen, the swipe left just works if you are on the home screen, so if you have multiple pages is a little pain in the a**. For those of you interested in the closest to the Pixel Launcher using Nova but don't want to do it yourself, I already did it, only thing missing is the swipe left, but it's done with the swipe up. Just get the Nova launcher beta, Tesla plugin and apply this backup and you are set. https://drive.google.com/file/d/0B9PQEWVD_htQZVRQRUZVamFMMjQ/view?usp=dr...

I can't find the weather option under the search bar setting and I am on the beta version. Can anyone find it?

It's under labs now, it got demoted.

Where would I find the labs?

In the main Nova settings screen, press and hold volume down for a couple of seconds.

WHAT? When did that happen?! I swear it was there when I took screens a few days ago!

Newest update from last night. He had been getting complaints on G+ about the weather not updating properly.

Yup, last night. Also double tap swipe gestures were added in, which is very nice.

Nova launcher crashed on my phone when I enabled weather. I guess it is fixed now.

The pill type search bar isn't showing up on my nova for some reason

It's only in the beta. They really should have pointed that out. You can get the apk from the nova launcher website

That's still on the beta? I thought that go pushed out to stable already... Amending

Yeah, the Pixel launcher has been around for months and Action jumped on it quick, Nova lagging a bit with that.

I am currently using the pixal launcher on my HTC One a9.works smoothly with the3gb of Ram on the a9.

I do not have all of these options in my Nova Launcher. I have Prime but do not have the pill shaped Pixel Bar Style option. Or the weather option. I'm using an Axon 7.

I mistakenly believe that had been pushed to stable along with the folder options, They are still in Nova's beta, available to opt-in here: http://novalauncher.com/beta/

Off topic, how are you enjoying the axon7?? Thanks

Also off topic: how is the sound on the Axon 7?

Also also off topic: may I have your Axon 7 for reasons?

Really off topic. Is cotton really the fabric of our lives?

Great! I can sleep now! Thanks!

Aaron Neville seemed to think so.

I really like the Axon 7. The hardware is outstanding and the parts of the ZTE software that I don't like I've replaced. The stock email and SMS apps aren't the best I've ever used so I'm running my work Exchange email through the Gmail app and I'm using textra for SMS. I bought it from Best Buy using my BB card so I got 10% off the price and 12 months interest free to pay for it. The sound is very good. I use the speaker phone sometimes and it is way better than any other phone I've used. Yes it is an A2017U. In gray.

Thanks for the follow up....I'm planning on buying one....for some reason not for sale until 11/23 across the usual suspects

Same here missing the Pixel Bar, I don't want Beta, this should be official already, Nova is falling behind?

So I'm guessing the only reason for the whitish background is to balance the glass on the back.
Lose, lose.

If you have a European Galaxy S7 Edge :
- add big bezels on the four sides of the display, with stripes of black paper and glue.
- only charge the battery up to 80 or 85% to get the same battery life;
- throw away 300€ (you can send it to the following address by mail);
- add a filter to all of your photos to get "normal lense flare";
- disconnect the Bluetooth so that it only works with half of your devices;
- get rid of all the useless features such as wireless charging, Samsung Pay, Always On Display, Wi-Fi connection sharing, S Health, Outdoor display mode, Pro camera mode, Game Tuner, pop-up window, Samsung Music, Samsung Cloud, display modes, themes, private mode, SOS Mode, Download booster... Now you have a Pixel !

I've opted on for everything and still can't get the weather option to pop up under the search bay settings... Any idea?

It's under labs now, it got demoted.

I've got a feeling it might be a "you ain't in the US pal" kind of thing. I'm downunder in the Land of Oz.

Nah, I'm a pommy and it works fine ;) As I said, it's in labs. Hold volume down on the main Nova settings screen.

What if I want my phone to look nice though? lol

I'd say..... Clean it? ;)

Then look at some of my other themes? I have a holiday theme I'd love to show you involving Whicons, Glim, KWGT, and a beautiful Disneyland Paris wallpaper.

Google desperate to sell this overpriced wannabe iphone, smh..

I prefer the hard method. :P Also, I made the drawer, dock and folders dark. Because I don't like the actual light colored theme.

Even with the "Labs" menu open, there is no weather option in my version. Anyone else have this issue? Maybe it's worth mentioning I'm on the nougat beta from Samsung.

So my Nova version is actually missing:
1. Weather (under the labs option)
2. Pill shaped search bar
3. "Swipe to Open" option
4. "Draw behind navigation bar"
This is all on Nova Prime and I checked via the app and the Play Store and both say it's up to date... I really am wondering if the Nougat beta testing on my S7E is what's affecting these options?

You need to be on the beta, as stated in the paragraphs before the instructions.

Thanks for reminding me to read before I post. I jumped straight to making the mods and did not see any of that.

Ara, I'm on beta, every went as described, but I cannot find "labs" can you help? Thanks !

If I wanted a Pixel, I'd buy one.

Its for ppl "that" want to make their phone like a pixel, it's not asking!

I've had Action Launcher running the Pixel setup for some time now. It took some getting used to, but after some time I fell in love with it. I like how if you don't junk up the home screen, your wallpaper really takes center stage.

Amazing article. So we'll laid out, best read I've had on here in a long time. I just went to the S7 from my Nexus 5, and that's after returning my Pixel after a few days (for what I got vs what I lost, I couldn't justify the double price of the S7 with wireless charging and ip6?) The only STRONG concern I had was touchwiz. After stock nexus for so long I thought I would die switching, but I spent a full day trying launchers, icon packs, theme, stock apks) I'm finally ready to Say I can live without the cutting edge interface, and I can wait a bit for new features that are still being developped. This is the best article of my t's kind and ive read them all in the past 24 hours. Great job, wish it was out last night though!

Happy you liked it. TouchWiz is definitely a bit of a bear after being on Nexus, but so long as you grab a third-party launcher and disable as many of the stock apps as you feel you can, it's fine.

Waiting for the article on making your device look like it's using touchwiz.

With a rooted phone you can install Action Launcher as a system app and have swipe from the left for Google Now. Props to Chris Lacy for this.

You could also walk with an empty wallet in order to truly make you feel you have one for real.

I didn't realize that when I did all this stuff with Nova Launcher like two months ago, that it could be listed out in 35 steps. To me, the fact that you can make your phone look like a Pixel, with the added benefit of being able to add color to the search pill, app drawer, and folders, makes Nova the best launcher out there. Even if it takes 35 steps to get there! :)

Great article, thank you Ara. My galaxy s6 has looked like a pixel for just over a week now and I love it using Nova Prime Beta. Love my S6, and I've been talking lots of trash about Pixel, but yesterday I went in and played with both sizes Pixels and I have to say it blows away anything currently available, from a feel and software perspective. Honestly the device looks much better in real life and it feels like quality to hold. Although I'm still not sure about that glass on the back and the many short comings (waterproofing, wireless charging, looks like iPhone, no 64gb option etc...). If I needed a phone right now I'd seriously consider a Pixel now that I've played with one I can see what the hype is all about. It made every other phone on the shelf feel like crap except the iPhone 6S and 7 and I can't stand IOS (so unintuitive). On a side note, those new Motorola's look and feel unbelievably dated. I would never consider one and can't believe they are even on the same shelf with the liked of Samsung and Pixel.

I want to try a Moto Z for the mods, but... I just know it's gonna hurt to use after the Moto Xs I used when I started working here.

Steps 9, 13, and 37 are unavailable on my PRIV. Any ideas why?

As mentioned in the paragraph before the instructions, you need to be on Nova Launcher's beta.

Bottom line the pixel has flopped but you google fanboys just can't wrap your heads around the fact that your new shiny wannabe looking iphone is going to be EOL sooner than later!

Bottom line. You're an aids riddled **** puppet. Go troll elsewhere loser.

So I predicted that it was going to flop, which it did.. didn't even make the top 5 most sold for Q4 but for some odd reason we still get articles saying that it's on the Android Throne? Bloggers need to wake up and stop feeding us biased BS.

How wrong you were! It's 2 months later and the pixel is on fire it's sold out everywhere smashing any phone that comes up to it except my s7 edge which is still better...

Negative, it sold out due to Google shipping out only half of what they predicted and on top of that it was on 2 models only, the XL and the 128GB version. the rest are still collecting dust at your local Verizon store, The pixel didn't even make top 5 sold for Q4 of last year, go figure..

Really? Lol so did they say why there not selling? I know it's got problems with the speaker distorting....

Only thing I can think of is the pricetag, if Google lowers the price then it should sell just fine.

Ha ha, Nova is so lame. Does anyone still use it???

Beats the pants off Action Launcher, anyway.

Nova makes Samsung usable. Completely different experience when you have customization and control over the look and feel of the phone. Highly recommend Nova. Yes, it's too bad it's necessary, but Android isn't consistent or polished on any manufacturer that I've seen, Nova provides that consistency and polish. I only wish they offered it for IOS as well LOL.

For Samsung Galaxy S6/S7 users, which Samsung theme will be suited with this launcher setup?

S6 here. Don't bother with a theme, just install Nova Prime Beta and play with the settings. I mean follow Aras direction lol.

I did this and use the swipe up gesture to go to Google now.

That's a great option, too!

Great write up, will give this a spin on my Note 4 via Nova :)

What's all this talk about swiping from the left to the right to access Google now? I have the pixel launcher installed on my 6p and I just hold the circle button down and press G then I am there. So simple, love it

Amazes me how this piece of crap over rated phone has gotten popular when the alternative is way better and cheaper.

Nova step 6, is it medium or large... It's written medium but the screenshot shows large !? Thanks

It's large, I think during formatting it got confused with step 5. Fixed, and thanks!

For those of you interested in the closest to the Pixel Launcher using Nova but don't want to do it yourself, I already did it, only thing missing is the swipe left, but it's done with the swipe up. Just get the Nova launcher beta, Tesla plugin and apply this backup and you are set. https://drive.google.com/file/d/0B9PQEWVD_htQZVRQRUZVamFMMjQ/view?usp=dr...

On my nova launcher there is no option for the pill search bar? ? ? ? I've checked the play store to see if there is a update I'm missing but no such luck. Surly there isn't a different version of nova for the US and the UK!

It's a beta feature, as mentioned in the paragraph above the instructions.

Thanks Ara. Looking back through the article I can't believe I missed that. Lol.

Nova settings, desktop, first section last option search bar style. Fourth option down is pill. Scroll further down to select new g logo.

Can also do this with ADW launcher

I keep forgetting that app got revived...

57 steps for Nova gotdamn.

I tried to get it down to 40, then my editor split it back to that. And yeah, it's a lot of taps, but it still only takes 5 minutes.

Thanks to Ara, I finally bought Action Launcher. I tried the hard way until I realized that the stuff I really want from this launcher is in the beta. Enjoying Action Launcher and really glad that I get to finally have the minimal screen I always wanted.

So long as you found a launcher you like. The Nova Beta is public, free, and pretty stable, but Action has a lot of love from my editors.

I think that the page indicator was leftout in the guide, since i looked for it, and couldnt find it in nova, and yes im in beta, but the arrow pointing up is not available as a page indicator

Nice tutorial ! I am on the regular version of Nova, there is no pill search bar, weather option and swipe up to open app drawer from dock. So I conclude that these options are only in beta, is it right ?

Weather option available in labs developer mode. In main nova settings menu, hold down volume down button for a couple seconds it will add labs menu. Go in there and check weather.

Thanks, just happened to see your comment. Ive done this, but I still get the date instead of the weather. Ive also rebooted and updated Now, what else can I try? Thanks.

Turn off and turn on persistent search bar, or if you don't use this delete and add a new widget search bar, it should work

Don't know why all these nova how TOS say select teal for app drawer accent color. The pixel uses Google blue accents. To get the correct blue tap three dots in fast scroolbar color and type 4885ed as the hex color #. Google blue. Voila

Teal is for Nexus blue is pixel

Thanks for this informarion

I did it all and it looks great except for one thing, there are two search bars up the top of the phone. Did this happen for anyone else?

I presume you already found this but you here's the answer for somebody else that is wondering: you probably have the google search widget along with the persistent search bar from the nova settings. Just remove the widget one. :-)
Android Central Newsletter
Get the best of Android Central in in your inbox, every day!
Thank you for signing up to Android Central. You will receive a verification email shortly.
There was a problem. Please refresh the page and try again.