Advertisement Feature
'Tis the season for Tello Mobile discounts on phone service
A little something for yourself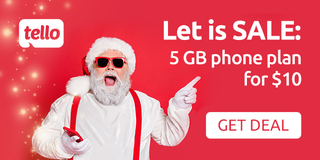 (Image credit: Tello)
The holiday season brings loads of joy, but it can make keeping your budget balanced a tad more difficult with all the gift shopping involved. Tello Mobile wants to help you out with its 12 Days of Savings, giving you an easy way to scrape back a little savings for yourself and lower your monthly bills with its affordable and capable phone service.
Tello's mobile phone service is already incredibly competitive with pricing that dramatically undercuts plans from the big mobile networks. But for this sales event, Tello is cutting one of its high-value plans to even lower prices still.
You can sign up for a 5GB plan of high-speed data and unlimited talk and text for just $10. That's down from the usual $19/month. And Tello's pricing is as plain as day, with no hidden fees.
This discount is available from December 5th to 16th and will apply to your first month of service. If you're setting up multiple lines, you can stack up the savings, too — handy if you're gifting some new phones for the holidays and want to include service. Tello's discount is valid for new and existing customers adding new lines to their account.
You might worry you're getting limited features when you're paying so little for phone service, but Tello really loads up the features. You'll find wireless hotspot capability included with all its plans, so you're free to use your data how you like. Wi-Fi calling is also supported. You'll also be able to make international calls to over 60 countries using your minutes.
When you set up service with Tello, you don't have to wait for a SIM card to arrive in the mail, nor do you have to pay for the SIM card or shipping fees. Tello Mobile now supports digital eSIM. So if you have a recent device that supports eSIM, you can get your service up and running in minutes. You can also bring your own phone if you've already got one you like, and you can port over your existing phone number.
The service is also an excellent option for families, as it allows you to manage up to 10 lines per account, doesn't charge extra per line, doesn't share balances between lines, and allows you to have a different plan for each line. So if you have young kids who don't need unlimited everything, teens who could do with a little data, and a few lines you never want to have running out of minutes, you can manage all of that on the same account.
It's the combination of all of these aspects of Tello's service, its incredible value, and its 24/7 customer support that have helped earn it an Excellent rating on Trustpilot with a 4.4/5 score from thousands of customer reviews.
With the 12 Days of Savings making Tello's value proposition that much better, now's a great time to give Tello a try and see if it could give you phone service savings for the new year, too. To get started, just head over to Tello here.
Get the Android Central Newsletter
Instant access to breaking news, the hottest reviews, great deals and helpful tips.