Philips Hue announces new outdoor lights and motion sensor at CES 2019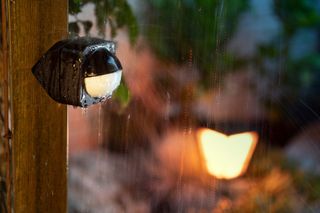 In the smart lighting space, few brands are as recognizable as Philips Hue. The company already has a pretty diverse portfolio of lights, sensors, and other accessories, and at CES 2019, Philips focused on further expanding its range of outdoor lighting products.
First on the list is the Philips Hue Outdoor Sensor. Philips already has a motion sensor for inside the home, but with the outdoor one, you can now have connected Hue lights automatically turn on when the Outdoor Sensor detects you approaching your house from outside. It can detect movement up to 12 meters (aka 39 feet) and can automatically disable itself when the sun is out.
The Outdoor Sensor is expected to go on sale this February for $49.95.
Image 1 of 2
Image 2 of 2
Also coming to the Philis Hue Outdoor line are the Welcome Flood Light, Discover Flood Light, and Econic family of lights. The Welcome Flood Light emits a single white shade of light while the Discover is capable of all sorts of fancy hues, and they'll retail for $109.99 and $139.99, respectively. The Econic lights can be used in a porch ceiling, on a pedestal, and downlight or uplight positions and cost $129.99. All of the lights will also be available for purchase in February.
Last but not least, Philips is adding four new Google Assistant commands for its Hue lights this coming March.
One-time alarm sync — Users can say "Hey Google, turn on Gentle Wake Up", which will sync their Philips Hue lights with their morning alarms with the Google Assistant. Every time, the user sets their alarm on the Google Assistant, Philips Hue lights will naturally wake the user up with a sunrise effect starting 30 minutes before the alarm.
Scheduled sleep/wake — Users will be able to set the sleep feature by saying "Hey Google, sleep the lights at 10 p.m." The lights will change to a warm tone of white light, which will gradually fade out over 30 minutes. This functionality will similarly work when you would like to wake up.
Direct action — Users can instruct their Philips Hue lights via the Google Assistant to sleep and wake immediately, meaning the Philips Hue lights will activate the sleep and wake process for the 30-minute duration.
Multi-person activation — Just like the Hue app, the Google Home app lets you manage your lights in different rooms, which means you can set the wake-up routine not only for your own bedroom but also for other rooms, such as "Kids Bedroom".
How to pair and set up Philips Hue lights with Google Assistant
Joe Maring was a Senior Editor for Android Central between 2017 and 2021. You can reach him on Twitter at @JoeMaring1.
I already use a standard white hue bulb on my front porch light fixture, despite the warning not to use the bulb outside. I don't see any reason to shell out more money for a whole phillips flood light. It does not get wet inside the lamp housing at all. I thought it was crap that the bulb package includes a warning that its not for outdoor use but that's probably bc you should not get it wet..but if the wifi bulb outside is protected from rain it should be ok..it is a sealed bulb. I have been using it for over a month with no problems.

Personally, the only place I've found motion sensors to be useful is outside. And for that, I buy solar powered lights so I never have to worry about recharging or powering from my home. I don't care if they aren't "Smart", I don't plan to control them that much as they are simply guiding lights and nothing more. You can get 4 solar lights for around $25-35 on amazon. They are worth it.

Does it still require a hub while tons of other great smart bulbs don't? If Yes, then... Moving on...

The hub is not a bad thing, at least you can add on a lot of lighting with it, most routers have a limit on the amount of Wi-fi connections they can cope with.
The hub also allows you to do things you may not be able to do with a normal Wi-fi light. i have started using the hue system, went to a mates place who have one and found out how useful it can be, the main problem with Philips Hue is the price.
Android Central Newsletter
Get the best of Android Central in in your inbox, every day!
Thank you for signing up to Android Central. You will receive a verification email shortly.
There was a problem. Please refresh the page and try again.