Phiaton Bolt review: Great true wireless headphones with a speaker-sized gimmick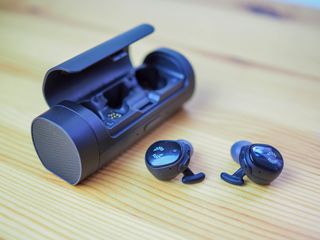 Everyone needs a gimmick. In the case of truly wireless earbuds, the gimmick is the lack of wires themselves. Or at least that was the gimmick before every headphone maker on earth decided it needed its own version to compete with Apple's AirPods.
Phiaton is one of the more underrated headphone companies out there, in my humble opinion. The company's made some excellent noise-canceling buds over the years, even earning a recommendation from The Wirecutter for the inexpensive BT 100 neckbuds — a pair that I also love.
Now, the company is venturing into the lucrative truly wireless earbud market with the Bolt, a very decent pair of headphones on their own — pretty good sound, awesome battery life and, most important for me, excellent comfort — with a sizeable gimmick: the charging case doubles as a Bluetooth speaker.
Available for $89 on Kickstarter for a limited time before shooting up to $139 when it hits retail later this year, should you consider buying them?
Pros:
Awesome sound quality
All-day comfort
Decent battery life
Google Assistant / Siri support
High-quality connection
Great price
Cons:
Case is big and bulky
Case speaker sounds like a tin can
Earbuds sync issues aren't great for video
Volume buttons are squishy and hard to press
Lacks aptX codec support
Phiaton Bolt What I like
There's a lot to like in the fundamentals of the Bolt as earbuds: the design, while relatively bulky, is extremely comfortable — perhaps more so than any other pair that I've tried (and I've tried most). The company provides four silicone tips of varying sizes in the box, and like the ginormous animal I am, the largest was most comfortable in my earholes.
There's also something Phiaton calls RightFit+, a permanent wingtip that helps the buds remain in the ear during movement. I was skeptical of this design, especially since most wingtips are removable for a reason, but either I'm one of the lucky few with compatible ears, or Phiaton's claim that it "tested this design with hundreds of testers during the engineering phase" is actually true.
Getting the fit right is key to allowing the earbuds' sound to come through properly, but that would all be for naught if the quality wasn't any good. Thankfully, the company pulls a win there, too. These don't sound as good as Jabra's excellent Elite 65t buds (opens in new tab) or Bose's Soundsport Free (opens in new tab), but for the price they don't have to.
What you get is a healthy helping of bass, with a narrow soundstage, recessed but not unpleasant mids, and a lack of harshness in the high-end. That's all good for how I generally use my headphones: during workouts or walking outside. With a good seal, there's enough natural isolation that I don't feel affronted by the lack of active noise cancelation, would have naturally added considerable cost to this product.
Along with excellent sound, the five-hour battery life per charge is decent, and the included charging case comes with three additional charges when full. It's also easy to dock the buds in the case, which closes with a solid thunk. (Unfortunately, that's about the only good thing about this disastrous case.)
Each earbud comes with two microphones — one to cancel external noise, and another for calls and dictation — and the side of each is touch-sensitive, allowing for handy gestures that actually work. The right earbud operates as a play/pause button when double-tapped. The left one activates "ambient" mode, which uses the two microphones to pick up outside noise so you can (theoretically) carry on a conversation. I've used ambient modes on other headphones like the Samsung Gear IconX and Sony WH1000MX2, and this one pales in comparison, but it sort of works.
Holding down both volume buttons on either earbud (yes, each one has independent volume controls because Phiaton expects people to use them on their own for calls or podcasts) activates either Google Assistant or Siri, depending on the platform, and in my testing the integration worked flawlessly.
Finally, the headphones support Bluetooth 5.0, and in my time with them they never cut out or went out of sync. Perhaps it's because of the relatively large antennas inside each bud, but they remained rock solid throughout my testing period.
Phiaton Bolt What I don't like
There's a lot to like about Phiaton's first foray into truly wireless headphones, but there's almost as much to dislike and nitpick, and that's a problem.
Let's start with the most egregious of issues: the carrying case. Phiaton touts the case as a Bluetooth speaker, which contributes to its added size and bulk, but if I had to choose to make that compromise, I'd throw the speaker feature into the garbage.
This thing sounds plain bad. Like worse-than-the-crappiest-phone-speaker bad. Tinny, shrill, and barely audible, there's almost no situation I'd choose to use the Bolt's built-in speaker over my phone's.
Worse, the case is huge. At nearly four inches long and an inch and a half tall, the case is barely pocketable, making it unlikely that I'd want to bring it with me on an outing. Because the earbuds themselves have separate power controls, and a reliable auto-off feature, that's not really a problem — I don't have to worry about a depleted battery if the case isn't nearby — but in my opinion, the point of truly wireless earbuds is for the whole package, buds and case together, to be portable.
Call me spoiled by the AirPods which, thanks to its diminutive casing end up in my pocket whenever I go on a walk, I don't necessarily want to separate the earbuds and case. In such a situation, I'd rather just wear some neckbuds like Phiaton's great BT 100s (opens in new tab).
At the same time, I can also understand Phiaton's position here: the case carries extra separate charges, totaling 20 hours of usage overall, and I can imagine there will be people who value portability less than an accumulation of features. For them, Bolt will be perfect. The oversized case charges with Micro-USB, too, not something that I want to be seeing in 2018 despite its lower manufacturing and licensing costs. I'm not happy about it, but not surprised.
Similarly, to keep costs down, Phiaton didn't license Qualcomm's high-quality aptX streaming codec, relying on the free and lower-fidelity AAC and SBC codecs built into iOS and Android.
Phiaton Bolt Should you buy?
The reality is that, despite a wealth of criticism-worthy flaws, I really like Phiaton's first attempt at a truly wireless headphone. I can easily get over the minor issues, and even the case size isn't an issue most of the time; in Canada, with the weather going down, I rarely leave the house without a coat or bag.
At its Kickstarter-backer price of $89, the Bolts are a steal. Hell, buy two and give one as a gift. At the impending $139 retail price, however, we're only $30 away from the superior Jabra Elite 65t, and there are plenty of months remaining in the year for other companies to release standalone earbuds, too.
3.5 out of 5
There's just under a month left in the campaign, and at the time of writing it just surpassed its $50,000 goal, so suffice it to say there are few impediments to success for Phiaton here. While the flaws are plentiful, the overall product is sound, and if you can get them for $90, the Phiaton Bolt headphones are a no-brainer.
Get the Android Central Newsletter
Instant access to breaking news, the hottest reviews, great deals and helpful tips.
Daniel Bader was a former Android Central Editor-in-Chief and Executive Editor for iMore and Windows Central.
There's no way these are releasing by the end of the year. Something always goes wrong during mass production, and a respectable will halt production to fix the issues and not send out products with a known fault. The small size of the electronics will create their own problems. My guess is these will release by the end of Q1 2019. The only real benefit of these over Bragi Headphone (they mention it on their KS page) is they include a battery case for $10 less. The external speaker would be nice, but only if it had good sound quality.