Peggle Blast brings more peg-popping challenges to Android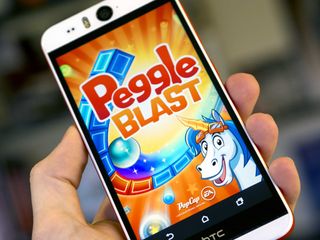 Peggle Blast is the latest installment in the Peggle series from PopCap and EA, bringing more peg-popping fun to mobile. Blast has new challenges, new Peggle masters, and new obstacles to let you test your skills.
The first Peggle game designed for mobile devices, Blast presents you with levels that are easy to learn. To progress through the game, earn at least one star on every level, avoiding new traps like gooped pegs, time bombs, and Gnomes by learning and mastering different skills. Peggle Blast features a number of new boosts to help you complete challenges, such as the Ring of Fire or the Egg Net.
Peggle Blast is available for free, with in-app purchases for boosts, lives, and more. You can download the game from the Google Play Store (opens in new tab) now.
Source: EA
anyone know if this is an in app purchase disaster?

Sounds like it is. Buying lives? What is this, candy crush?

Says not compatible with my device (OnePlus one) BOO-URNS!!!!!!

Same... 1+1 as well Keith 1+1

Same, Moto X 2013 Posted via Android Central App

Same, Oneplus One Posted via the Android Central App on my Oneplus One

Same on HTC One. Never seen this happen to this phone before.

IInstalled on my Nexus 6! I loved the original, and I remember beating the original game on Android before they removed it from Google Play.

Works with my LG Viper 4G LTE, Galaxy S3 and Galaxy Tab 2 10.1

Any idea why it got removed? I was bummed that I couldn't play it on my Android devices when I switched from iOS a couple years ago. Can I get it from another (legit) source for Android?

I never found out why it was removed, but I was annoyed. When i switched Android devices, and I couldn't find it again, I was just distraught!

Apparently they only want it on tablets or giant phones like the Nexus 6. That's a bummer, I really enjoy Peggle on the Xbox.

That's ridiculous. 5.5 is pretty big and I'm sure it works on the iPhone.

I have it on my Moto g Posted via the Android Central App

Now if they could fix the original Peggle app they never updated in 3 years that doesn't work and that I paid for, that'd be great.

Installed for me on my Droid Turbo.

Installed on my Galaxy Tab S. I just played quickly for about 10 minutes. So far so good! I figured it's worth a shot to see how bad the IAP implementation is. No signs of interference YET, but I'll see when I get further. If IAP becomes a nagging requirement, instant uninstall. I absolutely hate that business model and refuse to support those apps. Give me a one-time price for the entire game, I'll happily pay it.

Been waiting an age for this game to come to Android (never got the original to work on any of my devices). Played a couple of (easy) rounds, looks good to me. Hope they don't ruin it with needless IAP where you have to buy power-ups or any other crap just to pass a level. Paying for a ton of new stages isn't too bad depending on how they are priced but knowing EA I should be prepared to be ripped off somehow!

Plays well on LG gpad 8.3. Played quick 3 rounds. No interference.

Lol and EA owns it.... What will each ball cost $1? I miss the "pop cap" days. Posted via the Android Central App

FYI: This DOES INDEED become an IAP trap nightmare once you get to around level 25. It becomes extremely gimmicky and is more frustrating than enjoyable. Sadly, I'm uninstalling this. PS EFF YOU, EA. You ruined a great game with greed. I would've happily paid up to $5 for the full game, but you'd rather please the minority with the bottomless wallets.
Android Central Newsletter
Get the best of Android Central in in your inbox, every day!
Thank you for signing up to Android Central. You will receive a verification email shortly.
There was a problem. Please refresh the page and try again.