Pebble announces million-dollar fund to bring smartstrap ideas to life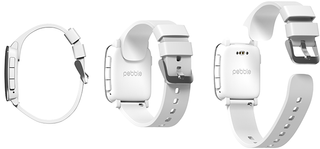 When the Pebble Time Steel was announced Pebble also announced smartstraps - an open hardware accessory platform. Since then there has been a lot of buzz in the developer community about smartstraps, which allow sensors to be added right into the bands. To help these ideas grow into actual products Pebble has just announced that they are putting 1 million dollars into funding the development and support of smartstraps.
Pebble will not be able to fund every single project that comes out, but they will be using their best judgement to distribute the available funds. A few companies have already caught the eye of Pebble with their ideas, the first being Spark.io. The concept presented here would allow you to be able to untether your Pebble and connect directly to a cellular network, allowing for your watch to remain connected at all times. Next up is SeeedStudio who looks to create a connector for their arduino-compatible Xadow modules which include GPS, NFC and Heart Rate Sensors.
The process of qualifying for funding from Pebble is outlined very simply. Get your team together and build a prototype, then put your idea on a crowdfunding platform, and finally get in touch with the Pebble team through Twitter or email. If you had any interest in building a smartstrap for the Pebble Time, this is definitely great motivation to get in gear and see if Pebble will support your ideas.
Press release:
Announcing our $1mm Pebble smartstrap fund
Earlier this month we announced Pebble smartstraps, our open hardware accessory platform. Since then, hundreds of developers, hackers and established brands have approached Pebble to take part.
Today we are pledging 1 million US dollars towards development and support of smartstrap projects.
If you have an idea and want to be part of the smartstrap revolution, this is your chance! Get a team together, build a prototype and then put your project up on a crowdfunding platform. Our team will work to help bring your ideas to life.
We monitor Kickstarter and other crowdfunding platforms for Pebble smartstrap-related projects, and we'll back the best of them. We truly understand the value of backing projects in their early state, having started that way ourselves. From there, we expect many projects to evolve into products fit for wider release. To make sure we get see your project you can tweet your projects @Pebble or get in touch with our developer experience team by emailing devsupport@getpebble.com.
Not every single project will get funding from Pebble, we'll use our best judgment to distribute funds. No specific terms are being published right now. Along with cash, we'll also promote some smartstrap projects through Kickstarter updates, on our website getpebble.com, and elsewhere.
Jared started off writing about mobile phones back when BlackBerry ruled the market, and Windows Mobile was kinda cool. Now, with a family, mortgage and other responsibilities he has no choice but to look for the best deals, and he's here to share them with you.
So amazing! We can only start to imagine what kind of straps will be released! Posted via Android Central App

I want a strap with an NFC chip that would allow Google Wallet purchases by tapping the watch. I have no idea if Google Wallet/Android Pay has APIs for third-party NFC chips, though.

Blood glucose monitoring for diabetics Posted via Android Central App

That would take about a decade to get through all the FDA testing and crap Posted from my Droid Turbo, Kelly and Ozone

Not really. It doesn't take nearly as long to get diagnostic tech approved as it does for treatment devices, and there are already similar monitors out there, so it wouldn't be first in class. The issue would be more with the expense of getting it approved than with the amount of time required. Companies that make accessories and gadgets don't have pockets that deep, and the companies that do this kind of thing want to make their own full-service products rather than accessories for another company's smart watch.

Actually there are a total of zero similar monitors available(at least in the US there aren't. I don't follow this outside of the US) The first question would be would it be an invasive device or a non invasive device. There are currently zero non invasive blood glucose monitors available in the United States. This would be a brand new category here. Many companies have tried to bring a non invasive testing device to the US and exactly all of them have failed so far. If a company that has no background in that tries to enter the market it will take at least a decade to get the R&D and then make it through the FDA's testing.
The other choice is making it invasive. The question here is would it be a continuous glucose monitor or not. There are currently no CGMs designed to work on the wrist. The safety and efficacy of doing it in that area would have to be studied(I don't know for certain if that's been done or not) and then a design would have to be developed, and since the anatomy of the wrist makes it FAAAAAAARRRRRR from an ideal place to test, to be honest I can't even imagine placing a CGM on the wrist due to the sheer amount of movement the wrist goes through. The logistics of using a watch, or a strap from the watch, to get individual readings instead of somehow being a CGM completely eliminate that option. There are tons of reasons why diabetics don't test on the wrist, and trying to do it with a smartwatch would complicate all of those reasons. It just isn't gonna happen.
So this brings us back to it pretty much has to be a noninvasive testing method. And once again, everyone who has tried to bring a noninvasive glucose meter to the US has failed. So I'm gonna go ahead and stick with saying it will be a decade before we see a smartwatch that tests blood sugar(if that soon)

Blood oxygen SATs, pulse and some way for measuring BP? I know a LOT of heart parents would kill for that capability Posted via the Android Central App

How about a strap that is a battery? Posted via Android Central App- Via HTC One

Yep, that was one of the ideas Pebble put forth when they announced the smart band platform. I think the other was a band with an on-board GPS.

I like the idea of having a small 3g radio and/or wifi so the watch can be independent. That combined with the battery would make it very usable for other on demand features with out having a phone around. As a side note, I can Pebble moving in the forefront in smart watches. A watch that functions as a watch with additional features, but doesn't break the bank nor strap you to the charger. I backed the KickStarter campaign and this will be my first smart watch.

Apple of course has a patent for the battery watch band.

Pebble makes the only smartwatch which doesn't need more battery! :p

I'm yet to see a truly inventive idea for this expansion port, everything so far is just obvious or unnecessary. I'd like a handlebar mount for my bike which lets the pebble work as a "brain". So it would show my GPS route directions, control my lights (automatic night sensing lights?), connect to a simple cadence meter, show my speed, and charge my watch off the light's battery pack if necessary. I'd buy that.

If a bike version of nest already exists, where is it? I'll buy two!

Battery on one side of the band, Heart Rate and maybe O2 stats on the other. wire connector to the the other side since it does not have hookups to the data port. Make the wire connector very thin and wide as the watch base if need be. The battery would negate the battery drain from the monitors keeping the 5-10 day battery life.
Android Central Newsletter
Get the best of Android Central in in your inbox, every day!
Thank you for signing up to Android Central. You will receive a verification email shortly.
There was a problem. Please refresh the page and try again.