Is paying for Roblox Premium worth it?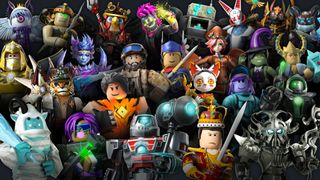 (Image credit: ROBLOX Corporation)
Roblox is the free-to-play massively popular online game platform and game creation system that allows users to program and share games online. Its incredible popularity stems from its availability since it's free on PC, Mac, iOS, Android, and Xbox One. Because of this, Roblox has attracted millions of younger gamers to its virtual playground ever since it launched in 2004.
A question often asked by people curious about Roblox is if paying for the game is worth it. Like other free-to-play games, Roblox can be enjoyed for free but offers bonuses for those willing to pay for a Roblox Premium membership. So is paying for Roblox worth it? It can be, depending on how you play.
What does the Premium membership include?
Roblox offers three different Premium monthly membership options for players. Each tier costs $4.99, $9.99, and $19.99, respectively, and offers a monthly stipend of Robux that players receive upon subscription renewal.
Swipe to scroll horizontally
| Name | Price | Stipend amount |
| --- | --- | --- |
| Premium 450 | $4.99 a month | Delivers a stipend of 450 Robux to your account every month. |
| Premium 1000 | $9.99 a month | Delivers a stipend of 1000 Robux to your account every month. |
| Premium 2200 | $19.99 a month | Delivers a stipend of 2200 Robux to your account every month. |
Everybody will also receive the same membership perks no matter the tier. These perks include access to Premium-only levels, boosters within games, exclusive items and discounts, 10% more Robux with every Robux purchase, and the ability to trade items. None of these perks are necessary to play Roblox, but if you're interested in getting the most from your game, you may consider buying a membership.
The only legitimate way to buy Robux or a membership is through Roblox's website, the Android/iOS Roblox app, or the Xbox One app. Any other websites or apps promising free memberships, Robux, or items are scams and should be reported through the Report Abuse system.
Heightened scrutiny
Despite its age, Roblox has maintained a massive player base — upwards of two million active players in the U.S. and Europe — over the years. A cursory Google search reveals the current craze in Roblox is remaking Netflix's Squid Game, which is actually pretty cool.
However, Roblox was making headlines just a few short months ago, too, in a decidedly bad way. YouTube channel People Make Games published a video on August 19, 2021, titled Investigation: How Roblox Is Exploiting Young Game Developers. It details the process and results of People Make Games' investigation into how Roblox allegedly compensates developers of Roblox "experiences" (user-made games playable and published exclusively within Roblox).
The first bit of information this video revealed is that Roblox keeps 75% of profits made off of any experience, meaning the creator of that experience receives a mere 25% from their hard work and creativity (percentages rounded up to the nearest whole). What becomes concerning is when you consider that the vast majority of these "experience" creators are children between 9 to 15 years old.
People Make Games further details that Roblox's payout system is incredibly confusing and imposes high payout minimums. For example, your unique experience has to accumulate 100,000 Robux, the equivalent of about $1,000 USD, before you can even pull your money out of Roblox as cash instead of more Robux.
The real kicker, though? The rate at which Roblox converts Robux back to real currency is extremely one-sided, so even though that 100,000 Robux should be worth ~$1,000, experience creators only receive about $350 when and if they try to withdraw it from Roblox. This heavily incentivizes developers to keep their money in Robux rather than convert it into cash. And yet, you're paying your own real money to purchase Robux in the first place, aren't you? People Make Games draws the line of comparison to "company scrip," which seems appropriate.
For players who are just making experiences for the fun of it, this won't be an issue. But for young Roblox developers creating experiences with the hopes of having them generate money (a goal that Roblox heavily advertises), then we're entering into potentially exploitative territory. The odds of a new developer having their experience rise through the ranks and become profitable are extremely low. Overall, the predatory look of the monetization that goes into this rat race raises eyebrows.
Your mileage may vary
The TL;DR here is that if you're a casual Roblox player, there are plenty of free games within to enjoy without having to buy a membership. However, for serious players looking to create and trade, the Premium membership may serve you well.
If, however, your goal with purchasing a Premium membership is to create and publish an experience that will hopefully make you money, you're probably better off taking your money elsewhere. Roblox is still one of the best free Android games and is perfect for younger gamers interested in game creation and sharing. But whether or not user-developed experiences have realistic potential for kids to make profitable "games" from their hard work remains heavily up for debate.
Unlock your potential
Creativity unleashed
Roblox is an insanely popular platform and game creation tool that has captured the attention of younger gamers.
Get the Android Central Newsletter
Instant access to breaking news, the hottest reviews, great deals and helpful tips.
Zackery Cuevas is a writer for Windows Central, Android Central, and iMore. I like playing video games, talking about video games, writing about video games, and most importantly, complaining about video games. If you're cool, you can follow me on Twitter @Zackzackzackery.