The P20 Pro is already Huawei's best-selling flagship in Western Europe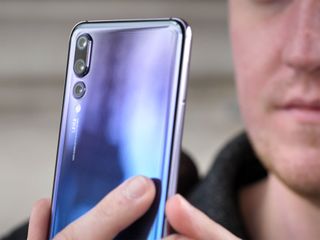 The Huawei P20 Pro is one of the most stunning phones of the year, and that's something that's apparently resonating quite strongly with consumers in Western Europe. According to Huawei, the P20 Pro has already become its best-selling flagship in the country.
Orders for the P20 Pro have been open for just about four weeks, and during that time, Huawei reports that sales are already 316% higher than what it saw last year with the P10 Plus. As such, the P20 Pro is now Huawei's best-selling phone that's ever been sold in Western Europe.
Additionally, Huawei further reports that the majority of sales for its entire P20 series (including the P20, P20 Pro, and P20 Lite) came from the United Kingdom, Germany, and France, with Google Trends showing that "the Huawei P20 Series has also been one of the hottest search queries in Western Europe" – specifically in Spain, Italy, and German.
Alex came away quite smitten with the P20 Pro following his full review, saying you should pick it up "if you want a phone with striking design and cameras which, once tamed, can produce jaw-dropping telephoto and low-light photos."
Get the Android Central Newsletter
Instant access to breaking news, the hottest reviews, great deals and helpful tips.
Joe Maring was a Senior Editor for Android Central between 2017 and 2021. You can reach him on Twitter at @JoeMaring1.
I didn't know Western Europe was a country.

Does the article say Western Europe is a country?

The first two sentences indicate that Western Europe is indeed a country.

I'll blame the American Education system for me not knowing it's a country.

I must be getting old, I read it 3 times before I found it. D'oh!

Well spotted! I didn't catch that on my first read!

It's never once claimed that Western Europe is a country....

"...resonating quite strongly with consumers in Western Europe. According to Huawei, the P20 Pro has already become its best-selling flagship in the country."

FFS the quality of journalism on this site is a bag of sh#t .
Too busy with advertising.

Huawei is huge in Europe. I guess, EU is fine with "Chinese backdoors" :)

Just like Americans are fine with the NSA etc having full access to their phones and data?

Thank you, I'd rather have the Chinese looking at my data, my p20 pro rocks on at&t!

Hey... don't feel left out, the NSA has your data too, and will listen to everything you say or do online or verbally on your phone if they wanted to.

" xyz " - alleged, claimed, etc.
I thought it was clear what I was alluding to. It's US Govt bs nobody believes in. They provided 0 evidence on Huawei phones having any potential of that sort. They just simply bondled it with Huawei's Networks , which they can't trust.

How do you know that person is American?

he didn't say American its "Murican" 😆😆😆😂 read it again

Azeez,
I was being sarcastic. :)

No more than the ones the US govt asks for .

Consumers want lots of things, decent battery is one of the main things, and an area that Samsung, LG, Sony HTC fail on. They also want a decent screen and good cameras. Personally, I think the P20 Pro has a god awful camera. With simply awful 4k recording. But, I like the screen. Don't care for the colours either. But, the device is easy to sell.

Haha I bet you have one you tested huh #troll

Although I love the sample pictures from the P20 it is not without its faults.
It heavily processes portrait pictures giving an unnatural appearance.
If your main purpose is to take portraits I can understand the comment.
But for me it has more contrast, detail and versatility than my 2016 Pixel.

I'm happy we are seeing more competition in the to end market, got to push Samsung and Apple to work harder too. At the end of all this the consumer wins.

They have done well Huawei, look at where they were just 5 years ago.
I would love to have a P20 Pro to see how it stack up against the Note 8

That twilight P20 can live u all hard a.f