Ouya pre-orders now open to everyone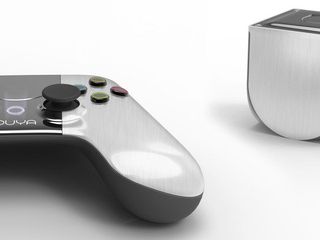 If for whatever reason you didn't back Ouya's efforts on Kickstarter when it was live, no matter. Starting right now, you can head on over to the Ouya website and place your pre-order for an Ouya console and controller. Ouya has set up several options for ordering, so if you need more than one controller you can order it directly with your package. The price list looks like this --
U.S. Orders
1 Console = 1 Controller = $109.99
1 Console = 2 Controllers = $139.99
1 Console = 4 Controllers = $199.99
International Orders
1 Console = 1 Controller = $119.99
1 Console = 2 Controllers = $149.99
1 Console = 4 Controllers = $209.99
The pricing includes $10 for shipping in the U.S., and $20 for international shipments. The expected time of delivery is listed as being April 2013. That's still quite a wait, but if the funding was any sort of indication, you might want to get your pre-order in while you still can. Full disclosure -- Android Central is one of Ouya's Kickstarter backers.
Source: Ouya (opens in new tab)
Android Central Newsletter
Get instant access to breaking news, the hottest reviews, great deals and helpful tips
So I could have paid $100 yesterday and may never see that money again, or $110 today and I have assurance I will either get a product or my money back? Seems like today would be the better option.

I thought the same thing! Good thing I decided to wait instead of going in on the kickstarter.

I pre-ordered just now, shipping address to Singapore(don't know if it's on their international list) but the payment went through so I guess it's fine.

A pre order should only go through when shipping.

well, I already received a payment receipt from Paypal. I think Ouya is still needing the money from pre-order to make them keep going for production.

Damn, we could be in a full out zombie apocalypse by the... or, for that matter, a robot apocalypse the way we keep developing Android. Google Now? HELLO!

Watch this turn out to be the biggest scam in kickstarter history...

Fully expecting Ouya to get blown out of the water once the revised Nexus Q is revealed. Google absolutely had to take notice of the demand for the Ouya and is retooling the Nexus Q to essentially be just that.... hopefully

Doesn't matter, the Ouya is $99 WITH a controller. A PS3 controller on it's own is $54 and doesn't even come with a damned usb cable to charge it with! (recently bought one for my Transformer).

What kind of games are going to be played on this. If its just play store games, then whats the point? Clearly I haven't done much reading about it.

Actually, we have no idea if Google Play will be supported. I think THAT is the main question and what will make it attractive or not. If it is just a box tied to some proprietary "market" that has only high-priced games, I think it will flop. If it has access to Google Play *AND* another market for even more souped-up games (or even some exclusive stuff) that will be great. You ask what is the point for Google Play Store access? Because: 1) There are countless thousands of games, right off the bat
2) There are countless thousands of LOW PRICED games
3) There are many thousands of FREE games
4) Anything YOU ALREADY PAID FOR will run on the Ouya
5) You might want access to some apps that are not games
6) You might want to do all this in the comfort of your chair, using a great controller, a great sound system, and a great display So again I ask the question that no site has definitively answered: Will it have full Google Play Store support? Or maybe even Amazon Marketplace support? If so, I will preorder one right now. If not, I have no interest in the product. I suspect it will NOT support Play Store, and there are postings on sites that seem to agree. What a shame.

Even if it doesn't out of the box, with an unlocked bootloader and statements that rooting will not void the warrenty, I don't see how it wont have the Google Play store available one way or another.

Thanks for the info. If they are willing to allow rooting AND not voice the warranty, then why not just include Google Play Store? Strange. And won't rooting risk breaking some DRM that ruins the proprietary store or games?

Inclusion of non-open source Google components will have royalty fees, and they wouldn't want to sacrifice the Ouya's low price just for that. Besides, having Google host the APK versions that works with their controller is more expensive than them hosting the APKs on their own version of marketplace themselves.

Yes Ouya will have its own App Store. All games will be free-to-play in some way. Whether it's a demo, timed trial, or in-app purchases is up to the Devs.

seeing as this won't even be available until April... I think Ill hold off. My phone/Tablet will probably be 2-3x the specs of this thing by then. I can just connect that to my tv and use my PS3 controller like I already do.... Gonna have to wait and see what developers are going to be offering here that Im not able to bet on my phone/tablet/google tv that makes it worth getting.

As far as I'm concerned, no game on Android/iOS/etc is good enough to make me want to play on my TV. I'll stick with my Xbox for now...

meh, the geeks love talking about their techy gadgets when OUYA is brought up....: Meh i think i'll stick with my Prime and my iphone that plays better games i'm sure(MGS,RESIDENT EVIL, FF,ETC) so ummmm yeah theres really no reason to get this since it does nothing your phone can't do already.........
Android Central Newsletter
Get instant access to breaking news, the hottest reviews, great deals and helpful tips
Thank you for signing up to Android Central. You will receive a verification email shortly.
There was a problem. Please refresh the page and try again.