Outlook for Android will roll out a new Material Design inspired look in November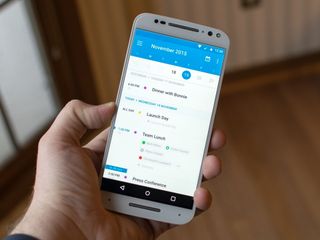 Microsoft plans to roll out a major update for its Outlook email and calendar app for Android in early November. The update will incorporate a number of Material Design features in its user interface.
Microsoft says:
Microsoft adds that nearly 30 million people are now using some form of Outlook on their tablets or smartphones.
Source: Microsoft (opens in new tab), Engadget
... and it will still be shit. Posted via the Android Central App

That's your opinion! Posted via the Android Central App

Absolutely, isn't that what a comments section is for? Posted via the Android Central App

They could start by, I don't know, making the app as good as the "Outlook.com" one they discontinued instead? Yeah, that's be higher in my priority list as an Outlook user than some Material crap.

Yeah the Outlook.com app was a great example to all developers on how to make a smooth working and simple looking app "that just worked". It was perfect. The new one...not anywhere near as good.

Outlook and all of the office apps on Android are fantastic. I use them all daily. They are very robust, polished and smooth running. They are constantly updated and frequently add features. If you have an office 365 account through your work or personal, its great. Suggest you try them for yourself. This from a guy who used to hate on Redmond apps I frequently do not bring my work laptop with me anymore because of the functionality of these apps on my note 5 and my tab s. Posted via the Android Central App

And does it integrate into Android's Calendar and Contact storage yet? Doubtful. Material design only makes it LOOK, not ACT, like a natural part of Android.

Word is that, that calendar integration is coming in the next few months..... I agree that's my only annoyance with the app currently. Posted via the Android Central App

Integration which WAS there with the Outlook.com app they killed.
This is very typical of Microsoft though. They keep destroying stuff with the "promise" of bringing it back in the future. Just ask any Windows Phone user and they'll tell you horrid tales.

Bingo... There is a ton of functionality that could be added to this if they wanted to. 1 step forward and 3 steps back everytime. Posted from my AT&T 64 gig Black Sapphire leather wrapped Note 5

Keep in mind that the Sunshine team are rolling all of the great features that made their calendar app great into this. Via the Nexus 6 and new AC app

Will they fix the credential issue that makes my (and most) exchange admins block it? Currently there's a trust issue with how they authenticate and store credentials and I can't use it. Doesn't help it to be pretty if it's not connected.

This!!! Posted via the Android Central App

Hell ya!! I ditched outlook on Android recently because I felt the app was too clunky and poor quality

What are you using in its place?

I've actually been using my outlook account with Gmail lately. It might not have as much functionality but Gmail has become a pretty slick email client. If you happen to use Gmail alot you should check out inbox. Its the slickest, highest quality email client on Android IMO. I only wish it offered the ability to use other accounts and not just Gmail

But will printing return? Couldn't give a hoot what it looks like tbh. Posted via the Android Central App

I used Outlook on my iPhone and still use it on my iPad. Really liked it. But until the Android version allows email aliases the app is useless to me on my Nexus. Shame really because I also use and like Sunrise calendar. Posted via the Android Central App

They bought Sunrise Calendar a while back right? This definitely looks like Sunrise. I hope they leave Sunrise alone and don't integrate everything together.

Just read on another blog that sunrise is moving into outlook and will be killed in Jan. It's new news today. Posted via the Android Central App

http://www.droid-life.com/2015/10/28/microsoft-kills-sunrise-calendar-wi... Posted via the Android Central App

Well shit. That's a buzz kill. I'm not an outlook user (aside from my work computer) and Sunrise has been awesome across all my devices.

I will consider it when it supports the rest of Outlook functionality (tasks and notes) and isn't a battery hog. That's probably several iterations away, if at all.

Yes to that. Without Tasks I still need another app, so MS can't really say they support Office 365 with this app. I am starting with Nine + Business Calendar 2 (which has birthdays now : )

It would be good if they could sort out the App issues before trying to made it look good... It's useless if looks good but its full of problems! I've lost track of the amount of times that I've had to contact support to resolve an issue. Posted via the Android Central App

Outlook Mobile works overall pretty good but it desperately needs shared exchange calendar integration for it to be successful in business. No other free mail app has it and it only makes sense that MS builds exchange that they should be able to include shared calendar integration.

Well I use my outlook within the Gmail app. So why would I need 2 apps when I can use one for all my accounts? :p Posted via the Android Central App

Can't stand those squares or circles with a letter in them in any mail app

I am using the stock email client come with Galaxy S6, it works very well so far, but I will give this a shot when it release the update. Just wonder if I have 2 email client connecting to the same email account, will I receive 2 notification (1 from each email client) for every email that I receive? If yes then I may as well just stick with the stock email client by Samsung, cause I think it's pretty sleek already.

If this update improves performance and in-app navigation, I 'might' try it again. Stopped using app as it couldn't cope with an inbox with more than 100 emails in it (not good for someone with a busy life). Since then, I've been using BlueMail app, which unlike Outlook and quite a few others (although CloudMagic is aesthetically more pleasing), allows me to send emails as 'high priority.' Posted via the Android Central App
Android Central Newsletter
Get the best of Android Central in in your inbox, every day!
Thank you for signing up to Android Central. You will receive a verification email shortly.
There was a problem. Please refresh the page and try again.