Original Huawei Watch finally gets Android Wear 2.0 update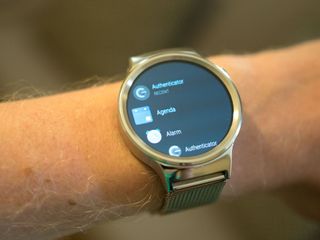 Better late than never: Over the weekend, the original Huawei Watch, released in late 2015, finally started to receive its Android Wear 2.0 update. Three months after Wear 2.0 first debuted, the update is rolling out to both developer preview and stable channel Huawei Watch devices. If you were running the previous Wear 2.0 preview build, the final over-the-air update will factory reset your device.
To update, head to Settings > System > About > System updates. It's been reported on Reddit that anyone not seeing the update notification can try disabling Bluetooth on their phone, connecting their watch to Wifi and repeatedly tap the blue check mark until something happens. Alternatively, OTA packages are also available for manual flashing. (Lastly, you could also manually flash the Wear 2.0 developer preview and then take the OTA from there, if you're not seeing it on your Wear 1.5-running Huawei Watch — but that's a more involved process.)
So far the Android Wear 2.0 update appears to be a significant upgrade for the watch, bringing its performance and feature set in line with the Huawei Watch 2 (save for LTE connectivity and Android Pay support, of course). Performance is noticeably smoother throughout the software, and the Wear 2.0 experience is much better suited to a circular display. And there's also the much-hyped ability to directly install apps on the watch, and directly reply to messages through the built-in keyboard.
More: Android Wear 2.0 review
If you've got Wear 2.0 up and running on your Huawei Watch, be sure to let us know how you're getting on down in the comments!
Alex was with Android Central for over a decade, producing written and video content for the site, and served as global Executive Editor from 2016 to 2022.
Got the update following the strange direction of tapping the update screen like 100 times in rapid succession. Not too impressed. Do not disturb mode does not silence phone anymore (how do I do that now?) and notifications are often not very visible ie you don't see them unless you swipe up or flick the wrist. Google assistant is a bit hit or miss on it too. Looking forward to some updates. Too soon to tell how it effects battery and consistent tethering with phone.

i hate the new navigation, now I constantly swipe to enter the menu, but instead change the watchface
wish there was an option to switch back to 1.5 navigation

You could flash the 1.5....

I don't know why that worked, but it did... Thanks!

Guess I'll dust off the Huawei watch.

I was thinking of getting one of these watches, now I'm definitely getting one!

Why not on the LG G Watch now ?

It took a bunch of tries but I got the update with the tapping trick. Make sure Bluetooth to your phone is off and WiFi is enabled. Before trying to get the update, go into developer options (after enabling developer mode by tapping build number 7 times) and enable "Keep screen awake while charging". Then put your watch on the charger, do the tapping trick to trigger the update. (You must tap for a few minutes before the update is triggered. and tapping on the lower left seemed to be the best location for the tapping. And if the update aborts I then turned WiFi off and then back on to start the tapping process again.)
It took about 8 different tries, as the update would sometimes abort or when it finally got to the end it wouldn't install. But after I believe the 8th try it actually downloaded.
Update seems good but notifications are not as noticeable as before. You get the notification (vibration) but there is no constant screen notification as before. Battery life seems OK (but too early to tell.)

Currently downloading, took forever to get it to find the update. I appreciate your directions because I was having a really difficult time getting it to find the update. I turned on the "keep screen on" option like you said, which I think helped. I had tried tapping several times with nothing happening. Eventually I went back to work and just left my hand mindlessly tapping while I wasn't watching and that seemed to work lol. It started downloading but like you said I guess it stopped and went back to the green check mark screen again. I started tapping a second time and this time used two fingers, and it worked and is currently downloading for the second time. It must be a large file because it sure is taking its time.

How did you get it to work? It does the same with me everytime. The update downloads, verifies and then asks me to install. I press yes and it starts a countdown to reboot the watch. After 5-8 seconds (from the 10 seconds it needs) I get the question to install again. I can press yes all I want or do nothing, but after a second it shows the green device is updated screen. I've tried rebooting, back to fabric settings, but nothing works. My watch is on WiFi and my phone is not connected and Bluetooth off. Any tips? Already did this over 10 times and always the same result.

It seems to really be trial and error. It took me several attempts to get it to finally work.

So just keep trying and eventually it will pass the timer screen? Cause I didn't hear anybody else that has had as much attempts as I've tried it.

Edit to my reply above: Tapping is best on the lower right side (not left as I mentioned).

There is a constant notifications u have to go in settings then sounds and notifications n select always show

Oh.. Thank you for this! I changed it and hope it improves notifications visibility

I set notifications to "constant" and that works great for emails. But on text messages all I get is a short vibration and no notification. You then have to scroll up to see your texts.

when I get a text it stays on till I dismiss it

I was surprised that AW2 enabled the speaker function. It's not very loud, but it's welcome change.

Wear 1.5 has the speaker enabled, mine will playback mp3s stored on the watch through the watch speaker.

I have not received the update yet. Looking forward to it. I'm in Georgia.

I've managed to download the update three times now (using the infinite-tapping technique), but have not gotten it to install. Once the download starts, when the face dims to power-saving, I can't tell whether the download is even continuing. :/

Enable developer options and then turn on "keep display on while charging", it's like the very first option there. Then place it on the charger while it downloads.

10 second impression of the update:
Pros
- smoother
- much nicer UI
- nice to be able to do quick txts when I am in a meeting and don't want to shout into watch
- complications are nice
- nice to have local apps running on watch
Cons
- pain in the rear to get into theater mode
- I never know if I have notifications by just glancing at main screen (does anyone know how to make them peak like in 1.5?)
- dismissing notifications is laborious since they are not grouped anymore
- switching watch faces is now TOO easy, i am constantly switching the face by swiping right accidentaly

For notifications, try going to settings and selecting always show notifications.

i did that 'tap the blue check' trick. took about 200 taps but it finally updated. I tapped the center where the check was... repeatedly. takes a while for the download, even when my watch was 2 feet away from the router.

Everyone is saying blue check mark? The check mark is white and has a green background. Am I missing something here lol?

Tap your white one instead

My Asus Zenwatch 2 got the update as well.

Are you sure it wasn't a security update?

Blue check mark? Just looked at it and the check mark is white, background of the face is green.

On the green screen, tap the white checkmark over and over.

I was super excited to get the final build on mine since I was running DP5 and the notifications were taking forever to get to my watch. I heard they delayed the release to fix a bug which I hoped was regarding notifications. Unfortunately, since I've I installed the final version, my watch unexpectedly restarts ever 10 - 60 minutes until it runs out of battery. I've factory reset multiple times, reinstalled the AW app, nothing seems to work. I'm on the verge on putting DP5 back on so at least my watch is usable again. Very disappointed. :(

Yes, my update on Zenwatch might be just been a security. I started downloading it and haven't followed up on it. I assumed it was Wear 2.0. Sorry.

My watch was very laggy after this update so i went in to developer settings and changed the animation to .5 and i don't know why that would help so much but it honestly made the watch run better then it ever has opening text messages on the watch doesn't take forever to open. Just figured I would share my experience

I did the developer options screen alway on then did the tap method it worked perfectly.

I too need help in finding this blue checkmark. Thanks.

I was confused too but on the green screen, tap the white checkmark over and over. The update popped up on mine. This is my third popup and it just failed again for me. I'll be trying this for a while apparently. Good luck.

This is lame! Why do we have to jump through hoops to get it to update. It should just see the update, download it, and update... Mine started downloading once then it quit and now I can't get it to see the update anymore, just says with a big white check mark on a green background that I am up to date! Anyone tried factory resetting their watch?

After some tapping, the installation files were downloading and the installation took place on my Huawei 1.
The first impression is that battey life has decreased dramatically. It doesn' t last a full day any more.
Someone more that experience the same problem? Some setting to avoid the battery drain?

I had both Wi-Fi and bluetooth turned on. Did not access the developer options. Did the tapping several times on the checkmark and got started with the download. The download failed/stopped maybe 5 times. The update did download finally. It was at the point that the watch was fully charged -- which may have made a difference. The download itself took maybe 15 minutes.

Took me ages to get mine to update but it worked. I know I'm repeating previous advice but these are the steps I went through: - Charge watch to 100% and leave on charger as it likes it to be fully charged to initiate the dowload
- Ensure the watch has a WiFi connection and turn Bluetooth off on your phone. The download takes forever over Bluetooth so best avoided.
- Click System Updates and when it tells you it's up to date tap the screen. It's best to tap to the right hand side of the screen so you don't accidentally cancel the update and no faster than once a second so you have a chance to see if anything happens. I backed out and repeated this step after about a minute of tapping the screen, not sure if this helped.
- Eventually you will see a notification that an update is available so click on the tick
- When the download screen with the X in the middle appears continue to tap the screen so as it doesn't have a chance to go off and you should see the download begin. I got an error during the download but was able to convince it to try again.
- Don't stop tapping the screen even once the download has finished. I did the first time and it went off causing the update to fail.
- Eventually the watch will reboot and after what seems like an age of it showing the Android animation you'll be done and can start playing I like all the improvements and it seems like a very worthwhile update. Takes a bit of getting used to that it's so easy to change the watch face by swiping which seems a little unnecessary to my mind.

Will aw 2 will have answer call button on it? Or just reject?
If not, I'll stick to 1.5 only. Please someone guide...

When I received calls today the screen showed an answer option, but I didn't tap it because I grabbed my phone too fast.

My Huawei is paired with an iPhone. Does this alter the procedures any?

I finally had to do a factory reset, and the download started. The download has been going on for almost an hour now. Not sure if this is normal or not.

I installed the update and now my watch will not charge. It turns off, charges to 1%, restarts and then dies and the cycle continues. Can anybody help me?

Same as above do not install anyone got a fix????
Android Central Newsletter
Thank you for signing up to Android Central. You will receive a verification email shortly.
There was a problem. Please refresh the page and try again.