Is the OnePlus 7 Pro too big of a phone?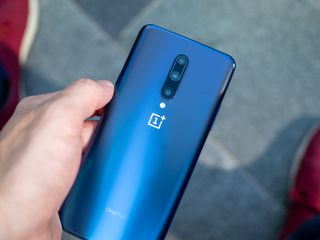 (Image credit: Android Central)
We've given the OnePlus 7 Pro a lot of praise here on AC lately, and rightfully so. It's the best phone OnePlus has released to-date, and not only that, is one of the best Android phones you can buy right now. Period.
There's a lot of good that comes with the OnePlus 7 Pro, but there's also one aspect of it that could be a turnoff for some users — its size.
The OnePlus 7 Pro is a big, honkin' slab of metal and glass, but looking through the AC forums, this doesn't appear to be that big of an issue.
What do you think? Is the OnePlus 7 Pro too big of a phone?
Joe Maring was a Senior Editor for Android Central between 2017 and 2021. You can reach him on Twitter at @JoeMaring1.
I do believe it is too big for me personally. The bigger issue is the lack of notification light or always on display though.

People said the same thing when the Nexus 6 came out, now everyone is making "phablets". I think it's just something people have to adjust to.

Not me it's unweildy, way too big. They had the perfect size with the 6 and 6T

You could still get the regular 7. Stereo speakers/UFS 3.0 storage. Both things many flagships that cost 899 like the p30 pro doesn't have. But to be honest you do get a much better camera on the p30 pro.

I'm moving away from huge phones. Compact is the way to go for me.

Have a OnePlus 6t and am friendly with the T-Mobile reps as there's a store in the plaza I work at. The reps told me I should hang on to my 6t. He specifically mentioned it being too heavy as one of the reasons why

I got the 7pro but iv been wanting a small light phone for years. I dont know why but i keep getting big phones. Had the lg flex, v10, note8 and now the 7pro. Still like the 7pro though.

I Iike the size of my new OP7pro, but I'm old and need reading glasses. I've found I can use it one handed inist circumstances. The display is beautiful and great for gaming.

OP - despite 88% wanting the jack in a twitter poll, we removed it anyway to make more space for a bigger battery. The OP7pro is huge, but we're still going to remove it for a bigger battery. Asus Zenfone 6 - Huh?

It all depends on the user, although getting used to a large dense phone makes it weird when you pick up something light. I have an old iPhone 6 I keep around, and it feels like an empty toy compared to something denser like the U12 Plus. One thing I do find amusing is all these tall phones with mostly empty screens. But, it's good for media consumption... unless there's a hole in the screen or some other defect ;)
Android Central Newsletter
Get the best of Android Central in in your inbox, every day!
Thank you for signing up to Android Central. You will receive a verification email shortly.
There was a problem. Please refresh the page and try again.