Official SkyDrive for Android app now available in the Google Play Store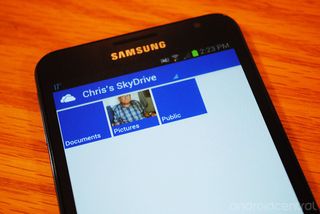 It wasn't any secret that Microsoft was working on an official SkyDrive for Android app. In fact, it wasn't all that long ago they let us know it would soon be here and now, if you head on over to the Google Play Store you'll find it readily available for download. It has all the features you'd expect but in case you need a run down:
Access all of your SkyDrive content including files shared with you.
View recently used documents.
Choose multiple photos or videos to upload from your phone.
Share your files and photos – send a link in email or in another app.
Open your SkyDrive files in other Android apps.
Manage your files – delete, or create new folders.
I've not really used SkyDrive in the past but now that there is an app for it, I'm more likely to go ahead and give it a try. Besides, who can really say now to free storage right? In total, Microsoft gives you 7GB for free so give it a go.
Its about time. Ms is finally seeing the importance of android users.

I wonder if it syncs files? I want my save files from my emulators to sync from my phone to my tablet. Dropbox doesn't work to do this even though it should. Apparently each time I save there isn't a big enough change in the file for it to trigger a sync in dropbox.

Most people don't want mobile syncing with Dropbox, or Google Drive, or Skydrive. Why clog your phone with stuff you will never use on the phone? Chews up a ton of bandwidth, when all you really want is one or two documents now and then.

I don't think dropbox clog your phone with all files. Yes, it will display all files, so you know what's on your dropbox. It will download files only when you click it once. So all documents are still on cloud, and you only download files as you need.

Exactly. However, the person I was replying to wanted it to sync, which means copy all files to all end-points just as it does on your computer. That is undesirable on a battery powered device, which is exactly why Dropbox or Skydrive does not work that way.

No, i meant only the files I choose to have physically on my device. Like a single folder I could use to sync files in that folder while everything else stays in the cloud.

I've been using ES File Explorer to deal with Skydrive. (And dropbox) Since I generally will need a file manager to move things to and from sky drive it was a natural to use a full fledged file manager that can handle dropbox, skydrive, google drive, and 4 or 5 others, rather than installing an application for each. Where this app really comes in handy is providing a share target for sending things to your Skydrive. Mostly this works for images, but also some types of documents (pdfs etc). However, Share targets almost never include support for mp3 files.
This is why I prefer a file manager, in which case you can upload just about anything. Note that my HOX came with a tiny app called Skydrive for HTC Sense, (as well as Dropbox for HTC Sense) which provide share targets without this app. These are bi-directional, so you can open a document viewer (such as PDF Viewer) and open files directly from your Skydrive or Dropbox. I suspect many phones don't have these plug-ins, and that is where this app comes in very handy.

Thank god, now I can pay more money to use stuff I already own, thank goodness for the cloud, now I get to spend even more money for more data each month. Arevthere really people that stupid out there ? Oh yea, of course there are, P. T. Barnum was right.

Nobody is forcing you to use it. But its very handy to have all your technical documents readily at hand, without having to carry them all on your phone. You may never use most of them, but when you want one they are right there.

Now, if they can only get a Photosynth App, I would start to like MS again

I have 25Gb of free skydrive and for a few years now.. Its finally cool that I can use this on Android. Between this, dropbox, box, and Google Drive.. Its mucho cloud storage.. but where does it all reside...........?

That's what I want to know, I am going to start using Cloud Storage tonight. Wanted to know where it's all stored and how safe is it. Also in the event something happens to my stuff, can it be recovered. . . guess I will post this on TheVerge

Since someone said it resizes photos and videos and that is all that you can upload, it isn't much use to me. At least I have access to docs stored there.

I'm not using or getting the app until they increase the file size limit of 200 mb.
Android Central Newsletter
Thank you for signing up to Android Central. You will receive a verification email shortly.
There was a problem. Please refresh the page and try again.