NVIDIA Shield teardown reveals you can't 'use the Shield as a shield'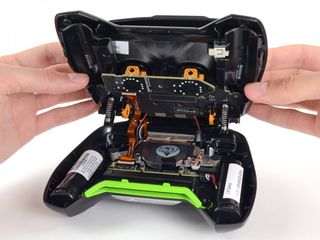 The folks over at iFixt (opens in new tab) have finished breaking down the Shield's defenses, and took a good look around the inside. While the device didn't score as well as some other gaming systems, the Shield got points for modularity of design, with a button board that can be separately replaced if it suffers trauma from angry gaming sessions. The screen is replaceable, but iFixit warns a repair of this type would be extremely difficult.
The following chips were found lurking within —
Nvidia Tegra 4 Quad Core mobile processor
Samsung KLMAG2GE2A eMMC
AzureWave AW-AH691 wireless module
SK Hynix H5TC4G63AFR 512 MB DDR3 SDRAM (4 ICs for 2 GB total RAM)
InvenSense MPU-6050 6-axis gyroscope and accelerometer
Realtek AL5639 audio microcontroller for mad beats
Also found hiding in a few nooks and crannies were three Sanyo batteries, responsible for the Shield's performance in the battery life department. They were three-cell, 3.7 V, 7350 mAh that were found to be only moderately difficult to replace.
The take away message? "Don't use the Shield as a shield, or go throwing it around a concrete-floored room." Good advice indeed.
Source: iFixit (opens in new tab)
in the disassembly pic above... which part is the speakers?

Looks like they might still be housed in the top half, where the rubber domes for buttons/Dpad are contained. A couple red wires tells me they didn't get taken out.

LMAO @ "Realtek AL5639 audio microcontroller for mad beats" Kudos, Casey, for subtle humor hidden in the fine print.

The folks over at iFixt(iFixit).

what a waste of money..not my money..

Spoken like a true genius. <---- Sarcasm.

Thanks for the info on the guts... Posted via Android Central App
Android Central Newsletter
Thank you for signing up to Android Central. You will receive a verification email shortly.
There was a problem. Please refresh the page and try again.