The Nubia Alpha is the weirdest wearable at IFA 2018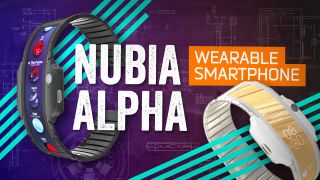 You've seen smartphones; you've seen smartwatches; but today at IFA 2018 I got to see ... well, something in between.
The Nubia Alpha (or nubia-α if you wanna be proper about it) comes to us from the same folks who made the Red Magic smartphone that's capturing the eyeballs of the gaming crowd. Nubia was spun off from parent company ZTE back in 2014, and besides making gaming phones it's apparently busied itself building products straight out of an alternate sci-fi future. The Alpha takes the form of a thick wristband and bulbous center body, with a flexible OLED panel wrapping around the wrist. Running on that panel: a heavily customized build of Android (Nubia wouldn't say which version), under which hums a 4G LTE radio and a CPU of similarly indeterminate origin. Also here: an embedded speaker, a camera for video calls, and a sensor to tell it which way is up (so you can wear it on either wrist).
Given all the unanswered questions during my hands-on, and the fact that I wasn't even allowed to touch the thing, it's an open question whether Nubia will hit its intended Holiday 2018 launch date. But products like the Nubia Alpha are part of the reason I still love trade shows like IFA 2018; they're an opportunity for manufacturers to come out with crazy concepts that give us a preview of what our mobile-tech future might (or might not) look like. For a closer look at that possible future, check out the hands-on above – and subscribe to the YouTube channel if this kind of weirdness is in your wheelhouse as well.
Stay social, my friends
Get the Android Central Newsletter
Instant access to breaking news, the hottest reviews, great deals and helpful tips.