NPR One on Android Auto: Public radio with even less frills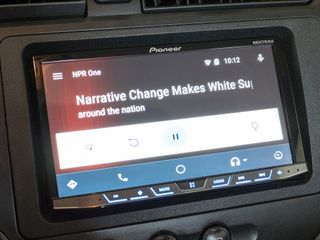 I currently have three ways to listen to National Public Radio in my car. There's terrestrial radio — which, despite every sentence that comes after this one, isn't going away anytime soon. Then there's satellite radio, which I've been enjoying for years now. And now I have the NPR One app on Android Auto.
That's a lot of pledge drives.
But as far as Android Auto apps go, NPR One might actually be the most restrained we've seen.
There's actually not a whole lot to say about the NPR One app on Android Auto. Load it up on your phone, plug in, and go. But it differs from just about every other Android Auto app we've used in that you're not drowned in a sea of content — some of which gets blocked by the dreaded "For safety reasons, no more items can be displayed" message. That simply doesn't happen on the NPR One app because there's only one level of content in the menu. So you can't run into the touch limit.
You can scroll through a handful of content, or just pick one and let it cruse through the list on its own.
The "now playing" screen gives you the options to play/pause, view the "Coming up" list, rewind 10 seconds — or tap the lightbulb. That's actually where we run into one headache with Android Auto — if you're not already familiar with an app (I wasn't an NPR One user before this), you'll be lacking context for things. I had no idea what the light bulb was for. But a quick trip back to the phone and you'll learn that it's for marking items as being "interesting." Mystery solved. One other incongruity is that you'll sometimes hear pieces refer to tapping buttons on the screen, which on a phone or tablet would take you to another story for listening. That doesn't work on Android Auto, though. It's funny the first time, but one of those annoyances you tend to get in Google products beyond that.
And that's it. I think I'd like to see some basic categories of available content. But on the other hand there's so much available from NPR and its affiliates that things could get unwieldy very fast, so I can appreciate the simplicity. (And you do get the occasional local content tossed in, which is cool.) This one's going to stay installed on my phone and available in my car, if for no other reason that it's essentially news on demand, and it's very well done.
Image 1 of 4
Get the Android Central Newsletter
Instant access to breaking news, the hottest reviews, great deals and helpful tips.