Nova Launcher gets a Google Now pane by jumping through hoops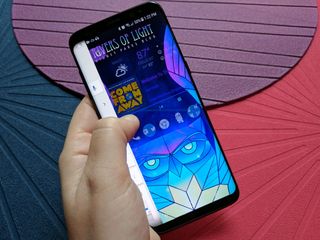 Nova Launcher is one of the best third-party launchers in the Android ecosystem because it will let you do just about everything you ever thought possible with your home screens and app drawer. One of the most sought-after features Nova Launcher has not been able to deliver to users has been the Google Now pane that the eponymous Google Now Launcher spoiled millions with during its tenure on Android. Well, Google Now Launcher is sailing into the sunset, and in its wake, Google has made some changes that have finally, finally allowed Nova Launcher to offer the Google Now pane on the left side of its screen.
... There are just a few hoops we all have to jump through for it.
When Google announced that it was removing Google Now Launcher from the market, it also announced that it was releasing an API that would allow Android phone manufacturers to utilize Google Now panes in their own launchers. This API could also work with third-party launchers, but they couldn't be published on Google Play because of the exact conditions the API and the Play Store require. We can only hope that changes going forward, but for now, that means that only launchers that are willing to go outside the Play Store can take advantage of one of the most desired launcher features.
Nova Launcher has never shied away from a challenge, and so it has released a companion app called Nova Google Companion that will let you bring that Google Now pane to your home screen. Want to try Google Now on Nova Launcher? Here's everything you need:
The pane was slightly wonky before I restarted Nova, but things have been smooth since. This is the first stab at Google Now for Nova Launcher and rest assured that any bugs and glitches will be worked through, but it's here, and for the most part, it works.
Will Google update its terms to allow Nova and other launchers to bring Google Now panes to its Play Store apps instead of going around Google? How quickly will this come to other launchers, or will the hoops turn off other developers from investing the time and effort? Only time will tell, but for now, Nova can check a big line off their request list.
Ara Wagoner was a staff writer at Android Central. She themes phones and pokes YouTube Music with a stick. When she's not writing about cases, Chromebooks, or customization, she's wandering around Walt Disney World. If you see her without headphones, RUN. You can follow her on Twitter at @arawagco.
Got it set up on my U11. Works flawlessly.

Why am I not finding the google companion app? Edit: The link in this article to it and the beta app are the same and I'm not finding it in the play store anywhere

http://www.apkmirror.com/apk/teslacoil-software/nova-google-companion/no...

My double tap to screen lock in Nova does not work now.

Restart Nova (rebooting the phone probably wouldn't hurt either). Mine started working after that.

Thanks Ara. Noticed mines wasn't working also, restarted and it works now

Works without a hitch! Thanks for the instruction!

Just awesome.. Works great and the only thing missing from Nova is now gone.

I did it .. it works perfectly :D.

The Nova Google Companion app link is wrong. http://www.apkmirror.com/apk/teslacoil-software/nova-google-companion/no...

Thanks! My copy pasta failed me; it's fixed.

Works great on my S8! This was the only reason I ever used Google's launcher.

Thank you Ara. This is what I've been waiting for a long time. Just installed it and so far it works well.

Works great on LG G6. Nice!

So I installed in on my 6P, but I'm wondering, I have the swipe down gesture set to Google Now for the last year or so, so what's the difference?

I too use swipe down to access Google Now.

I mean, the difference is you don't swipe down. Not everyone has their phone setup like yours and some want a more stock functionality. Different strokes.

ok, so why not just set Nova to swipe right to Google Now instead of installing another app?

Probably because there's no swipe right gesture option available in Nova.

Because that functionality doesn't exist. Swiping right and left on pretty much any mainstream launcher will scroll to the next pane.

I use the shortcuts feature in Action Launcher 3 to open Google now by swiping from the left edge or leftmost screen. Has worked flawlessly for ages.

What you were doing would get you into Google Now but you couldn't swipe back to the home page. Hence the Action Launcher Google plugin release. Which Nova had first. ( Nova still isn't as smooth as Google but it's able)
http://theblerg.net/post/action-launcher-google-now

I have mine set to swipe up for Google Now because I liked that feature better on older Android. I don't want anything on the left pane. I want infinity scrolling.

It works great on my Pixel, as I was setting it up though I realized I was setting it up exactly like the Pixel Launcher. Realized there isn't much point in me using Nova if I'm not going to take advantage of it's other features.

It works beautifully. Nova is without a doubt, one of the best Launchers and best applications ever made for Android. Phenomenal developers. It's also great that hours after a modified Pixel Launcher was released where anybody could've installed and still have the ability to swipe and still have Google Now circa Android Police, this gets released.

Anyone get it to work on an S8+? Having trouble.

I have it working on my S8...what problem are you having?

I've also got it working. I had to first turn off the carousel effect on the desktop and then install the extra APK. I tried installing it first and then turning off carousel and that didn't work.

Working fine on mine. Did you follow each step?

OK. Looks like you have to have the persistent search bar enabled for it to work. Had to reinstall the companion app after enabling persistent search bar.

I have no search bar on my home screen.

No the persistent search bar is not necessary.

Doesn't work for me. Android 6.0, latest version of Nova Prime Beta and when I installed and open the companion app its suddenly disappeared on my app list, tried to reinstall and its still not there. Any help?

Yep, still can't get it to work. So much for being excited.

Started from scratch and still nothing.

I never even opened the companion app.

The article said to install and open and there is a pop-up message when you open the companion app saying it will now start using that and press the home button and try. I reinstalled both nova and the companion app and still a no go, I'll try again without opening the companion app. Edit: Nope, still nothing. I'll just wait for a more stable update of this.

Best. Update. Ever. Thank you Ara, AC and Nova!

This is the best. This was the only feature I would use the Google Launcher for.

Last step restart Nova and possibly phone. Works great.

Thanks Ara. Works great on my s7

Creating a need where there was not one before. Trust me, nobody was missing the google now pane.

A quick glance at this comment sections proves you wrong. Why do you assume everybody has the same preferences you do? That's stupid.

There definitely was mate.

Ahem, speak for yourself buddy. I've been trying to replicate Google Now functionality on the left home screen for years using the Google Now widget, but it never worked right. This is awesome.

Agreed... not something I use all day every day, but I do find it useful to track packages, recent searches, etc. I've also tried the widget and found it sorely lacking, so this is nice. For me, I like the double-tap to open option since I'm already using my swipes for other functions. The more I can do from one home screen on my phone, the better. As has been stated, different strokes. That's the glory of Android. Keep what's useful to YOU, leave the rest.

Still buggy, some stories will not open when I click on them. Also, if I do open up a stories/news and go back the Google Now cards closes completely.

It's weird, I've had the some stories not opening for me issue on the Pixel Launcher. This implementation is definitely early still but I question whether that specific bug is related.

I downloaded the Nova Google Now companion but it only has one news feed and not the dual feed (separates News from other updates). I still have swipe down in Nova to activate Google Now and that gives me the dual feed still. I am on Google beta so maybe that can explain why.

I don't like the dual feeds so for me its great that this doesn't do it!

Nice! It worked immediately. Thanks AC

Beautifully done! I've been waiting for this forever. Once you go Nova... well, you're not going anywhere else.

This is an awesome addition. Works perfectly on my Moto Z.

Really impressed by this. I used to use the Google now launcher but prefer the customisation and gestures of nova. Now I don't have to compromise and can get the best of both !

Been using it on my S8 since this afternoon. Runs smooth as silk

I've said before, it's a shame that Nova STILL doesn't handle work profiles properly! Uninstall, again.

What does the Google Now Launcher offer that Nova doesn't? I'm not being snarky here, I really don't know.

The only thing was swipe left into the google now pane, but this is exactly what we just got.

I don't understand what the Google Now launcher offers in that pane you get by swiping left that Nova doesn't already do.

Does someone have that wallpaper? looks sick!

I guess this would be great and an opportunity to free up the swipe up gesture for another action.

Now that this is available I can uninstall the new Pixel Launcher APK that came out a few days ago. Nova simply has too many features and customizations to use anything else and now with Google Now side swipe it's Nova for the win. Well done!

Nova is NOW the perfect launcher :)

Very happy he added this! I know not everyone likes/wants to have the Google Feed and that's OK, just don't enable it.

Nice! Works like a charm!

How is this different from setting a gesture to go to Google Now? I've been 2 finger swiping UP to Google Now ever since you could. I hate the dedicated Now pane on swipe right. That's why I never used Google Launcher.

Works fine except it shows 'failed to load cards' when I launch gnow.

Bloody love it, best of both worlds!

What a pity, I have only Android 5.0
Would like to use it also

Was working fine, started to like it, now it won't work. Did something change?

Fantastic articles. Thanks very much
Android Central Newsletter
Thank you for signing up to Android Central. You will receive a verification email shortly.
There was a problem. Please refresh the page and try again.