Nike+ Android app finally released!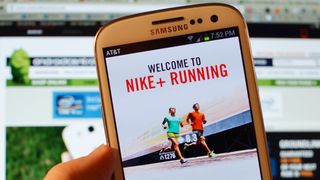 Hey, all you runners out there who have been tirelessly hoofing it, waiting for the Android version of the Nike+ app. It's here. Finally.
Nike tonight announced the Nike+ Running App for Android, which, as you'd expect, connects you to nikeplus.com, making exercise social. But chances are you already knew that. Get your download on at the link below, and get back out there. Because there is no finish line.
Download: Nike+ for Android (opens in new tab)
BEAVERTON, Ore.--(BUSINESS WIRE)--Today NIKE, Inc. (NYSE:NKE) announced the launch of the Nike+ Running App for Android, providing more runners with access to the world's largest running club.
The Nike+ Running App for Android connects seamlessly to nikeplus.com, which has been reengineered to be smarter, more social and more motivational. The app allows runners to track, share and compare their runs from anywhere, anytime. It features a smooth, intuitive user interface – tailored and optimized for Android – that hosts a number of features to enhance the running experience. The in-run navigation is seamless and simple, allowing runners to easily check key run stats, see their in-progress GPS maps, change songs or get audio feedback without missing a stride.
"The expansion of Nike+ onto multiple mobile platforms will allow us to serve more runners than ever before. This opportunity will give even more athletes the chance to experience Nike+, which makes this an incredibly exciting time for the running community," said Stefan Olander, Vice President, Digital Sport.
The key focus in the app's design is motivating runners. A "Next Moves" feature on the home screen allows runners to easily flip through suggested challenges: for example, to run their fastest 5k or go their farthest distance. A dynamic goal progress bar helps runners stay motivated and tracking on goals they've set up through their nikeplus.com profile.
The app makes sharing to Facebook or Twitter fun with run summary features. Runners can choose from a wide variety of terrains and emotions, as well as tag which shoe they ran in to track shoe total mileage. And for runners recording climate conditions, the app automatically knows the weather based on GPS location.
The Nike+ Running App for Android is available for free on Google Play.
Initially launched for Running in 2006, the Nike+ community has grown to include approximately 7 million runners. Since its inception, Nike+ has expanded into a multi-sport ecosystem that includes Nike+ Basketball, Nike+ Training and the recently launched Nike+ Kinect Training. Athletes of every level can find a variety of products including a new range of colors in the Nike+ SportWatch GPS Powered by TomTom, and the Nike+ FuelBand, Nike+ Sportband, Nike+ Running Apps and iPod nano with Nike+. Multi-sport users can visit the single-destination nikeplus.com to access all their data – including lifetime NikeFuel points accumulated from all Nike+ devices – creating a globally connected community of sport.
For more information: http://www.nikeinc.com/news/nikeplus-experience
Will check it out but Endomondo is pretty good as well as some others. Sounds like the draw is Nikeplus.com which I know nothing about.

For some reason it's saying it is incompatible with my Galaxy Nexus. Is this available in the UK Play Store?

Installed on my Sprint Nexus. Must be the UK playstore.

Another app not available for the Evo LTE...they need to alias the device with the HTC One X....great phone....too many market "incompatible device" issues...at least Amazons got their shit together...

That's weird, it's compatible with my EvoX

I just used it on my Evo LTE. What sort of problem are you having?

Did they ever fix their old and broken all flash website? I tried nike plus, but was disgusted by the upload system. Switched to garmin, love it.

It has been completely revamped. You would not recognize the site. I use a tomtom nike+ watch and use that to upload my runs and have no issue with the pc software to do it. They are still working on the site as some features like competitions and friends are currently unavailable as they reprogram nike+. They have also completely switched over to nike fuel as a unit of measurement.

Yes, it has been totally reworked and seemingly they are moving to add more information and usability in the coming months. Much better RW @ www.mobilepancakes.com

Downloaded to my Evo lte fine.

Just installed fine on my EVOLTE too

Can't find it through market on mine....still waiting

I really wanted one of these when they first came out, but in the interim, I backed the Pebble on Kickstarter, which is 50 times greater.

iPod Touch, you're officially retired.

+1000 Now I don't have carry two devices.

Maybe I will start running...

Says it's incompatible with my carrier if I try to install it on my Galaxy III but allows me to install it on my (broken screen) Galaxy Wonder... yet both run on the Three Network in the UK... how odd!!!

God D@mn It!!! This was the main thing I missed when I changed from an iPhone and literally yesterday I bought new Nike running shoes that don't take the adapter (Free 3.0)

You don't need the adapter this app works by gps, so its more accurate with your distance and pace.

Yeah - You can get the new free run with the plus, but it will be a different version, cant remember the number. 1. The app doesnt yet take advantage of any adapter. I would imagine the Nike Fuel band will be first as it uses Bluetooth. Dont know if the Nike+ Running band will ever be supported. 2. The app uses the accelerometer to measure your "work" supposedly treadmill or gps based running is supported (so the app says), however i would imagine the gps portion is really the only truly supported. Nike is trying to convert everything into fuel (nike+ running is now converted to fuel - old site done away with), new Nike+ Basketball shoes are fuel now, etc. Fuel Band does not connect with any shoe fob, either, its all movement based and calculated. RW @ www.mobilepancakes.com

you can still use the adapter with the shoes. just buy one of those little pouches for the laces

The lack of availability of Nike plus was one of the big items that had me considering waiting for the new iPhone. I pre-ordered the galaxy anyway, but it was in my pro/con analysis. Now I can have my cake and throw it too.

anybody know how to exit the app?

um, hit the home button like any other app?

i use RunKeeper - https://www.androidcentral.com/e?link=https2F2F... how does this compare?

I assume this app would sync with the Nike+ shoe dongle if I had it?

It does not work with the shoe sensor. I'm a big nike+ user and was going to switch to the new iphone later this year just for nike+ and my music in one spot. In my opinion after using both the shoe sensor and the gps app(which this is) the GPS app is much better. I'm going to give the app a go today and see how it compares.

It works without the shoe sensor. All you need is an armband and the app and your good to go. Some people dont even use an armband and it works great for them.

I wonder if Phil Schiller of Apple thinks Nike has "jumped the shark" now and is deleting Nike+ from his iPhone as I type this. :-)

Thats an interesting point. I would venture to say the progression of Nike+ to Nike Fuel, was partially beneficial to Nike because I think that Apple and them had some agreement, which meant no one else could really use the Nike+ except Apple or Nike. Fuel was a step towards realizing an app for all devices, agnostic of Apple and the Nike+ app agreement. Just my two cent. RW @ www.mobilepancakes.com
Android Central Newsletter
Thank you for signing up to Android Central. You will receive a verification email shortly.
There was a problem. Please refresh the page and try again.