These Marshmallow fingerprint-enabled apps will keep your data secured with just your fingerprint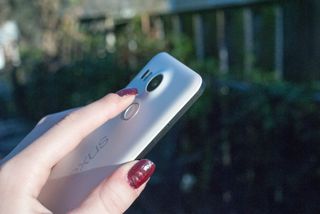 By now you've probably heard that the Nexus 5X and 6P both come with a fingerprint scanner that utilizes the Marshmallow fingerprint API. This allows you to unlock your phone, authorize purchases, and unlock specific apps from the Google Play Store. There aren't a ton of apps available yet that utilize this feature just yet, so we went ahead and put together a list for you.
There are about two dozen active apps that use Marshmallow's fingerprint API right now. This isn't surprising, and we're certain to see plenty more as we move forward. For now we've separated the apps we did find into four categories: Password Keepers, Payments and Banking, Lockers, and Miscellaneous.
Password Keepers
Password keepers are exactly what they sound like. It's a single app that is used as a hub to keep track of all of your passwords, and keep them all safe in a single place. This has two major benefits, especially if you're someone who is regularly forgetting which password is connected with which account.
The first and most obvious is that having all your passwords stored in a single place means that you'll always have your passwords at your fingertips. This means no more endless attempts at remembering the right combination, or having to change your passwords because you can't remember what they were the last time you used a particular account.
The second benefit of having your passwords in one place is a security measure. If you get notified that an account has been compromised, you can easily see what other accounts share that password so that you can better protect yourself. Many password vault apps also offer the option to generate strong passwords that are long and filled with special characters that are harder to crack. With Marshmallow's fingerprint API, you have the ability to make sure nobody can just pick up your phone and see your passwords.
Payments and Banking
Most of us have used our phones to make at least one purchase, whether it was a digital transaction or you were taking advantage of Android Pay in a brick and mortar store. One of the big concerns with attaching your bank card to an app has been security. What happens if you leave your phone somewhere by accident, or it's stolen and someone manages to get to that app and use your account fraudulently?
Well, the below apps allow you to add another layer of authentication by using the Marshmallow fingerprint to authorize your purchases.
Lockers
There are a variety of ways of protecting your phone from outside use. However sometimes we want to hand our phone over to a friend. Whether it's so they can see that fantastic picture you managed to snap at the bar, or show them the twitter post that just can't be scrolled by. At the same time, when you hand over your phone, there may well be things that you don't want your friends to see.
Below, are apps that will lock your screen, certain apps, and even your gallery. They give you control over what can be seen by who, which is the next step is keeping the things you want private away from prying eyes.
Miscellaneous
There are plenty of ways that the Marshmallow fingerprint API allows developers to integrate fingerprint scanners into their apps. That also means that we're going to see it utilized in a variety of was that we haven't even thought about yet. That's where the apps below come in. These are a variety of different kinds of apps that are all using the new fingerprint API in their own unique ways like adding a fingerprint to an e-signature. It's really exciting to see what developers are doing to utilize this fantastic new feature in ways that make sense for their apps.
These are just the first batch of apps available on the Google Play Store that are taking advantage of the Marshmallow fingerprint API. While there isn't a huge selection right now, that's going to change as we move forward and more developers find uses for the Marshmallow fingerprint technology. Are you excited to see more apps that can be authorized with the press of a finger? Is there an awesome app that we missed from this list? Let us know in the comments!
Android Central Newsletter
Get instant access to breaking news, the hottest reviews, great deals and helpful tips
Jen is a staff writer who spends her time researching the products you didn't know you needed. She's also a fantasy novelist and has a serious Civ VI addiction. You can follow her on Twitter.
I need support for google authenticator. Its a shame that google dont implement these features on their own apps

Would that be 3 factor authentication?

For what, exactly? Is having a fingerprint lock on your phone not enough there? Those codes are worthless if the person who has them doesn't also have your email, password and access to the phone. In which case, you're pretty screwed either way.

If they do have access to your phone then you would want to secure highly sensitive data, and my feeling is this has been missing all along and maybe Google can now go back and build basic authentication options into app startup and switching. There are many apps on the play store providing this exact functionality.

I'm using Lastpass on Lollipop and I have the fingerprint unlock feature on it... I don't think this is for Marshmallow only.

I dont think you understand what they are talking about in this article.you are probably using a samsung device. This added support will allow any marshmallow device with fingerprint hardware to have FP authentication

So other lollipop devices with a fingerprint scanner don't work outside of the lock screen?? Ouch. Yes, I have a Galaxy Note 4.

Before Marshmallow, there wasn't a standard API for accessing a fingerprint sensor, so OEMs that included one in their devices had to add their own API in order to allow developers access to it (or else just leave it as accessible only by system code, such as the lock screen). Samsung developed their own API for their fingerprint sensors that developers can make use of that on Samsung phones. But that code wouldn't work on any non-Samsung devices with a fingerprint sensor. Now with Marshmallow, one set of code will work for any phones with a fingerprint sensor and Marshmallow. So just because an app supports fingerprint on Marshmallow doesn't mean it supports it pre-Marshmallow on Samsung phones (and vice-versa). But if the app developer chose to support Samsung fingerprint sensors, it will work for pre-Marshmallow.

Great info! Thanks for explaining that! I guess I've been lucky to have a Samsung phone then... at least one that works as I'd expect.

I'm probably not understanding the question, but the bank of America app uses fingerprints on my Note 5 and iPhone 6s Posted via the Android Central App

Wow. Other than Google play, this doesn't seem to be helpful to me yet. Hopefully lots of others will adopt this soon. Posted via the Android Central App

Can't wait until this gets more adopted. Authy, Evernote, and even Google Photos might be nice to have it with.

I'm content with just using it for unlocking my phone. Google Nexus 6P

come on devs you need to get with the program. i sadly do not use a single one of those apps* *i don't consider the play store to be an app

Nice roundup, good information to know. ...Joe K.

The fingerprint in MaxLock app is not working for me. So I need to anything special? Posted via the Android Central App

USAA has been great with their mobile app. I got my 5X at launch. USAA's app has long let you take a picture of a check to deposit it, but their app suffered from the 'upside down on the 5X' bug. I emailed their support team and it was fixed in a week. They were also (apparently) the first mobile banking app to add fingerprint support, and I can't say how much easier it is to just use a fingerprint to log in. It's doing it to the point that I'd go as far as saying I'm keeping slightly better track of my finances because of it.

Hopefully the banking, brokerage and AMEX apps will incorporate nexus imprint soon! Specifically Chase, BoA and Schwab. Posted via my Nexus 6P!

You forgot "Keepass2Android Password Safe" (https://play.google.com/store/apps/details?id=keepass2android.keepass2an...), an excellent free solution.

I use that at myself but it does not have fingerprint unlock capability as far as I'm aware. Posted via the Android Central App

Bank of America, GEICO and Capital One would be nice. Posted via the Android Central App

Bank of America DOES offer fingerprint unlock Posted via the Android Central App

Capital One UK will have imprint support for all users tomorrow! :)

I hope Keepass can make use of the API someday. Fingerprint unlock would be slick.

Keepass2Android supports fingerprint unlock. The developer has a preview up on his website you can download and test or wait and I'm sure it will be available in the play store soon. I'm using the preview and so far haven't had any issues, works great.

KeepShare as well, works with keepass and fingerprint

Can't seem to find lockers app. hmm Posted via the Android Central App

The Google play store has yet to ask me to authenticate anything with a fingerprint. And I have the option turned on. Posted via the Android Central App

When you are prompted for a password to buy something (a paid app), you should be able to tap the fingerprint sensor. (Unless of course you've told it to not ask for passwords) Posted via the Android Central App

I'm disappointed that 1Password does not have this yet.

They're supposedly working on a big update that includes fingerprint support.

KeepShare for KeePass is a password manager, not a locker.

Many thanks for a useful article, well written and very well researched.

Meanwhile, I'm still using my LG G4, which doesn't have a fingerprint scanner. Hell, the only device I use that has one is my iPad Pro.

I wish these worked for the V10 Posted via the Android Central App

I tried multiple App Locker apps only a few weeks ago, but none of them worked with Nexus Imprint to unlock except MaxLock and it required that your phone be rooted and have the Xposed framework (if I remember the name correctly) side-loaded first - a non-starter for me. Do any of these other App Locking apps now support unlocking with Nexus Imprint?

App Locking (and unlocking with Nexus Imprint) ought to be a feature of the Android OS.

I wish 1Password would get their sh** together. They've said they talked about working it like 9 months ago. Still nothing.

tinyCam Monitor (app for video surveillance) brings Nexus Imprint support https://plus.google.com/116818390313397542132/posts/6KwKPvC3MH9 Google Play link https://www.androidcentral.com/e?link=https2F2F...

The latest Capital One mobile app now support Android Imprint too: https://www.androidcentral.com/e?link=https2F2F...
Android Central Newsletter
Get instant access to breaking news, the hottest reviews, great deals and helpful tips
Thank you for signing up to Android Central. You will receive a verification email shortly.
There was a problem. Please refresh the page and try again.