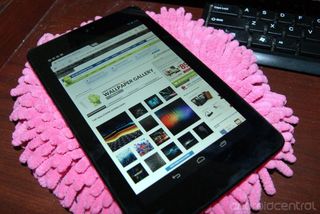 Since you're reading this, chances are you're an Android fan. That means you're as excited as we are about the new Nexus 7 tablet, and what Google can bring to the table with a tablet where it alone controls both the hardware and the software. It's good to be excited about it, it's a big step in a direction we've been wanting for a long time.
About 6,000 lucky folks got their hands on a Nexus 7 when Google handed them out at its Google I/O developer conference, and that gives us time to use and abuse it then tell you how things worked out. We're all Android all the time here, and we're pretty impressed with this one. It's almost everything we wanted it to be.
Almost.
Hit the break and see what we think of Google's new baby, the Nexus 7.
Pros
Awesome, mostly state-of-the-art hardware brings performance to a new level. Android's latest and greatest OS (Android 4.1 Jelly Bean) is on board and is a huge jump from previous versions. The Nexus label means no bloat, quick updates, and always the latest software. Finally, the price makes it the best tablet on the market for the money, bar none.
Cons
Storage. Or, lack thereof. If you're not able to depend on access to the cloud, the Nexus 7 is probably not for you. The Google Play ecosystem is still lacking in content compared to other platforms.
The Bottom Line
The Nexus 7 doesn't bring a compelling reason to "go Google" when considering a tablet purchase like we were hoping. But the hardware and software on the Nexus 7 make it a very interesting piece of gear, and when the price is factored into the equation, there's simply not a better tablet for the money available from anyone, anywhere. Stock Android 4.1 Jelly Bean and updates direct from Google are icing on the cake. I would recommend the Nexus 7 to anyone and feel good about handing out that advice.
Swipe to scroll horizontally
The video walkthrough
The hardware
When you see the price tag on the Nexus 7, you don't expect great hardware. Currently checking in for as little as $199, the price is competitive with the Kindle Fire as well as plenty of cheap craplets from the far-east. But you'll be pleasantly surprised when you have a look at the parts that make the whole.
The entire back of the unit is covered in soft-touch coating, and not your standard garden-variety soft-touch coating. It's slightly springy, and has the look and feel of leather. Or at least a nice pleather. One touch easily tells you it's not, but it's still very comfortable to hold and the coating allows for a nice firm grip -- you won't be afraid you'll drop this one. The 7-inch size may put some folks off, and that's OK, but the size combined with that coated back and the slightly convex design make the tablet easy to use in either portrait or landscape.
The construction is good. It's not textured aluminum like the Transformer Prime, but it also won't have the radio issues the Prime suffered because of the big piece of metal surrounding it. The screen on my particular unit has no give or wobble (Phil has noticed a bit on his, though, but we're chalking that up to pre-production hardware), the ports and controls are all solid and easy to access, and the speaker is sufficiently loud in both landscape and portrait modes. It's worth noting that our units have a slightly different construction than the retail units will have, but we've also spent some time with the retail model and it's built even better, with a solid trim ring around the edge to keep any potential glass separation issues in check.
The microUSB port does not handle any video out, and without any hacking you won't be able to connect an SD card reader or a thumb drive. We can wail and gnash our teeth, but that won't change this. If you need either or both of these capabilities, then the Nexus 7 is not for you.
Overall, the Nexus 7 is a well built, well-spec'd machine.
The screen
The Nexus 7 has a 7-inch, back-lit IPS display at 1280x800 resolution. That checks in at 216 pixels per inch, compared to the 264 of the "retina" display on the new iPad and 132 ppi on the previous model iPads. It's also covered with "Scratch-resistant Corning glass" which certainly sounds like Gorilla Glass. The viewing angle is wide, with the screen seeming bright and easy to see at almost a full 180-degrees. The only real drawback is the glossy finish, which makes viewing it outdoors difficult. You'll have to crank the brightness the whole way up and shade it with your hand if you want to use the Nexus 7 poolside. But it's not like every other tablet out there doesn't have this problem, too.
Video and gaming looks great on the device, with vibrant color and crisp text. The Nexus 7 makes for a great e-reader if you're the type who likes to curl up with a good book. Everything you'd want to do on an entertainment-consumption device is done well on the Nexus 7, and you'll be more than happy while using it.
The radios and sensors
The Nexus 7 comes with a full array of radios and sensors on board -- 802.11 b/g/n Wifi, Bluetooth, NFC, accelerometer, GPS, magnetometer, and a gyroscope. On our unit, everything works as intended and performance was just fine. The accelerometer and gyroscope are responsive and gaming was excellent, the magnetometer worked with various metal detector apps in Google Play, Bluetooth and Google Beam performed flawlessly, and GPS locked quickly with reasonable accuracy. Wifi range (802.11 g) extended out to about 130 feet before we saw any significant signal loss, and things like the microwave or the alternator in my old truck had little, if any, effect.
NFC is built-in, but Google Wallet is not compatible with the Nexus 7. We don't know if this will change, or someone will get it hacked into place, but you won't be buying your Jamba Juice with this one.
The specs
The full monty:
7-inch backlit IPS display at 1280x800 resolution
Scratch-resistant Corning Gorilla glass
198.5 x 120 x 10.45 mm
340 g
8/16 GB internal storage
1GB RAM
Quad-core Tegra 3 SoC
4325mAh battery
Android 4.1
1.2MP front-facing camera
micro-USB port
802.11 b/g/n Wifi
Bluetooth
NFC
GPS
Accelerometerr / gyroscope / magnetometer
The storage
And here's where things may turn ugly. The Nexus 7 is available in either an 8GB or 16GB configuration. There is no microSD card slot. There is no USB external storage option. The 8GB option, out of the box and with the bare minimum of apps (you can see my list of installed apps below) leaves you with 4.46GB of free space. The 16GB option should leave about 12GB free (based on my calculation). That's without any of my space-hogging games installed, which take upwards of 750MB each.
That's not a lot of space for a media consumption device. There's no way around this fact. The Nexus 7 was built for those who use Google's cloud services. Google Music, Google Drive, Google Video and Google+ image storage are how this thing was designed to hold media and documents. If you can manage that, you'll have no problems. Even the 8GB version should hold all of your apps and games, it's just that you'll have no room left.
We can't fix this, and I'm sure the comments will turn into a firestorm over this, but it is what it is. If you can't use the cloud, the Nexus 7 is not the tablet for you. Grab another great Tegra 3 tablet from ASUS or Acer and keep on truckin', enjoying all the space you'll need.
The software
We've said it several times now, but the Nexus 7 is the portal to Google Play. Turn it on, sign into your Google account, and it's right there in your face showing you the library of your music, books, magazines and video. You can easily remove the big widget, but that doesn't change things. Google designed a great-performing tablet to consume all your content from Google. It doesn't surprise us, the formula has worked out very well for Apple and Amazon. Great artists steal and all that jazz, and this idea was great enough to be stolen.
The good news is that Google has succeeded. The integration of the Google Play stores, and the various Google apps make it a breeze to get something from Google to your eyes and fingers. If Google Play had all the content we wanted (it's a bit lacking in music, books, video and TV) nothing else would be needed.
Luckily, you can easily load applications from Google Play to get outside content as well. Amazon's appstore and Kindle app work great, as do Netflix and the Nook app. Google does not lock you into their ecosystem, they simply make it easy to use.
Jelly Bean
One of the biggest reasons to buy the Nexus 7 over a competing tablet is that the Nexus name means timely updates and the latest software. In this case, that means Jelly Bean and all the barrels of awesomesauce that come with it. Jelly Bean is like Ice cream sandwich, with all the features we wanted Ice Cream Sandwich to come with. It's fast and smooth (like buttah), full of the latest and greatest APIs for developers to do all sorts of magic with, and there's a level of polish we've all been waiting for. Alex is in the midst of going over them all (there's no way we could squeeze everything in here) and you'll want to read each and every one. I do want to have a look at a few, because they work so well on the Nexus 7 and bring something you can't get on other tablets just yet.
Of course the Butter is baked in. We can't ignore that. It's a combination of huge edits to the Android framework, tweaks to the launcher code, and PC gaming tricks like Vsync locking. All running at 60fps, without having to use a dedicated CPU thread for the UI. You will see no lag in the Nexus 7 home screens. None. Nada. Zero. Zilch. Heck, I almost want to say it again. No Lag. A big part of the trick is the way the CPU get's ramped up. While idle, the T3 sits running on it's low-power fifth ninja-core, but as soon as a touch is registered on the digitizer, things ramp up instantly in anticipation of needing to do other things. After all, usually when you touch the screen you open an app or swipe to a new home screen, right? This helps cut out that millisecond or two of stasis we used to see while the CPU was ramping after you told it to swipe between screens. It makes a visible, and drastic difference. ICS isn't laggy by most accounts, but once you use Jelly Bean you'll not want to return. Kudos to the boys and girls on the Android team for the butter!
Google Now
Google Now is one of the big features of Jelly Bean, and while it's worthy of it's own post, we have to have a look at it here. You can get to it from the lock screen, or by swiping up from the home button, and once it's open you have a world of information at your fingertips. Make no mistake -- it's not Siri. Google Now is more than a funny voice that cracks wise when you need your mobile device to love you. It's a powerful tool, that uses the data Google collects from you to know what you want to see before you ask to see it. It's location-aware, so it can do things like tell you about a traffic jam that's on your route. Or let you know when your bus is coming if you're at the bus stop. Or tell you that the Orioles lost yet another ballgame they should have won. And you can ask it stuff!
Any question you can get an answer for by typing it into the Google search box on Google.com can be answered by Google Now. It's using the Google Knowledge Engine, and it's great for things like conversions, world weather and events, or just general knowledge (it is the knowledge engine after all). It won't come back at you with a joke, just the answer you're looking for. Of course it can do things like send texts (on supported devices) and set alarms as well. It's really cool, and easy to see Google has been hard at work on it. We also expect it to expand with new features as they are developed. To top it off, it has no issues understanding my twangy accent and speech recognition is unparalleled. You'll have a blast playing with Google Now.
Notifications
It may sound a bit odd, but my favorite feature of Jelly Bean is the new notification system. Android's patent-pending (look out Cupertino) pull-down notification shade has always been excellent, but the changes with Jelly Bean make a great thing, well, greater. Gestures expand notifications when you have a full stack of them, and card view for things like Google+ pictures or Facebook updates really take things to another level. These changes are open for third party developers as well, and we expect big things from application developers.
But with great power comes great responsibility, and it's not hard to imagine how this much information in your notifications could get out of control. Big, vibrant notifications are a dream for developers who love to spam your bar, as they can squeeze even more annoying up there now. To combat this, we have a few tools. Long press on any notification and you're presented with a shortcut directly to it's app information page, where we have a new option -- we can silence notifications for the app. If that's not drastic enough, the button to uninstall is right there as well. Buh-bye apps with Air-push, and good riddance.
The camera
There's a 1.2MP front-facing camera built into the Nexus 7, but for all intents and purposes there is no camera. There's not even a camera application. The FFC works well enough for video conferencing and Google+ hangouts, but if you want to use a tablet to take pictures, the Nexus 7 is not the tablet for you. I'll imagine industrious hackers can squeeze the camera app onto the Nexus 7 if you really need one.
The hack factor
The Nexus name means one thing to some of us -- wide-open, balls-to-the-wall-hacking. The Nexus 7 is no different. Unlock the boot loader with a single command, then have your way with the system, flashing any image your heart desires. It's not yet widely available, but we already have a custom recovery and developers are champing at the bit for the day they can order one. Development and custom ROMS are going to explode on the Nexus 7. It's going to be a ton of fun. And when we screw things up so bad nothing will boot, factory images will be provided to go back to square one.
But the better news is that you don't need to hack it to have great performance and great software. Mine's unlocked and rooted (before you ask, the answer is "because I can") but I have no need to change anything. It really is that good.
Conclusion
This is the best Android tablet you can buy at any price. Period, full stop. It's fast, the specs are great, and it's Google's new baby so the updates will flow like wine. When you factor in the low price, it's probably the best tablet for the money you'll find as well. Your $200 gets you a best-in-class device that weighs up well against even the mighty iPad. Google and ASUS have really outdone themselves here.
But. (There's always a but).
Some people won't or can't live in the cloud. Eight or even 16 GB of storage just won't cut it when they need somewhere to keep all their non-Google movies and music. We get that. We respect that. If that sounds like you, you're best bet is to look at another tablet, be it an Android tablet like the Transformer TF300 or a 64GB iPad. Google is basically subsidizing the Nexus 7 for folks that use Google Play and the other Google services, and one shoe does not fit everyone.
And there's the question of content. Ripping 15 or so Led Zepplin CD's and uploading them to Google Music -- because Led Zepplin isn't represented in Google Play -- was a pain in the ass. There's also TV episodes and movies I want to see that can't be found in Google Play. This is something Google needs to address. If you're outside the US, you have it even worse -- some services just aren't available, and there's no time-line as to when they will get on board. This may be a minor inconvenience, or it may be a deal-breaker. You'll have to weigh that out yourself.
If you can live in the cloud, and Google Play has enough of the content you're looking for, go buy one (opens in new tab). I can't recommend the Nexus 7 enough if it will fit your needs.
Get the Android Central Newsletter
Instant access to breaking news, the hottest reviews, great deals and helpful tips.
Senior Editor — Google Ecosystem
Jerry is an amateur woodworker and struggling shade tree mechanic. There's nothing he can't take apart, but many things he can't reassemble. You'll find him writing and speaking his loud opinion on Android Central and occasionally on Twitter.
Very awesome, Looking forward to getting mine in a few weeks. Good review. Oh, and if people just do not like "Cloud storage" in general but still do not have internet access problems, I suggest the Buffalo CloudStor. Your own personal cloud storage drive, the App has been getting better (PogoPlug) and the devs seem to be responsive to my recent requests for more video format conversions. I know that for those who go where no WiFi has gone before, this is a moot point, but it should at least help some. EDIT: I totally forgot but I almost bought a GoFlex Satellite, a wireless hard drive that connects VIA WiFi. Also a good option for portable media storage.
http://www.seagate.com/external-hard-drives/portable-hard-drives/wireles...

So it is a $200 battery powered hard drive that also sends out a WiFi signal? I can see that be useful in some cases. But if you were in a car, won't someone using a laptop be able to do the same thing?

Not sure how management works on it, all devices would have to be in WiFi range (Says it can stream 3 separate movies at once) and I believe it can only send media out while in WiFi and that you can only add/delete items while hard wired into a computer.

Thanks for pointing out the cloud alterntives, However there is no reason why there shouldn't be a micro SD slot & an HDMI slot to communicate with the outside world. I use WiFi only, no data plan on my phone, so when I'm not in a WiFi area I wouldn't be able to transfer files to and from my tablet. I don't feel like taking the tablet apart to take out an SD card every time I want to transfer files. Also you shouldn't have to buy a more expensive tablet to watch movies on your TV and you should be able to just plug in an SD card or USB drive to watch movies. I love my 10 inch tablet with the keypad but for playing games it's a pain after awhile to hold the big screen in your hands. The seven inch size is definitely the best size for games & text reading and games take up a lot of storage so it would be nice to plug in SD cards or USB drives for that as well. SD is best because you won't have anything sticking out of your tablet.

For the record Jerry, MoDaco already has a camera app for it on the Play Store

Seems cool but eh I'll stick to my HP touchpad

Very true..love the touchpad on ICS May get a nex7 for the wife though :)

The lack of a SD card on this baffles me -- especially since it also lacks a radio. My Nook Color has a SD slot, and I really don't think I could live without it... :(

It lacks the SD card slot for the same reason that the last 2 Nexus phones do, _Google_ is depreciating them, it's the OEM's that are adding them back to devices. We all went through this the Nexus S came out and when the Xoom didn't originally have a working SD slot (now it works but as read only) Removable storage is wonderful but it is also the root cause of a lot of phone issues when troubleshooting issues. I do think it is a mistake not to offer a 32 GB version for $299 though. That's the one I would have bought.

I get all that your saying and i think its a good move to... Well to a point.. The real problem though that isnt addressed is just how they expect us to use these google services. I mean the lack of radios in this tablet aside... How can i truly use google services given the data caps inplaced by all major carriers. What Im saying is that this is no longer a trully mobile device cause if your not home of inside your screwed. All you got is whats onboard..

Yeah, this seems like an awesome tablet. But without SD, Google can kiss my black ass.

I really hope you're African American

Oh, so now black people have to be american too?

Thank you for the review,
Thanks for highlighting the lack of internal memory with nothing to compensate with.
Google Eco System and cloud services are not fully functional where I live.
No Google Music, Google Movies nor Google Books or magazines.
Thanks again Jerry.

You forgot to mention one huge CON... it's made by ASUS. Anyone who owns a TF101 Transformer knows how well ASUS handles warranty issues and how poorly they've handled the current random reboot and crashes the device is now plagued with. I'd stay away from any ASUS tablet with a ten foot pole.

I can't speak for the warranty claims, I've had several ASUS motherboards and video cards but never had to RMA one... As far as software goes, they did screw up the initial ICS update pretty badly on the Transformer, at the same time they also released it several months earlier than most manufacturers tho (a trend you can trace to previous updates too, 3.1, 3.2, etc.). It did take three subsequent updates for them to finally address the issues on ICS, but they got a handle on it and it seems it's been resolved for most people. In the end the fact that they're actually trying and actively releasing updates speaks louder than the issues they went thru with the latest update (all others were flawless), I simply avoided installing ICS on my TF101 for a few months and stuck with Honeycomb until May. They could have handles it better tho, no question. More communication with users would've been nice. Ultimately that's kind of irrelevant for the Nexus since Google will be handling updates and even support, ASUS still makes some of the best Android hardware out there tho. So ya, I disagree, I have an original Transformer and I'll probably be buying a Nexus 7 for my sister this Christmas. If they ever make an 8.9" model for $300 or less I'll probably upgrade from my Transformer. The dock is nice but ultimately I don't use it a lot unless I'm traveling (when it does allow me to leave the laptop behind sometimes).

I have to say I disagree. Just because they issued many updates and sooner than other OEMs doesn't excuse the issues they had and will continue to have. This is a huge issue with skinning devices and although ASUS may do it much less than Motorola, Samsung, and HTC doesn't excuse the fact that for months people had horrible problems with their devices. Also you cant call hardware exceptional if they design a product and advertise that product as having GPS when they had to have tested the hell out of it knowing it didn't work worth a damn. That is too many strikes. Then again I am completely against any skinned android devices and i won't buy one. Still, we can't keep giving these OEMs get out of jail free cards just because of excuses it makes no sense. If you want to play in the big leagues (I have no idea where all these baseball references are coming from as I really don't care for it) then you need to responsibly handle your equipment and gps dongles, re released hardware with promises of not making the same mistake, and multiple updates to fix huge flaws in software is not something I or many other random consumers will let slide and still buy another device made. Still ASUS is doing much better than Samsung or especially Motorola though so I will give them that.

I have a tf101 and after i lost it on the plane, the airline was nice enough to ship it back to me, but the tablet was broken when i received it. it wouldn't turn on, probably due to the poor packaging from the airline. after numerous calls to the airline with no result from them, i decided to try asus and filed a warranty claim. after about a week, i received my tablet back from asus and it's has been working great for almost a year with no issue. so for me, asus has been great w/ their warranty service.

I respectfully disagree, I think ASUS is a fantastic company and have purchased 2 laptops and a dozen or so components for my desktop, I have had to RMA my Laptop and I will say the experience was fine,2-3 week turnaround time and a successfully repaired laptop. I think Google made a good choice going with ASUS because of the major manufactures they seem to be the most geared towards hacking, modifying and overpowering... exactly what I like. Not to mention that their build quality->price ratio is arguably the best on the market

Do you think it's hard to purchase a dozen Asus PC components? Do you realize how many PC components they make? I myself have purchased several dozen Asus motherboards alone... and they are the only motherboard manufacture I'll buy boards from now. Over the years I've built around 100 computers and I've had the best experience with Asus motherboards... I've had the least problems with them and they've always had a decent turn around time when I did have to RMA one of their products. Given my experience over the years with Asus I would not hesitate in buying any of their Android products.

The reboot issues are almost 100% to be blamed on software and ASUS is getting better at it, but still many problems. Google is doing the software and I would be surprised if it had the same issues.

Really bro? They 're the Best H/W Manufacture on the planet.

Great read. Can't wait to get mine in the coming weeks.

I second that. This is the only android tablet I have been excited about since dumping my Xoom and Prime months ago for the new iPad. It will make a nice smaller reading tablet that I can take to work to watch Netflix and surf the web while on break and lunch. Also I don't have to worry about losing or damaging it like I do with my 32gb retina iPad. It is a great price and the 7 inch form factor is really nice and I have been wanting one since ASUS got my attention with the memo and now it is even better as it is a nexus device which will surely be a lot of fun to because of the amazing nexus dev community. I'm sure every huge dev will have one of these. Plus it will be a lot of fun to continue learning to write applications for like I have been doing the last year or so in school. This is the perfect fourth device for me and I can actually see the need to pay for it after owning my MacBook pro, galaxy nexus, iPhone 4s, and new iPad.

Great review. 4325 mAh battery,good move Google.

If Google patents the notification bar how would that part of android still be open source?

Patent only means that they are documenting credit for the innovation (Apple likes the "Document" part more than the other part apparently) You can use and change open source with permission, but Google still takes credit for their product.
You can not just copy and past the full ICS code and sell it as your own OS, it is patented.

Great review, I still dont understand why people continue to complain about lack of sd card on Nexus devices. Its getting old.

Options are the ultimate luxury. Lack of expansion is limiting options.

I agree but when is the last time a Nexus device had an SD card. People shouldnt expect it to be there by now.

No, I understand, it just seems to be the only real flaw in the device. (If that ends up being the worst thing going for this tablet then were are doing pretty well). It would be nice to have the option than not though.

What gets me is that it is not like it was an accident or oversight. It was *intentional*. No designer would overlook an SD slot *AND* combine it with low storage. This means it was a *political* decision to try and force people to use "cloud" stuff. To me, that is insult added to injury, especially for a WiFi-only device, and greatly reduces the number of possibilities for this thing. Well, at least it is cheap, so I can get Mom one for Christmas.... she doesn't have much media, anyway. I will certainly be sticking with my 96GB (32+64GB) Xoom with much larger display. For portability, my 80GB (16+64GB) 4.7" Evo LTE should suffice just fine.

Why would you ever need that much space in a portable device? Are you going on a month long trip with no WiFi??? Seriously. People that keep complaining about storage are full of sh*t. You just don't need that much space at once.

*looks at p90x video collection that I would like to play off a device larger that my cell phone* Oh, 7.85 gigs, guess I can forget that, or just waste time loading different videos on and off everyday since I am wrong for not wanting to do things the google way. Time to go bitch about Apple trying to force everyone to do it their way. That's only wrong if it's not my platform.

Check out some of the thrid party cloud programs (I am planning on doing the same) there are some that you host your own cloud on a PC or Mac. This obviously isn't the easiest or most elegant fix but it helps...

Absolutely. I do this as well. I live in a house that is not built for a guy my size jumping around, and I don't have room for a weight rack. I do my P90X at the gym, which means I need the videos on my phone and/or 7 inch tablet. The workout can be done without the videos, but I find my timing of the rest periods and such get out of whack without the video going.

Refer to my comment above, you could get a GoFlex Satellite wireless Hard Drive if you are planning on streaming lots of video and have no WiFi to a cloud or a Buffalo CloudStor if you do have access to WiFi.

Space is King, I won't complain about the lack of an SD card I can and will live with 16gb without complaining, but honestly you can NEVER have too much storage, be wary of saying "People that keep complaining about storage are full of sh*t. You just don't need that much space at once." or you start to sound like an ass. 16gb is fine 80gb is better, simple as that. even if you have 64gb open that's great its still available, and once you start saving movies locally say goodbye to that free space.

It has nothing to do with politics....It was an economical decision for Google to make it this way. They want more money from Google Play, so they made a device that would be optimized by purchasing media from Google Play. It's a smart business decision and like Jerry said, Apple and Amazon have been doing it for a while now.

And eventually they will have an LTE version with every carrier.

Um, you just described a political decision (at least by my definition)...

What? Maybe you should check the dictionary, because your definition of "political" is way too wide to make any sense.

I agree but when is the last time a Nexus device had an SD card. People shouldnt expect it to be there by now.

Just because we don't expect a card slot doesn't mean that we don't still wish that it was there.
I will more than likely pre order one, but a micro SD slot would have made this an instant buy, no questions asked.

I think the problem is that it comes with only 8GB on the low-end version, and, simply put, that is not enough. Out of the box, only 4GB is free, and that's hardly enough to hold even a single high-definition movie. The Galaxy Nexus is only available in 16GB and 32GB versions, because 8GB is really cramped. Basically, the 8GB model of the Nexus is only useful if you stream everything, or if you only use the tablet as a reading device. If you want to load even a modest amount of movies or music, you will need to buy the 16GB model, or another tablet entirely.

Agreed. The lack of an SD card slot which would have cost maybe $2, combined with very underwhelming internal storage kinda ruins the platform for so many uses.

It has some good points but the total lack of storage makes it a failure to me. To make excuses like it was intended for the cloud is a bunch of bull. Nexus did the same thing with their GSM Google Nexus, the cheapest thing they can do is add freaken storage but they refuse. That is why I refuse to buy and I am a total Nexus fan but I will not just buy it because it says Nexus on it. The asses who designed this without storage is just that an ass. Many, Many people will refuse to buy it for that reason and I will not blame them. Dumb, Dumb, Dumb.

If you were a Nexus fan, you'd know the last device to be a Nexus and have an SD slot was the Nexus One. I'm getting one of these for my mom for her birthday. It'll be perfect for what she would use a tablet for.

Again with the complaining! Your calling them an ass because they didn't supply you with all this precious memory?!?!?! What do you need all of that for on a portable device that has WiFi? Games and music? Sync that shit once and a while and be done with it. Stop bitching, Jesus.

Yes many people will refuse to buy it for lack of a SD card, however as can clearly be seen (and I hate to say it) with iPhone sales, a lot of people dont give 2 Sh**s about it. This is/was geared at the mainstream consumer not us geeks who want to have over 32gb of storage at our fingertips every second. Even the Kindle fire has been selling well and its storage options are the same I believe. In the end this means if I want to have all of movies/tv shows and or other media that I want at my fingertips I will have to use cloud storage and TBH I LOVE CLOUD STORAGE! The concept is amazing and I always have access to it because I always have my GNex which I can tether. Google does everything for a reason and while some of us may not like it, the vast majority of us will.

Has anyone heard what the release date will be for the tablet?

I have this on preorder and looking forward to it, but yea, funny how many more movies my tiny phone can store locally than this.

Good review. My EVO LTE does all of the consumption tasks that I seem to need.
I don't really see how I would choose a tablet over either my EVO or my laptop without a serious productivity input design like the Surface. I guess I don't play enough Android games. Nexus 7 looks pretty good for consumption tho.

As excited as I was for this, the lack of storage makes me want to wait and see what Asus or other companies put out in response. I know Asus was supposed to have a comparable cheap tablet out sometime.

I thought that this WAS the cheap Asus tablet?

Louie is correct. Asus announced the memo 370t, a tablet with identical specs to this but it was converted to this through a deal with google. Just face it, all the cheap tablets, fire, nook and nexus 7 are made at cost to drive users to their content. If they work for you great, but they will not have all the features that a tablet 2-3X their price will have. Hardware wise this price is amazing.

I wouldn't be surprised if Asus make a larger version of the Nexus 7, without the Nexus branding but with JellyBean and similar features.

Well, considering no one else said anything I guess I will. Jerry, I feel your use of the pink octopus greatly accentuated the tablets sexiness factor.

This was a great review Jerry. A lot of reviewers makes a big deal about it being awkward taking photos with a tablet...I have the 7 inch galaxy tab 2 and I use the camera all the time. 7 inches make it so portable that I take it with me everywhere and take pics all the time. Am I the only one? lol

I agree that there are good reasons to have a back camera on a tablet. Some of them include Google goggles, Barcode scanner, Fooducate, and myfitnesspal. In today's day of cheap storage there should definitely be no reason to release a tablet with the same amount of space as the ill fated Palm Pre. Even in it's day years ago it got blasted for only 8gb and lack of expandable storage. I'm sure that if Google released a model with expandable storage and a back camera for $279 to $299 it would sell well and possibly be the most popular model. Especially since tegra games alone take up plenty of space on their own.

The Palm Pre had expandable storage.

The palm pre did not have expandable memory. It was a big deal at the time.

The Palm Pre did not have expandable memory, I loved it, but it got really cramped after a while. It was a great OS, could be the best with someone willing to keep it going. I used it from release date until the release date for the galaxy nexus. It was finally time to replace it. Kept on working till the end.

The Palm Pre had expandable memory.

My Palm Pre that I bought from Sprint on launch day surely did NOT have expandable memory. 8gigs built in, that's it. http://news.softpedia.com/news/Palm-Pre-Doesn-039-t-Have-microSD-Slot-fo... ""'Design' was the highest goal on the Palm Pre project. The phone has to look and function great in the hand and up against the face on a call. The decision to include or not include expandable storage is an easy one when design is the highest priority. "

Holy crap it is absolutely MIND-BOGGLING that people will not shut up about the lack of microSD slot on this tablet. Why can't people realize that this is 100% Google's strategy! Basically, Hugo from Google was being extremely generous when he stated that margins are slim on this device. The truth is, they are losing money on every tablet sold (moreso Google than Asus). But they don't care because they plan on making that money up through their content. Think cell phone carriers and subsidizing phone prices; same idea. Including a microSD slot would make this product much more expensive, but not because of manufacturing costs. No way, you can add a microSD slot very easily and very cheaply, but they didn't because they knew that it would mean for their content revenue. With that being said, it's pointless to say "man this tablet would be perfect IF it had a microSD slot! Google dropped the ball!". Because if this tablet had a microSD slot, it would NOT be a $200 tablet :)

An micro SD card slot would MAYBE cost an extra two bucks. So, I guess you're right. Instead of $199, it would have cost $201.

You missed his entire point. If an SD card was on this thing it would become much more expensive to offset Google's expected Play Store losses from users who utilize the SD card storage instead of buying content from the cloud due to said lack of storage. However much Google thinks that is would be added to the cost of the tablet, in addition to whatever minuscule price it actually costs to add a micro SD card slot.

I doubt that it would cost them more than the controversy of limiting storage on an open platform that is supposed to be about choice. The Kindle fire sold like crazy at first and then simply stopped selling and the return rates were high. I've heard plenty of not so geeky people complain about lack of storage on the Kindle fire at my job. Google does not have cards like amazon and iTunes. Some people are wary of inputting CC numbers to make purchases (I've seen it both in person and online with people complaining about this)and I think this is a barrier to adoption. They need "Google Play" cards right next to the Amazon and iTunes cards at the check out lines receiving mindshare with all the grandma's and teenagers. I live in NYC where wifi and cell coverage is plentiful and even with that there are still plenty of gaps all over the place. Even with Verizon, AT&T, and Sprint streaming Google music in a moving car is far from a perfect experience (and I LOVE Google Music) and even less so for those who take the subway. SD cards are convenient. The cloud is great for small files (such as documents) but not so great for high quality music, pictures, and especially video, and games. On the road it's easier to take HD Pics or video on a digital camera or phone and transfer the content via sd card right on the spot than to upload to a cloud or connect to a pc as a middle man. More options means more convenience and convenience is king. Comparing Ipad/iphone sales is not a fair comparison. Apple has a cult and fashionable image. People buy Apple products in mass simply because it's Apple and no other company has the power to dictate to their consumers like Apple does, not even Google. I'd prefer to compare things to Microsoft since Windows Mobile sold well in it's day and was diverse and had lots of options. Then microsoft released windows phone 7 with iOS type limitations and that platform has been rotting since saleswise. Unlike some people here I am not really arguing about having or not having an sd card slot but more for Google having released a higher end model with the slot and a maybe even a back cam for augmented reality. Less controversy, more convenience, most positive feedback IMO would create better mind share and keep elevating the Android platform.

Amazon, barnes and noble and google sell these at a cost or loss to direct people to use their services. Adding a SD slot would give people other options. They are in business to make money not give us what we want at no profit to them.

Thanks a lot VulcZ! I didnt think of the concept this way, however I was really tired of everyone complaining about the lack of the SD. This makes a lot of sense though!

Absolutely right. Everyone is screaming "me, me, me, i want this, i want this." But when Google does it in order to actually make money...People are outraged! haha

Every one of the whiny little beyatches filling their diapers over the lack of SD make for damn sure not to admit that the iPhone and iPad don't have SD slots either, but somehow managed to not cause mass hysteria and rushing to the fainting couches. Oh, and they sell OK as well. I'm going to use mine to retire my Fire since it has superior everything to the Fire, only sacrificing the ability to borrow Kindle books. Big. Effing. Deal. Everything else the Fire did and all the stuff it couldn't will be in the Nexus 7, so winning.

Oh aren't you the clever one! And you are so right! The iPad 8 gb is a huge seller, and the high end of iPad also stops at the 16 gb level, so why on earth would anyone complain, and it's a totally fair comparison. Oh wait, it's not. The low end iPad is 16 GB, which is the same as the high end on the Nexus 7. And the 64 GB iPad is the max, which is 8 times the size of the small Nexus 7 and 4 times the size as the high end Nexus 7. But why let facts distract from a really juvenile diaper joke! I think the posters above said it all, this is a move by Google to limit onboard space to push you onto the cloud. And for people who can use the cloud, it makes sense (those with constant WIFI or no data caps). For those who can't always use the cloud (people with so-so service, people who have data caps and don't live in a WIFI saturated area, people who travel a lot, people who work in secure buildings with no wifi) then it won't work so well. SO it's a product that works for some people, and not for others. To tell people who need storage that they are babies I think tells us a lot more about you than about the people saying they need storage.

Even IF you're not constantly connected to WiFi, 16gb is GENEROUS. That's enough for some music and even a few TV episodes. So you have to add new contact every few days. Big deal! You just paid $250 for a high performance tablet! :D You'd be $500 in the hole for the 16gb iPad of whatever the current generation is, the Nexus 7 is costing you half of that. Which is why I feel your comparison of the iPad with the N7 is pointless (even if all you did was compare storage capacities).

I ordered the 8gb version. I have no real desire to store anything on my tablet other than the apps I need and whatever book I'm reading. Everything else can stream or I'll keep it on a 32gb USB stick and transfer using StickMount. It's not like another 8 gigs is going to make that big a difference anyway. My only concerns were that future OS updates might require the 16gb version, but this is a $200 tablet, if that's the case I'll hand it down and buy a new one.

Nice review Jerry. I wanted to make a point about something that you were saying in the podcast. You said that Google never lost. That's not exactly true though. There is a reason why Microsoft makes so much money off Android... Also how can an Open Source OS have a patent? I thought that meant that they couldn't patent any of it. Not trolling. Just looking for answers. I like to learn things.

Dude, this review is pretty kick-ass. Always detailed and relevant information with a little added zing (the Jerry Zing!). Thank's for this review, I already pre-ordered the 16 GB and I cannot wait to get it!

From what I have read you can easily hack the nexus 7 to be able to read external storages through the USB and that the app stickmount works

I am posting this here rather than in response to everyone else who is commenting on this. It lacks the SD card slot for the same reason that the last 2 Nexus phones do, _Google_ is depreciating them, it's the OEM's that are adding them back to devices. We all went through this the Nexus S came out and when the Xoom didn't originally have a working SD slot (now it works but as read only). This isn't likely to change anytime soon if at all, so you may as well get used to it if you plan on getting Nexus devices, if the storage thing is that vital to you buy one of the many many other options available which offer them. Removable storage is wonderful but it is also the root cause of a lot of phone issues when troubleshooting issues. I do think it is a mistake not to offer a 32 GB version for $299 though. That's the one I would have bought. It wasn't a political decision to use less memory, it was almost certainly done to keep manufacturing costs down in the device which is already heavily subsidized.

Had they just added a microSD slot, it'd be 100% perfect in my eyes.

I've already order 2.
:-)

I preordered the 8gb cant wait to use with carbonite to have access to all my video and other files

Lack of storage means it's a bust. It's funny watching this asinine lack of expandable storage debacle permeate the android ecosystem, from samsung, to htc, and now google. It's infuriating, and will definitely make me spend my money elsewhere.

A bust? You should probably call Amazon and tell them their Kindle Fire is a bust too then...

The stupidity from this post just gave me a headache. Literally. Ass.

This looks like when Google released the G1,it was its 1st phone so it was a little bit of a trial and error kind of thing. No they're doing the same with the 1st pure Google tab,then they will come up with a better one,larger size,wifi+3G etc...

Just get a Wi-Drive. Even with the added cost of the Wi-Drive you're still a goodly amount less expensive than the competition.

1) Microwave in your truck?! Badass, Jerry!
2) Does the retail models come with $25 Google Store credit? I heard so, but can you confirm it? Is it a card with a code on it?

I probably won't get one, but if I do I'll get the 16GB version. My Gnex has the same storage and it does just fine. I'd be happier if I could access more of Google's services (Google Music and Google Voice are the ones I'm itching to get), but even without I should be fine with 16Gb storage. But honestly, even at such a great price I don't need a tablet. It would be nice to have, sure, but I can't justify spending that kind of money on something I don't need at this point. Maybe I'll put it on my wish list and start dropping hints :)

Aaaagh! I want to read this review but I can't get past the second paragraph! "... get there hands on..." This is supposed to be a professional review site!!!

One: looks freaking sweet. When somebody starts talking about a tablet now, i can give them a definitive tablet to choose. Two: While the only thing bad is the lack of ability to expand with a micro sd card. But to me, whenever you limit the space just seems like your trying to be like that fruit company. And when you add that ability then its just one more thing to shove in the face of people with eyepads that you can always add more if you want.

I just can't understand why they went with a gaming soc and only have 16gb Max storage. You will only be able to load a handful of games before its slap full. Hopefully they will make a version with 32 or 64gb so gamers can jump on the nexus wagon too. It sounds like a really nice tablet, especially for the price, but for me, I'm going to go with the transformer pad infinity just for the storage space alone.

Ever since Apple came out with the high resolution "Retina" display on their tablet, everything Android just seems blasé to me. The screen is first and foremost for my needs in a tablet, storage an EXTREMELY close second. The latter doesn't have to be expandable but dammit I do need some. I don't even like Apple and I'd never have purchased the older iPads but it looks like I'm getting an iPad 3 unless something equally stunning comes out VERY soon. Samsung? Hello? Are you listening?

An iTroll? Really. The display here is so close to the "retina" (marketing term) that you won't be telling the difference without holding it REALLY close to your eyes and staring. The SoC is much more powerful than the "new" iPad and best of all the OS is not crippleware like iOS is - unless you are doing what Apple wants how they want you can't do it. I tried a New iPad and it proved worthless in common productivity scenarios. Things I can do with complete ease on an Android are impossible in iOS without a lot of pain (like locally downloading an attachment from one email, working on it in different tools then attaching it to a different email and sending it back out). Or having all my files in a single File Manager because managing from the file level is WAY more intuitive and natural than remembering which app the file was worked in - opening that app - going to the file in it and then being able to attach. I could go on but the point is simple - go Apple if you want a pretty device with limited utility. If you want true usefulness go Android.

iTroll? Hardly. Love my Captivate. Don't love Android tablet offerings. Yes, Retina is a marketing term...that's why I put it in quotes; I don't have the actual pixel dimensions memorized. To me the "under the hood" tech specs matter less than the display and storage because no current tablet is lacking in horsepower. We're at or nearing the point of diminishing returns when it comes to RAM and processors. My needs are actually very basic. I need a photographic portfolio that shows my images at their absolute best. That means I need a great display and storage to hold them. I won't game. I won't use email. I won't play hacker. Productivity-wise I might get an app for contracts and that's pretty much it. Now, I would NOT want an iPhone. Ironically, I need my phone to do more.

Good that you're not an iTroll. Mt display point is that both displays are effectively "retina" as far as pixel density goes. With your use case you might be better with an ASUS Transformer Infinity. I think that the overly locked down and siloed nature of iOs would frustrate you if you plan to work with pictures beyond iPhoto.

My mind's still open. I'm looking to purchase in a few weeks or so. My Retina comment was more for Android tabs in general and the storage issue was hitting the Nexus directly. 7" might not really be big enough anyway...rendering that one kind of moot. I don't plan on doing anything with the photos other than display them. I need a bangup screen that blows potential clients away. I'll keep an eye out for that Infinity. It looks pretty good. The only other issue is apps for photographers seem better and more abundant on iOS but I'd have to dig deeper right before purchasing to see what's applicable and what isn't. I bought an Android app for contracts but it's cumbersome enough that I always end up using paper anyway.

Here ... I am not complaining about missing SD card slot ... BUT ... 16GB is simply not enough :( Give me at least 32GB ... For tablet, we tend to put a lot of media files and games, it's an entertainment device fgs! Oh, and I am still not solved with portrait home screen ... it looks like a giant phone. It seems awkward with that 7" size ... Well, probably I cannot justify it is big enough compared to my Galaxy Nexus. I think I will pass ... Come on Google! Give me Nexus 10" :D

That's the point, this isn't designed to be your regular, run of the mill tablet. This is a portal to the Play store. This isn't an ASUS Transformer, it's a Kindle Fire :)

I already live in Google's cloud. It so pretty up here. I can't wait to buy an N7.

I was thinking of getting one of these until someone pointed out that I could not use it to back up my 8TB work server on. ;-p No, seriously though, this thing seems super sweet for the price and form factor. I plan on picking one up. Only problem is that my wife already told me she will make me use the IPad then. Haha

Would it be possible for the reviewer or someone with a Nexus 7 developer tablet to see if you can plug a USB thumb drive into it via a USB OTG cable? If you can lack of storage problem solved. You can do this with the Samsung Galaxy S3 striaght out the box now so you never know...

I wouldn't call having a cable and a thumb drive dangling off the tablet a "solution."

Get a Wi-Drive. No cable or such and you can have more storage than Micro SD can currently support (Wi-Drives go up to 64GB now and soon to 128GB).

So you add the cost and inconvenience of a Wi-Drive to compensate for buying a low cost tablet. I'm not sure how much sense that makes.

Someone is being a negative Nancy over here. Honestly, if there was OTG support, then you could put large files like HD movies on a Flash drive or card so you can watch movies on the go. Sure something will be dangling on the side, but you get what you paid for and paying $15 dollars for "optional" extra storage wouldn't be so bad. If it's hackable through ADB shell then that just makes it more awesome.

I'm not sure a lot of people want something dangling from their tablet. I know I don't. Imagine how ridiculous that would look in front of a potential client. This is one reason why I will be getting a tablet with either more default storage or support for expansion.

You don't have to put up with the dangling wire. When I'm away from my NAS drive, I can put a film or two on the measly internal storage. If I need more than that, I can shuffle some files off the thumb drive and then remove the drive to watch the movie/TV series. Yes it's a pain but not too bad. (Assuming a nice hack comes out to support it!)

You can't.. I really did mean that there are no options for any sort of connected external storage. Hacking it in is very easy though.

Since you are unlocked and rooted, can you no longer stream the transformers movie, or has Google changed their stance on rooted devices? I'd like to be rooted, AND have access to rental media if possible.

Works fine, and even streams rented content to the Nexus Q. Remember though -- this is pre-release software.

Awesome, thank you for answering my question. I look forward to seeing if this keeps up through the release... I figured I'd at least unlock the device when I receive it, since apparently that wipes it in the process. Will probably root now too...

I can't wait to order mine. I fully intend to get my hands dirty and get to hackin'. Something I haven't done since owning a droid X. The hardware has become too expensive to risk being phoneless for even a day so my current phone (razr maxx) will remain stock till it dies on me. Or, until I get the razr hd. As far as the lack of an sd card slot, it's foxfi+unlimited data to the rescue.

I'm excited about getting my Nexus 7 soon. I'm conflicted about Google Play content because, well, it's not there yet. I much prefer Amazon's ecosystem, and the beauty here is that books and music are shared. The downside is Amazon's impressive video library isn't. I've got the Kindle Fire, and what I miss most is decent hardware and the full Play store. Amazon's app store is too limited. What I LOVE about it is the ability to SHARE an account. I bought FOUR Fires all on my Amazon account, meaning when I buy an app, all four of my children can use it without having to purchase the same thing four times. That's a big savings. What I want is Google's hardware and OS and Amazon's full ecosystem. Amazon...could you just release the video app, please?

Still might get one just to play with the Jellybean. Would be my first Android tablet or device. We'll see what happens with the Galaxy Nexus.

What about the new button setup and more phonelike UI? Does it work better than the current tablet UI?

"The Google Play ecosystem is still lacking in content compared to other platforms." You can just say "compared to iOS". Why beat around the bush? What other platform has better apps?

Content isn't just apps. My guess was Amazon.

Storage is the main reason I'll have to consider another cheap tablet for my daughter. This is definitely for someone who plans on utilizing the cloud services. May pick up a 16GB for myself once it drops in a couple of months, unless a 10 inch is announced.

You guys Sounds like a bunch of female dogs in heat!!!!!

I'm considering a Nexus 7, but holding off. Recently I purchased a Samsung Galaxy Tab 10.1, despite a friend's recommendation in favor of the Motorola Xoom. I couldn't find a Xoom to get a hands-on experience with, so I went with the GTab. It's a purchasing decision I don't regret per se, but mostly I'm finding that Android tablets don't do much that my Android phones haven't already done, albeit on a larger scale. To consider purchasing a Nexus 7, it would be because of the pure Google experience that I have become accustomed to via my Galaxy Nexus purchase once it was time to upgrade my OG EVO 4G coupled with a more manageable form-factor (10.1" is cumbersome at times). That said, I'm on Sprint's beleaguered network so right now does not seem like the right time to add yet another device that is meant for data, but hard to support on what my carrier offers for data speeds and overall connectivity. While I understand that the Nexus 7, like my GTab, is Wi-Fi only, open Wi-Fi networks in my area are extremely hard to come by. This reality alone leaves me dependent on sharing (tethering) my phone's data connection and as I mentioned earlier that's not always an acceptable or reliable alternative. There have been times lately where my 3G network is slower than the slowest dial-up I can remember, and this is on a small screen so I can't imagine trying to move data on a larger screen which would likely only slow things down further. I'll look again as Sprint's network upgrades and 4G LTE rollout move forward. They've said their upgrades are ongoing in my area. The original deadline was June and we're now in July, so I've taken a cautious or more conservative approach to their deadlines.

Those who complains about missing SD slot.
The Kindle Fire didn't have one either, and only comes i 8GB, and it sells like hot cookies! The customers for these kind of tablets aren't super high-end power users who cares about SD cards. Most of the people i know who own a Kindle Fire doesn't care if it's an android tablet or something else, they have it because it's cheap and makes it easy to read books and stuff like that.

But the fact is that this has a Terga chip inside. Its sporting the latest and greatest from google. Though it may not be an ultimate powerhouse for super high end power users its certainly is built that way. But even more so. You gotta understand that this is Google taking a stand against onboard storage. Im positive a 10 or 11" flagship is coming and as it would seem it too will lack a SD card... What will be your opinion then? Is trully fine not to have it even then??

Immediately ordered the 8 GB, anxious to experience JB... PLUS finally be rocking a Tegra and all the awesome games that run on it.
What I did not consider was that, as Jerry pointed out, those very games are also HUGE.
Buyer's remorse kicking in already...

I wonder if you could use the WiFi or Bluetooth to connect peer to peer to an Android phone to access it's Micro SD card?

I looked into that - would have been nice if Skifta could somehow work via Bluetooth or adhoc Wifi but the protocol doesn't fit in for that. I did use an app to transfer files between Android devices via bluetooth but it's not quick or particularly easy to use. I'm planning on getting the USB OTG hack and a cheap flash drive. Then copy on what I want for the day and remove the cable (assuming I'm not at home and hooked up to the NAS).

The big stopper for me would be the camera. Not so much for taking pictures although I might do that at times, but for use with apps, barcode reader especially. A lot of apps use that feature. Plus the ability to take an occasional picture would be very useful. We don't have smartphones (don't want to pay for the plans). I have an Archos 43 and I've considered a Nexus phone to use just with wifi and perhaps later with tmobile monthly 4G plan. Jellybean is very alluring. The extra storage would be nice but not essential for me. I would definitely consider for my husband except for the storage. He has an iPod classic with 80 gb and he's always having to movies on and off it. He does a lot watching and listening where wifi isn't available so the cloud isn't an option. I would have bought him an iPod touch by now if they came out with one with 160gb storage. I'd like him to have the ability to run apps so we can share calendar, shopping lists, etc.

Can you use an OTG adapter with the Nexus 7 and plug in your thumb drive for more expansion? I read somewhere that JellyBean supports USB Hosting. If it is possible, then this could be the workaround that would make this a definite purchase.

Seems like someone was able to get an OTG cable with a thumbdrive working with a rooted Nexus 7. http://forum.xda-developers.com/showthread.php?t=1743052#

NO SDCard,no back camera, no HD front Camera, I better go for the Samsung Galaxy Tab 7 despite the $199 price..

And you may see an update next year this time..

You know... you guys are the only ones complaining about storage space. This is an entry level device not some master device. Google has upped the stakes at which the specifications of an entry level tablet should be. Amazon had no problems moving and selling their Kindle Fire and its just 8gb. If you want more storage buy something else. I don't think Google will have any problems selling these tabs, they have their target market. No can we all stop complaining about storage space... SMH

Can I at least use an ftp app for my home server? It may be entry level but when I fly I like entertainment of my own choosing. The iPod can do this, no?

Ok this might be daft, but can't you transfer your own movies onto Nexus7? Just transfer what you want to watch for the week. i'm sure 10G of data could store that?

I would get this but I still don't see the need for a tablet when I already do almost everything on my phone.If I.could get the 7 right now I would as an impulse buy to play with jelly bean but I don't see it as anything more than a giant phone like the ipad.

cannot wait to add this to my family of android devices!

Waiting for mine. Should be more useful than my kindle fire as it has bluetooth and more portable than touchpad running ICS so pretty much a fit. I actually don't mind the lack of storage expansion as much as skipping video output. I would dig putting linux on this, it's come in handy on the GN enough that I travel with a mouse and keyboard and adapters to pump output to monitors/TVs. Oh well.

Someone on XDA has already got a rooted Nexus 7 working with a USB thumb drive unfortunately he couldn't play videos directly from it and had to copy them to the tablet to play them, which is a bit of a drag, but I guess it does solve the storage space problem.

Does anyone happen to know if this thing is Bluetooth 3.0 ?

I love the cheap entry price, and people who use cameras on their tablets look ridiculous (example: I go see shows a lot, and idiots with their tablets record video and take pictures, which makes everyone else groan because they can't see and make fun of them for how goofy they look posing for pictures with something as big as a textbook). The prices are perfect, but like most, I would really like to have expandable storage. I would like to have it, but I do use Google's cloud services a lot so I think I could get by with the 16GB model. I have a feeling once I hear more positive user feedback once it comes out I will be making the purchase.

can you drag and drop files into the tablets hard drive?
since there is no SD slot.

This is an all around beautiful device. It has pretty good chops as far as hardware is concerned. Nice screen and a rocking processor. But man, yet another boneheaded move by a manufacturer (this time Google with the help of ASUS). When will these OEM's realize that limiting our options is not what Android is all about. Limiting options is what Apple is all about. 8 and 16gb of storage is just plain stupid. I know they want us to use the device with the cloud storage but they have made a serious miscalculation here and it will doom the Nexus 7. First, the Nexus is supposed to compete directly with the Kindle Fire and the Nook Color Tablet. In my opinion, the Nexus 7 is far superior simply because of the Tegra 3 processor. But limiting storage to 8 and 16gb will surely kill it. Reason, most people who will gravitate to this device will do so because of price. Most people who buy this will not be Android fanboys like us and they will certainly not want to use cloud storage, if they even know what it is. Yes, everything will be stored in Google Play but that will mean they will have to download or stream everything they want to consume. Barnes and Noble made the same stupid mistake with the Nook color and in my opinion, that is the reason the Nook color, which specs wise is superior to the Kindle fire, has not overtaken it. It seems to me that manufacturers are simply not listening to its customers because if they did, they wouldnt be making the same mistakes over and over. And shame on Google.... They had an opportunity here. They could have killed the iPad in one fell swoop. But they decided to err on the side of fat pockets for its executives, instead of on the side of its consumers.

This really hits a sweet spot for me. Pre-ordered a 16GB model last week. As for no SD card lot ? Meh. Would've been sorta nice, but not a deal breaker. What with Google and Box, I have plenty of on-line storage, and I'm not going to load every, last MP3 I have on the thing anyway (got an old, hard drive iPod for that ;) I stopped saving for a new iPad after this showed up. Will use half the money to pay for the Nexus and the other (more than) half to fund add'l gadgets, computing upgrades, etc... Win!

It would've been nice to see a comparison between the Samsung Galaxy tab 7 and the nexus. WHile the Nexus has flashier hardware and OS, the Galaxy Tab has a few things that the Nexus lacks: SD card, camera, etc.

Honestly, the biggest problem I have with this is the fact that it can't output video. I already use a lot of Google's cloud services, so I have no problem making that switch. But I would like to be able to stream movies to my TV as well. I've already pre-ordered a Nexus 7 because I still absolutely love what you get for the price, and I'm a big gooshy Google fan. But there is a small part of me that already feels like maybe I should've invested in a Chromebook instead. But we'll see!

it's true I picked mine up from a local gamestop here in allen texas at first I thought that the lack of storage would be a problem but with the google drive coupled with the usb tethering ability it isn't that big of a deal. .. my only gripe about it is the lack of video out but I do notice that it has pogo pins for future updates maybe that will fix itself later with a docking station maybe. .. all in all I have to say it's pretty awesome

Looking like i will get mine soon. Thanks for the extensive review of the Nexus 7. I have updates here too http://www.androidtravels.com/google-shipping-nexus-7-pre-orders/

Has anyone noticed a blinking symbol behind the WiFi indicator? Not sure what it means.

My Nexus 7 cracked open near the power socket on day 2. This happened while reaching out to get a pen while it Nexus 7 is connected to the charger. Never happened with my Kindle or Blackberry all these years. The micro USB charger is tight. I tried the one that came with Nexus 7 and the one had with Kindle. There is quality problem. Don't know how to post pictures of it.

I tried to buy a nexus 7 from google!! they use TNT to deliver in the uk and they made a right hash of it.
TNT sent it back to google, on calling google they said a refund would be made when they got it back, this was 4 days after they had signed for its return!!
TNT were adamant they had it, google said they didn't and i'm over £200 pounds out of pocket.
After 3 phone calls to google they admit that they did get it back but it will take another 2 weeks to get a refund!!
There doesn't seem to be much I can do about it, but if you're thinking of buying one in the uk save yourself a right nightmare and go to a shop for it.

- no micro sd card slot? what happens when you load it up w/ pics, vids etc.? sd card slot makes all the difference. thats 1 reason why i don't buy an iphone.
- no rear camera? so i guess this is an over rated book reader.

I just got my Nexus 7 two days ago. This is my first tablet, and I have to say that I am thoroughly impressed. I am going on a trip soon, so I needed a tablet to play games and not kill my phones battery. This thing is a champ. The lack of a real camera didn't bother me as much, and the lack of removable storage is a little off-putting (although 32GB is more than enough for some folks), but I know I will be happy with this device for years.

Researched for a very long time about my next ereader/tablet. I take my time and read reviews and figure out what is best according to info I find. I bought a Nexus 7 and LOVED it. For maybe a WEEK. I am really p*ssed off right now. I put my books on it, read every night - thought it was great... real effing pretty, let me tell you. Last night, I was reading, then downloaded ONE app. Then checked out games, and downloaded a couple games. Today? The effing thing is DEAD. Dead! Here I've babied this thing since I've got it -- today got a few accessories for it, and the b*stard is DEAD. I am SO p*ssed off right now.
I have had it ONE WEEK to read epubs on. seriously?? This is bulls***. Now you're going to make me go to the dark side, and I tried to avoid that --b ut this is just bulls***!!! do they think they're going to send me a refurb or some such crap when I JUST BOUGHT IT BRAND DA*MNED NEW??? YOU HAVE ANOTHER THING COMING. You will NOT get a second chance with me. Eff off with selling people garbage and charging a premium price. I'm SOOOO angry right now. SO disappointed with asus google and anyone else affiliated with this.

So, I'm supposed to buy a Wi-Fi drive for more storage instead of plugging in a $10 SD card.
Is Google being paid by Seagate to support it's hard drives of something?

The Nexus does have a microphone in jack, something I lack on my Asus. (Can't believe Asus didn't include this). There is no reason why there shouldn't be a micro SD slot & an HDMI slot to communicate with the outside world. I use WiFi only, no data plan on my phone, so when I'm not in a WiFi area I wouldn't be able to transfer files to and from my tablet. I don't feel like taking the tablet apart to take out an SD card every time I want to transfer files. Also you shouldn't have to buy a more expensive tablet to watch movies on your TV and you should be able to just plug in an SD card or USB drive to watch movies. I love my 10 inch tablet with the keypad but for playing games it's a pain after awhile to hold the big screen in your hands. The seven inch size is definitely the best size for games & text reading and games take up a lot of storage so it would be nice to plug in SD cards or USB drives for that as well. SD is best because you won't have anything sticking out of your tablet.

its a good tablet but i just had to send it back