Nexus 6P versus iPhone 6s Plus: the big-screen showdown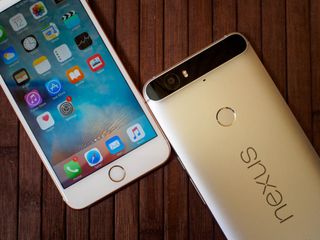 Watching Google and Apple compete for our attention is interesting for a number of reasons, but the biggest one has to be how vastly different their approaches are to certain things. Smartphones have been a fascinating example of this over the past few years, especially to watch as Apple and Google slowly move toward one another from these opposing perspectives. This year Google and Apple both released a pair of smartphones, one smaller and one larger.
If you take a look at the larger of these two offerings, the Huawei-made Nexus 6P and Apple's iPhone 6s Plus, you'll find a pair of phones built with different goals in mind that come together to be remarkably similar. As we appreciate those similarities, it's not hard to see which company is going to be making significant changes in the next generation and why.
Comparing this year's iPhone and this year's Nexus isn't usually all that interesting, because Google's partnerships with hardware partners are usually derived from an existing popular phone and so we've usually already seen what the compare will look like. This year is fun not only because that isn't true, but also because few users in the US have been given a reason to care about Huawei as a manufacturer until now. We've got a genuinely new hardware profile from a locally lesser-known manufacturer that is following Google's lead to build something interesting, and the result is the Nexus 6P.
Image 1 of 5
Sitting this phone down next to the iPhone 6s Plus, the first thing you'll notice is how remarkably similar these phones are in profile. The Nexus 6P is just about exactly as thin and wide as the iPhone 6s Plus, but slightly taller and featuring a more prominent camera bulge at the top. Apple's design hasn't changed from last year, as expected in an "s" release, which means you have a tall, flat piece of machined aluminum that curves nicely along the sides with antennae bands along the top and bottom. Huawei's design offers a little more style, with a slightly curved back and what they call diamond-cut edges to give it a little bit of extra shine.
The front of these phones is where you'll see the most significant differences. Apple's design puts the fingerprint sensor on the front of the phone and the speaker on the bottom, where Huawei opts for a fingerprint sensor on the back and a pair of speakers on the front. The front facing cameras are positioned roughly the same, and while both phones have some healthy top and bottom bezel as a result of their hardware placement choices it's clear Huawei's design allows for a slightly better screen to bezel ratio, which means more screen to play on the Nexus 6P.
Swipe to scroll horizontally
| Category | Nexus 6P | iPhone 6s Plus |
| --- | --- | --- |
| OS | Android 6.0 | iOS 9 |
| Screen size | 5.7 inches | 5.5 inches |
| Resolution | 2560x1440 | 1920x1080 |
| Screen type | AMOLED | IPS LCD |
| Processor | Snapdragon 810 | Apple A9 |
| Storage | 32/64/128GB | 16/64/128GB |
| RAM | 3GB | 2GB |
| Rear camera | 12.3MP | 12MP |
| Aperture | f/2.0 | f/2.2 |
| Front camera | 8MP | 5MP |
| Fingerprint | Nexus Imprint | Front button |
| Battery | 3450 mAh | 2750 mAh |
| Fast charging | Yes | No |
Under that glass, Google and Apple start to do things a little differently. Huawei's 2560x1440 resolution AMOLED display isn't appreciably better than Apple's 1920x1080 resolution IPS LCD display when watching a video or playing a game, but makes all the difference when looking closely at photos or reading text on the screen. Powering the 6P's display is the Qualcomm Snapdragon 810 processor, which on top of having plenty of its own performance problems in phones prior to Huawei's Nexus isn't nearly as capable as Apple's custom A9 processor. With this processor and only 2GB of RAM, the iPhone 6s Plus can launch its camera half a second faster than the Nexus 6P just about every time, and when launching big games like Vainglory side-by-side the iPhone repeatedly beat the Nexus 6P by almost two seconds. This performance difference isn't noticeable when performing day to day tasks like checking email or social apps, but with the bigger apps the difference couldn't be more clear.
There's not much point to all that power if you can't make it through a full day, and that's actually something both the Nexus 6P and iPhone 6s Plus do well enough that there's no real concern. On paper you'd think Huawei's 3450 mAh battery would last a little longer than Apple's 2750 mAh battery, but in practice both phones wind up getting through a 15-hour day with around 18% remaining. Google's use of USB-C in this generation of Nexus phones means that not only do these phones have a reversible cable similar to Apple's Lightning cable, but the new USB tech means the Nexus 6P can be fully charged in half the time it takes the iPhone 6s Plus.
Few companies have made as big a deal about the capabilities of their cameras as Apple has in the iPhone line over the last couple years, but this year Android manufacturers hit back hard in several significant ways. Google's partnership with Sony resulted in an amazing new sensor being put in the Nexus 6P that relies on 1.55 µm pixels and a f/2.0 aperture to capture a lot of light and turn that into very nice pictures. Apple's jump from 8MP to 12MP was mostly spent making sure the new sensor maintained the same high quality and impressive color reproduction as the photo size increased, and to say the company succeeded is an understatement. Where most smartphone sensors struggled to maintain quality with the increase in image size, the iPhone 6s Plus handled it well and included optical image stabilization for better photos and video. If you compare the Nexus 6P and the iPhone 6s Plus photo capabilities side by side, you'll find that Google's software crushes Apple's low light capabilities and does an amazing job with HDR photography in extreme lighting conditions, but it's still a little easier to just pull the iPhone out and take a quick photo of something in ideal conditions.
Check out our big camera showdown for camera samples!
As you can see, comparing these two phones is weirdly fascinating this year. Google has released an entertainment powerhouse with a better display, audio, and photography capabilities than we've ever seen before in a Nexus, which are all things previously considered Apple's strong suits. At the same time, Apple's big phone this year is rocking a noticeably more capable processor that also means the phone gets better battery even with a slightly smaller batter than before, while the more powerful processor has traditionally been something Android fans have held over Apple users when debating who makes the better phone.
Google's Nexus line grew up quite a bit this year with the Nexus 6P, which makes the final point in comparing these two phones even more fun. When you see the $749 16gb iPhone 6s Plus next to the $499 32gb Nexus 6P, the natural question to ask is whether this year's iPhone is $250 better than this year's Nexus, and the answer is absolutely not.
Get the Android Central Newsletter
Instant access to breaking news, the hottest reviews, great deals and helpful tips.