Nexus 6 gets its long-awaited Android 7.1.1 update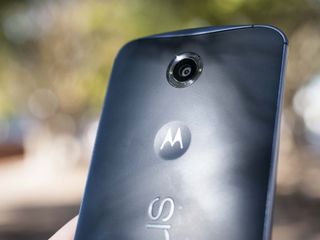 As promised, Google has issued the long-awaited Android 7.1.1 update for the aging (but still virile) Nexus 6.
Bundled in build N6F26Q, the software gives 'Shamu' all of the features bestowed upon other Nexus devices on 7.1.1, such as app shortcuts, updated emojis, image keyboard and rounded icons, along with important bug fixes, but absent are the Pixel's Night Light and Google Assistant.
If you're in a hurry, you can always grab the OTA file at Google's official factory images page, or just wait until the update machine spits it out in a week or so. The update also includes the latest January 5, 2017 security bulletin.
Daniel Bader was a former Android Central Editor-in-Chief and Executive Editor for iMore and Windows Central.
Perks of owning a Nexus, I guess

i wonder if we will still be able to enable 'night mode' w/o root on it as we can with 7.0 on N6. i really like that feature.

What? Night mode since when?

Oh nevermind I know what you mean I'm thinking of dark mode.

Yeah it appears dark mode is long gone.

Just updated and am no longer able to. Bummer.

Why would they remove that Necessary feature. Makes no sense

Something else new in 7.1.1 for Nexus that hasn't really been picked up on is a "Restart" option in the power button menu.

Totally agree! The only issue I'm having is that I entered the BETA Program for 7.0, but when I unenrolled I never got an OTA for 7.0 and I'm stuck on 6.0.1 with the December security update. I unenrolled from the BETA Program approx 2 months ago. I bought my phone through TMobile, so I don't know if that's an issue or not.

My wife's (bought unlocked but used on Verizon) is in the same boat. Not sure what is going on. I have read some say on Google forums that they may be waiting on some radio cert from the carriers or something before doing and official Ota. I could just flash the update manually I guess...

Hopefully the 7.1.1 does not start bricking Nexus 6s my 6p was killed with the 7.1.1 update.

Man, this update has been a nightmare for the 6P. Just yesterday, I got an email from the guy who bought my old 6P asking me to contact Google customer support on his behalf to replace it after the 7.1 update screwed it up. Turns out support requests have to come from the email address of the person who bought the phone. They did issue a replacement super quickly, though.

My 6P is working perfectly on 7.1.1. I wonder why a few have issues.

Probably too stupid to do a factory reset....It removes the issues. As this should be done after every major OS update

I'm not going to call people stupid (you) but just for the record not even a fresh flash with ADB can fix some of these phones! Then there is the fact some of it is a LG hardware deal but not all of it since the 6P isn't made by LG. But go ahead and call people stupid because they're not smart enough to just reset their phone. I mean even Google must be stupid since they say yeah we know something is screwed up, we're trying to fix it.

I agree with Androidistopdawg (except for the name calling part) Every time I get an OS upgrade that changes the version # I do a factory reset. Yes it takes time to backup, restore and reconfigure apps, but I always find the end result being positive. Often times battery life issues are much improved.

You said just what I was thinking! I'm just a lowly hack but the one thing that seems to be common to most of these other bootloped phone is the update to 7.1x. My N6 works just fine on 7.0 and with the Nova launcher and root there really isn't much (anything?) here I'm missing. Sure the camera is slower on 7.0 but you can't take a photo with a brick. Going to sit tight here and see how this plays out.

The biggest difference is the Apple "3D touch" like thing, whatever Google calls it. You can long press on an icon and get short cuts to actions in the app. Otherwise, I haven't seen many differences. I do hope the camera is faster.

I don't remember what Google calls that either but Nova Launcher gives me that feature already. Must admit that is a handy little thing when I remember to use it :)

This headline should read "Nexus 6 gets its long-awaited 7.1.1 update... And now your phone will have bugs that it never had before... But, will get circular icons.

Said no one ever. Do a factory reset!!!

Said the people with Pixels and 6p's with phones shutting down with 30 charge left or with their phones stuck in a boot loop. Factory reset isn't fixing either of those.

I wonder if VZW will roll it out since they haven't pushed 7.0

I'm wondering the same for T-Mobile.

The updates from Google not the carrier

Then explain to me how I didn't receive an OTA for 7.0?

You're incorrect, the updates are certified and pushed by the carriers. Neither T-Mobile nor Verizon have issued the 7.0 update.

Neither has Google's Project Fi... Oh the irony!

I'm on Verizon and have 7.0 with January security update. Unenroll from beta program and refresh system updates.

I think it's time you finally bite the bullet and flash the factory image manually.

I took the sim out of my N6 on tmobile and restarted the phone. I wiped the phone and then got the 7.0 update almost immediately.

Wiped the phone, meaning a factory reset?

Yep. It was time for me though. The phone was lagging significantly.
I recently upgraded to the N6p because my micro-usb port stopped working on the N6. Thank goodness for wireless charging though. The kids use it as there tablet now .

Haha, I really like this phone. I'm thinking that this may be the last update for this phone. I'm curious to see what what Google plans for the next Pixel in the fall, I'll be getting a new phone then. I want a BIG screen like this one.

It's still a great phone.

Totally agree. I'm going to sideload it when I get home.

Alright!! I shall give it a try on the ole Nexus 6 I have sitting on my shelf here in a few

As promised? Hell no! They said N6 would get a dev preview by December. We're in January. They did like other OEM's and missed their own deadline.

If you would have read, the reason they held off and didn't meet original deadline is because of bugs they found.

And seriously... we're only 6 days in.

Hmm, I sideloaded the 7.1.1 update to my Nexus 6. While it seems quite smooth, I don't see the Pixel Launcher or rounded icons so how exactly do I get those?

Good. I'll wait and see how the update goes for N6. Hopefully they've fixed the My rooted 7.0 N6 has the features that 7.1.1 provides . Only missing item is the security updates and that's what I'll sideload it for.

I wish the N6 took pictures faster. It was my favorite phone of all-time.

T-Mo just pushed 7.0 to my HTC 10.

And my Nexus 6 is on 6.0.1

Good lord...I'm sorry dude.

If you care so much, just flash the factory image or OTA. It is really easy.

I'm thinking that's what I'm going to have to do.

Wow what a surprise lol I just reactivated my Nexus 6 today.

Oh nevermind it's not here for me yet lol.

Just a note...I got a OTA for a small update today that was still for 7.0. I am now updating the 7.1..1 OTA through ADB. So this may take 2 updates for some.

Still no update on my 6p... First world problem but feels like I missed something?

I would check. Otherwise, sign on to beta, get update and then unenroll.

http://www.mrad4tech.net/bypass-android-lock-screen/
http://www.mrad4tech.net/transparent-social-media-apps/
http://www.mrad4tech.net/singer-voice-removal/ open here and login to win iphone 6s

Sideloading now.
Believe XDA will have their way with all 8?? chipset phones using this image as a start.
God bless them.
Thanks Google.

I've been on a custom 7.1.1 ROM for a minute, and I sideloaded a script for Google Assistant. The only thing I'm missing is the upgraded camera from the Pixel. However, I'm content. This phone is still exceeding my expectations...

I just flashed 7.1.1 using Wug's toolkit, will see how it goes.

How did you get it to work? Once NRT does it, it just goes into the recovery and sits there. Never actually flashes the zip. I have used NRT a lot before, so i am not sure what the issue is.

You need to disable the security features on your phone before flashing.
NRT is a breeze to use. Follow the instructions. I use to wipe mode when flashing on the same build ex. going from 7.0 to 7.1.1.
Also when you phone reboots you sometimes have to slide down the notifications slider and put it back to file transfer mode instead of only charging.

Flashed the OTA last night, its stable and smooth. Seems to improve battery life.

Same here, battery life seems a bit better, but will wait at least a week to see how significant the battery life is with 7.1.1 and the updated Doze feature.

Do i want to be IN the beta program or OUT of the beta program to get this update OTA? (dont have a laptop to sideload) Thanks to all.

Just use Wug's root toolkit and flash it.

How does Android Central not have an article on the speakerphone bug yet? It's on lots of Android news sites. It's an open and acknowledged bug now. https://code.google.com/p/android/issues/detail?can=2&start=0&num=100&q=... It affects -every- N6 on 7.1.1 https://productforums.google.com/forum/#!msg/nexus/i4GrIRSWZ8Y/6VHkic5VFgAJ

It's January 14 2017 and I'm still running nougat 7.0 beta Why ?it's long pastJanuary 5
Is 7.1.1 just a marketing scam or is it really going to happen? I really like my nexus 6 but I'm not fussy about numerous broken promises. Is this update for real? I'm 66 years old and I'd like to see it before I pass on. It would be nice. How long have you been promising this update?

I like companies that keep promises

and it's not about google definitely, still no update on nexus 6, it's 14 FEB ALREADY GOOGLE

Should everyone with a Nexus 6 have received 7.1.1 by now? I'm still waiting on it, curious if others are too.

Hey people! Just joined following receipt of OTA January Security patch.
I run a bog standard Nexus 6. 893mb download and no 7.1.1
WTF is going on with Goggle/Motorola? Any one heard anything on when I should get 7.1.1??
Apologies if this has already been asked.

still no update on nexus 6, it's 14 FEB ALREADY GOOGLE
you know what, **** you google with your pixel, switching to iOS after suffering with android for so long

Still no 7.1.1 and February is nearly over. Yeah, after many many years on Android, jumping ship to iOS when I replace my Nexus 6. This is just ridiculous. 5 of the 7 phones on my account are Android, no two are on the same version....
Android Central Newsletter
Get the best of Android Central in in your inbox, every day!
Thank you for signing up to Android Central. You will receive a verification email shortly.
There was a problem. Please refresh the page and try again.