Nexus 6 finally receives Android 7.0 Nougat OTA, factory images also posted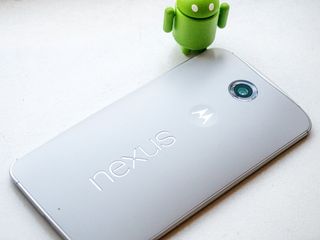 Ah, our (somewhat) beloved Shamu — the Nexus 6. Seemingly forgotten with the launch of Nougat to other Nexuses over five weeks ago, owners of the two-year-old Nexus 6 have been waiting for an update. Not only has Google posted an Android 7.0 Nougat factory image and a flashable OTA file, but we've received plenty of notes saying that Nexus 6s are receiving OTA updates now as well.
Even though Nexus 6P and 5X owners have dealt with a mixed bag since receiving Nougat, that doesn't make it any easier to look in from the outside waiting for an update. As far as we can tell Google hasn't made any claims about why the Nexus 6 fell so far behind the group, but it isn't uncommon for some Nexus devices to be a bit delayed in receiving the latest software.
Being that the Nexus 6 (alongside the Nexus 9) is the oldest of the Nexuses supported in the Nougat release, it's good to see a two-year-old phone still get the latest software. And with the hardware available inside, we wouldn't be surprised if it ran just as well now as it seemed to on the early Developer Preview releases. If you're antsy, you can download the factory image or OTA file from the links above, but chances are you'll get the OTA update in short order if you intend to wait.
Andrew was an Executive Editor, U.S. at Android Central between 2012 and 2020.
Got sick of waiting for fixes. Dumped it.

Google is happy to hear. They want your Pixel monies.

Me too. Ended up with the Note 7 everything i would have used in Nougat already available.

Good for you Samsung guy.

And you can make S'mores!

Just updated on my Nexus 6. In the 5 minutes I've messed with it, it feels super snappy. Time will tell after a week of usage. Camera loads very quickly, which is what I had trouble with in the preview builds.

My camera sucks. I hardly use it anymore.

Camera is underated, at least out doors. Low light , yeah I feel ya

And my Samsung Galaxy Grand Prime is still stuck on Lollipop :')

Did you buy that phone expecting updates?

I have a feeling it will stay there.

Does the OTA work for both branches? I'll give it a try later tonight.

Confirmed that the current 7.0 OTA will update MMB30W (the AT&T branch). I successfully sideloaded it.

Finally! Who's doing a factory reset first? Mine is feeling a bit sluggish.

There are so many Nexus 6's for really cheap prices on Craigslist in my area. $100-$150 all over the place. I'm tempted to grab one. If I never use it, my 6 and 8 year old kids will have fun with it.

Man I'd love to do the same

It's Craigslist
Be careful

Yeah, make sure you meet the seller in a dark alley.

I didn't realize how much 6.0 sucked until now.

Um I didn't mind MM. 5.0 until like 5.1.1 kinda sucked.

I'm surprised. I'm coming off 7.0 dev5 and the update is still 900mb.

I'm downloading now andI just noticed the same thing. I wonder if there was an issue with the 50mb update that originally rolled out.

I wonder too. I've been playing with it for a bit and I see no difference so I really don't know what justifies 900mb. Oh well. At least I got the October 5th patch.

I can finally go back to Nougat. The beta was excellent on battery life, but had a few bugs.

I was so antsy to write this that I misspelled it ancy.

Are they gonna release 7.1 tomorrow?

I'm a little iffy,but my 5x improved since the OTA,so I guess I'll give this a go. For the sake of being overly nervous I'm gonna charge it up to 100 first. Hopefully I don't end up having to do a reset.

Better late than never...

I mean, it's not really late. October just started. Usually we get the updates when they release the Google devices late October. I had mine for a long time now since I signed up for the developer preview.

Yep. Got the OTA today, replacing the Beta.

Been years since I've down this, stuck at,
Run the following command: adb sideload (ota file.zip)
where (ota file.zip) is replaced with the file you have downloaded and verified. Says it can't find it. After I enter; adb sideload shamu-ota-nbd90z-78a931cb Note: shamu-ota-nbd90z-78a931cb is the zip file in downloads

"After I enter; adb sideload shamu-ota-nbd90z-78a931cb" Well, it should be adb sideload shamu-ota-nbd90z-78a931cb.zip! You still have to enter the filename extension, otherwise it'll be looking for some other non-zip file. Or you can rename it to n-official.zip and make things easier. Don't forget that if you're using a "PATH=" variable to use adb anywhere within the command prompt, you use the entire source directory and name of file. So, it'd be adb sideload c:\downloads\n-official.zip, unless within said directory (Downloads).

Hey, thanks for help, didn't work for me, I even moved it into C:, so it would be, c:\n-official.zip, still couldn't read it. Guess I'll wait for OTA, I was really hoping to figure this out.

For all the other many different versions of shamu firmware, there is only one for 7.0. Anyone know if this should work alright on Fi?

It doesn't matter, was having so many issues it's worth trying even if I have to flash back.

I have Fi and just downloaded it. No issues so far.

Seems okay so far for me too. Actually got a full screen "Activating Fi" screen with logo. Lasted so long I was worried but eventually everything came up and seems to be working great now.

It doesn't matter, the builds have been unified for a while now.

Laggy on first boot, cleared cache partition and performance came back but noticeable increase and battery drain from Android system.

Noticed this too...battery drain is worse on the full release than beta...wiping cache partition before factory reset...

No update available for me yet. Tic toc.

Love the name of the article. Seems familiar...

Waiting for the Pure Nexus ROM 7.0 release.

Does downloading the OTA remove your pictures?

It shouldn't. Everything should stay the same with the exception of some new features.

Does installing the OTA cause you to loose your pictures?

I'm so sad I sold this phone last year, this was the best phone I ever owned.. so smooth, so beautiful

Thats good news for nexus owners. Still waiting for samsung

Did anyone else say "Finally" in The Rock's voice when you got the notification? No? Just me?

Just be careful your proximity sensor doesn't fail after the update......you have been warned......

No big deal, I have been running previews for a few months. Security update , yeah that's good.

Hopefully my Moto X Style will follow soon

Haven't got it on Verizon

Well its 3 weeks since Nougat OTA was released for the Nexus 6 by Google. But thousands of N6 owners have yet to see the OTA update. After reading the Google Product Forums for the Nexus line and Project Fi, and related Google+ communities, N6 owners are justifiably livid. Sure the techies can try to sideload the OTA (at their own risk and peril) if they can figure out which versions of ADB work with which versions of PC operating systems. But one slip-up and "shamu" turns into a brick. Google's official communications with N6 owners about what is going on is non-existent. Afterall, Google has the right to pull the plug on N6 support in less than a week, since the model is two years old. Could it be that Google execs and product managers are hoping the chaos will turn into a windfall by frustrated owners dumping their N6's for Pixels? It is a mistake to make that assumption, for N6 owners, tired of the disdain they encounter from Google's customer support reps and lack of official corporate communication, may dump their N6's for iPhones and dump Project Fi for any number of cut-rate MVNO's.
Android Central Newsletter
Get the best of Android Central in in your inbox, every day!
Thank you for signing up to Android Central. You will receive a verification email shortly.
There was a problem. Please refresh the page and try again.