Next generation of DirecTV Now is finally here!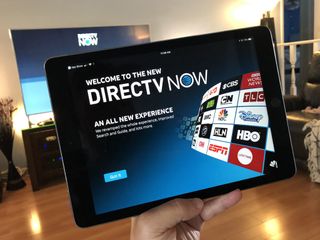 At long last, the much-awaited next generation of DirecTV Now lands this week. It'll hit Apple TV and iOS today, along with in your web browser. (DirecTV also says it'll hit "select Chromecast devices" today, but that's not really how Chromecast works. So we'll have to see what that means.)
Support for the update will come to Android, Fire TV and Roku over the next few weeks.
What's the big deal? The biggest feature you have to look forward to is a cloud-based DVR, which had been sorely missing. It's still sort of in beta mode, DirecTV Now says, so some functions may be limited, and it's not available on all channels. Recordings will expire after 30 days, and you get 20 hours of storage for free.
Also, the app itself will be updated with a new look, "ls and programs front and center. Plus, now you can enjoy your current stream while browsing for what to watch next."
You'll also be able to stream on up to there devices at one time for an additional $5 a month.
And finally, you'll be able to stream your local channels while you're on the road.
More: How to use DVR with DirecTV Now
Here's how things look on an iPad:
Image 1 of 8
Image 2 of 8
Image 3 of 8
Image 4 of 8
Image 5 of 8
Image 6 of 8
Image 7 of 8
Image 8 of 8
Now we still have to wait on a proper Android TV app.
Still no love for Android TV!

That's great news, can't wait for it to hit my Roku's. Direct TV Now has been worth the money for my family.

Almost there. Almost.
I'm so ready to drop my satellite and DTVN is the only streaming service that has all the channels I want...but the lack of DVR was the deal-breaker for me. I'm going to hold off until it's available for Roku and the full 100 hour DVR option is available.

No Android TV or Windows 10 apps yet...

Did they eliminate the buffering & freezing issues yet?

That's what I want to know. Been impressed with Hulu Live TV getting rid of a lot of their freezing, buffering, and phantom rewinding. I think DirecTV had more channels we like than Hulu so it is interesting to me.

Haven't had any issues for a while now streaming from Windows using Chrome and never did with the Android app from the phone.

I've only had that issue once in the 2 months since I've had it. I just exited the app on my Roku, went back and it started work fine again. Better than having a Direct TV satellite on a cloudy/rainy day here in South Florida.

It's much better now. Occasional issues but pretty solid. It was basically unusable when the service launched.

If DTVNow would add Hallmark Movies and Mystery to the Go Big tier my wife would be on board with switching. That and it would be nice to get more than 2 local channels.

I would agree with the Hallmark Movies and Mysteries comment. When I first got DTV Now, I asked why it was only available on the base package and was informed at that time, that they only had limited rights to the channel. Were they to expand the HMM to the other packages, I might up my subscription. As far as the number of local channels you get, unfortunately, that is determined by the streaming rights that the station has with DirecTV. I currently get ABC, Fox and NBC. For some reason I'm not getting the CW and CBS.

The 3 stream limit is a bit problematic for me when I'm watching football games and the like.

Was really hoping for five simultaneous streams--at least four. Three is disappointing. Not uncommon for us to have TV in two living areas and a couple of bedrooms. Add mobile and three just doesn't do it as a real cable replacement.

I was a directv now fan until experiencing YouTube tv. I just mix YouTube tv and Philo together to get all the channels I need. No complaints from me.

Recordings expire after 30 days makes this a no go for me.
Android Central Newsletter
Get the best of Android Central in in your inbox, every day!
Thank you for signing up to Android Central. You will receive a verification email shortly.
There was a problem. Please refresh the page and try again.