New Limited Edition ZTE Axon 7 has Force Touch, 6GB RAM and 128GB storage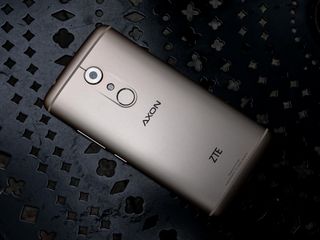 Mid-cycle refreshes are apparently all the rage this year. Just as OnePlus bumps up to the OnePlus 3T, rival ZTE is today rolling out a new limited edition Axon 7 with upgraded specs. The new model will sell for $499.98 through the company's online store, and boasts 6GB of RAM and 128GB of storage (compared to the original's 4GB/64GB), along with a pressure-sensitive Force Touch display.
This wouldn't be the first time we've seen Force Touch in an Android phone. A limited edition Huawei Mate S featured the tech in 2015, as did the P9 Plus earlier this year. Today's Axon presser says Force Touch will allow for a "more intuitive user experience," but it's light on details of exactly how it'll make that happen. (Huawei's implementation featured iOS-style app shortcuts and the ability to zoom in on photos, among more dubious offerings.)
Besides these three spec changes (and a higher price), you're getting the exact same phone Daniel Bader reviewed for AC back in August:
More: ZTE Axon 7 review
Android Central Newsletter
Get instant access to breaking news, the hottest reviews, great deals and helpful tips
Alex was with Android Central for over a decade, producing written and video content for the site, and served as global Executive Editor from 2016 to 2022.
Don't see it anywhere on their site.

https://www.zteusa.com/axon-7-6-gb/

HOLD UP! (martin voice)... 128GB ROM + microSD expansion up to 128GB for $500.00? OH SHYT! Lemme wait and see if they are going to lower the price for Black Friday! I'm SOLD!

Yeah, it does take a little effort, probably beyond your capabilities,
https://www.zteusa.com/axon-7-6-gb/ I'd buy that Axon 7 6gb/128gb over the crappy OP3T any day.
What a complete joke the OP3T is, with crappy customer service,crappy warranty service, crappy O.S. support.
Hell, the OP3T isn't even for sale yet, and they quit selling the OP3!
Right now, you can't buy ANY phone from Oneplus!

Don't forget the lack of expandable storage on the OP3T!

What about the moto z play? In terms of specs it might fail compared to the OnePlus 3t and ZTE axon 7 but I don't see people getting 10+ hrs of SOT on a single charge on any other phone.

I'm not big on MiFavor, personally. Then again, if I buy either, I'd be slapping on custom ROMs.

Now they finally decide to release it smh.

Just give me an unlockable bootloader and this might be my XDA device.

Go on ZTE's forums. They send out bootloader unlock codes or something like that.

Your "XDA device" will more than likely be better than whatever you're using now.

And it's only available in gold ugh I may get rid of this one for that one.

Anyone know if this phone has the bands needed for use on Verizon?

It does have the Verizon bands but not official support so it works with problems.

like BIG problems, or usable minus a feature or two??.....my understanding is that the only thing you cant do for example is use a browser while on a call, other than that everything works.....hopefully i didnt misread??? thanks for any input you can offer

Mine works perfectly on Verizon. Keep in mind you can only use a Verizon sim in slot number 1. Slot 2 only supports GSM.

Ok, so if i put my Verizon sim in slot 1 of my Axon 7 mini, I'll work?

I wonder how really absent the force-touch will be in reality. I mean, are devs going to update their apps for this single model? Doubtful. I get that it's blazing the trail for the future, but don't expect your 147 installed apps to all support it on day one. Probably just the ZTE stock apps and one or two 3rd party for a while...

Will this work on AT&T? I was thinking about getting the OP3T but I am on the fence now deciding whether or not I should get the Axon 7. What phone do you recommend?

Ive got the A7 mini just for the Dolby atmos and sound system. My main phones are an S7 edge, and pixel. To be honest, the mini Is proving to be a damn good all around phobe.

Works great on AT&T. Been using on their network for over a month now.

Only comes in gold. Deal breaker

U cray! Gold is a hot color mane!. You gonna say no because of its color? seriously? Sounds racist.

Is color really the number 1 priority for people? Or even a priority at all? I am seriously curious.

Some people just don't like a certain color, eg I don't like white phones, so if it were available only in white, I wouldn't buy it because why buy something you don't like?

I don't see capacitive buttons, I wonder if they went back to the on-screen ones for this?

The second picture on their website still shows the capacitive buttons.

I'm surprised by the lack of "outrage" in these comments by them doing this but yet there was so much for OnePlus? To me, I see the two events as similar. Am I missing something? I feel like I am.

I believe this model was available only in China at launch and is now being sold to a larger audience. Not exactly the same situation as OP3.

Kind of wish they upgraded to the 821 Soc too

Only in gold. No sale. I don't understand why ZTE made this decision. Gold is popular in Asian markets, which is fine, but not in the US, where they are selling this. Why aren't they selling it in the more popular color here?

Yet when the Nexus 6P came out, gold was Japan only. People in the US cried, then it came, then everyone rejoiced. Humans are strange. They always want what they can't have.

And why can't they just release all of the colors everywhere? That is the only thing that I miss from Apple is the availability of colors worldwide.

With its specs and price point, the Axon 7 sort of serves as a worthy replacement to what used to be where the Nexus line was serving up for years. If the bootloader is unlockable (Can anyone confirm this?), this is a great alternative to the Pixel XL, for roughly $400 less. :-) Give it some Nougat love (hopefully very soon), it'll be even Daydream ready!

So is the OnePlus 3. It has as good developer support as the Nexii.

Of course this comes out a few weeks after I pick up the Axon 7.

Yes but you still have a great device.

Just got an Axon 7 only about a week ago, Quartz Grey. Should I return it and get this?

I wouldn't spend another 100 for 2 GB of RAM you'll never use and force touch.

Just got mine a month ago. I wouldn't "upgrade" for $100. This thing is zippy as hell with the 4GB and you can put in a pretty decently sized SD card for <$30 to get more storage space.

Looks nice but I don't see why I would need 6gb of RAM when I average about 50% usage on my 4gb Axon 7. I would be more interested if they went with a SD 821 with 4GB RAM. As for the gold option only, I chose the gray on my A7 but the gold model is a beautiful phone. They have them side by side at Best Buy and it's a difficult choice. I went with gray because I'm 50 and kinda old school. If my only option had been gold, I'd have a gold one.

"Force Touch"? That's the best name they could come up with? Sounds like something a person wanted by the police would do.

Really liking my Axon 7 4/64 Quartz Grey. Only quirk is that music stops for no reason sometimes.

Yeah, I noticed that on Neutron for a while. It's not happening anymore but it is strange that it happened on the stock music app as well.

I just bought 4GB model on the Black Friday event at Best Buy for $349 and im happy with that price for this phone. I don't play games and need a lot of storage on my phone. So far I love this phone. More than what I expected. Much better than my bootlooped LG V10.

Does the Axon 7 work on T-Mobile?

I decided to take the plunge and just ordered this phone. It's supposed to be getting Nougat in Jan. 2017. I read and viewed countless articles/videos and the overall consensus was that for the price it is a great buy. Coming from a Note 2 I'll bet anything new would be an improvement. :) Wish me luck!
Android Central Newsletter
Get instant access to breaking news, the hottest reviews, great deals and helpful tips
Thank you for signing up to Android Central. You will receive a verification email shortly.
There was a problem. Please refresh the page and try again.