Netflix shows now start previewing as you browse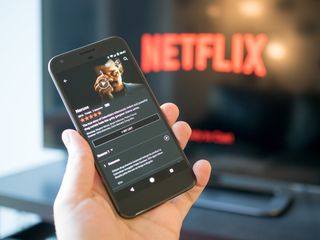 As if it wasn't already easy enough to begin binge-watching one of Netflix's many excellent shows, the company has announced that it is rolling out dynamic previews for many of its homegrown movies and TV shows in order to make it easier to sample before pressing the play button.
Available on all of Netflix's TV user interfaces, including smart TVs, Android TV, Xbox, PS4 and Roku, the previews are not traditional trailers but sculpted synopses of stories, characters and tone without spoiling the content itself.
Netflix says this is to make it a better experience to filter through the company's growing collection of first-party content, over 1,000 hours of which will be uploaded in 2017. "We know we have less than 90 seconds to capture someone's attention and get them excited about a title," says Chris Jaffe, VP of Product Innovation.
The new feature is rolling out over the next few weeks.
Get the Android Central Newsletter
Instant access to breaking news, the hottest reviews, great deals and helpful tips.
Daniel Bader was a former Android Central Editor-in-Chief and Executive Editor for iMore and Windows Central.
That's odd, it seemed to be doing that already on the Xbox version a couple weeks ago.

More than a preview, what the Xbox version is doing is actually starting the video before you decide to press play.

Very true. I don't really like it to be honest.
It had a "wow" factor the first couple times, but it became old really fast.

Yeah, Android TV does that too, and I don't really understand the reasoning for it. If it started to play an actual preview or trailer as you browse, that might be helpful, but as it is, I usually just end up seeing the first few lines of the opening credit roll as I'm browsing. It doesn't add any value, it doesn't save you any clicks, and it doesn't even really serve to pull the viewer in.

I guess they are rolling it out..

Would be nice to have a way to disable this so-called " feature"....maybe not everyone likes it. Oh, but Netflix knows better what WE like.

I am in complete agreement with you. This has been going on on my Roku for a while now and I really don't like that content starts playing the moment you navigate to it. I wish that I could disable that feature.

I already hate the autoplay feature that starts playing the show or movie when all I wanna do is read the synopsis or add it to my playlist. It's annoying af.

I've seen these previews for a while now on Netflix.

Yeah, I've been seeing this for weeks. Don't like it.

It's a really annoying feature. If I want to watch the show I will.

Definitely been present on the Netflix app on the PS4 for a while now, at least a couple months. I don't like the feature

How does one disable this for *all* their devices? I do not want this nor anything like it from any app ever. It took them ages to allow me to disable "play next episode automatically", and even then I had to do it from the web on a computer. These companies are doing this nonsense way to much. I will tell you what I want to watch, not the other way around.