Nest Learning Thermostat vs. Nest Thermostat E: What's the difference?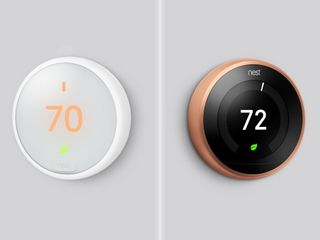 Nest recently announced the brand new Nest Thermostat E (opens in new tab) a less-expensive smart thermostat with many of the same features as its more expensive sibling. The subtle, all-white design and simplified display of the Thermostat E stand in stark contrast to the flashier, heavier look of the Learning Thermostat. But look and feel are only part of the picture. If you're trying to decide between Nest's thermostats, this guide will give you an idea of what each brings to the table.
Design
Other than pricing, the design is arguably the biggest difference between the Learning Thermostat and the new Thermostat E. Where the Learning Thermostat is meant to be a bold bit of industrial art for your wall, the Thermostat E is meant to blend in, almost disappearing into its surroundings.
The Nest Learning Thermostat comes in four colors — white, copper, black, and stainless steel — and the adjustment ring around the outside of the device is made of metal. The Thermostat E comes in one color — white — and its adjustment ring is made of polycarbonate, though Nest says it's made to feel like ceramic.
The Nest Learning Thermostat's 2.08-inch, 480 x 480 resolution display is sharp (229 pixels per inch) and bright. The Thermostat E's 1.76-inch, 320 x 320 resolution display is layered under a polarized covering that dulls the display, helping it to fade into the background and blurring the display's resolution (182 pixels per inch).
Functionality
You could be forgiven for thinking the Thermostat E doesn't pack in all of the same "learning" features present in the Nest Learning Thermostat — the new name seems to suggest one "learns" and the other doesn't. Luckily, that's not the case!
Both the Nest Learning Thermostat and the Thermostat E pack in all the same functionality, save for one special feature: Farsight. Farsight uses the far-field sensor built into the Nest Learning Thermostat to detect when you walk by, lighting up to display the temperature, time, or weather.
If the Farsight feature is important to you, you'll want to get the Learning Thermostat. The Thermostat E — like the Learning Thermostat — has temperature, humidity, occupancy, and ambient light sensors, but it doesn't have those far-field "Farsight" sensors.
As for the rest of the feature set, both thermostats learn as you use them, both can be controlled using the Nest app, both can adjust the temperature based on your location (i.e. turning down when you leave your home), and both offer scheduling.
Compatibility with furnaces
Nest Thermostats work with a whole bunch of heating and cooling systems, but the Thermostat E can't boast the impressive compatibility rating of its more expensive sibling. Nest says the Learning Thermostat will work with 95% of heating and cooling systems. The Thermostat E, on the other hand, will work with "most" heating and cooling systems. What does that mean, exactly? It means most folks can expect the Thermostat E to work just fine with their setup. Still, if you've got a complicated setup with multiple humidifiers, dehumidifiers, fans, and other accessories, it's worth running a compatibility check before you decided to buy one of these models.
You can use Nest's Compatibility Checker (opens in new tab) to see which model(s) will work in your home.
Price
At long last, the largest differentiator between two otherwise similar products: price!
So what's the takeaway here? If you can skip the far-field sensing feature and would rather have a thermostat that blends in instead of standing out, you can save about $80 by choosing the Nest Thermostat E. That said, premium materials, multiple color options, and Farsight might be worth the extra money for some. Whichever model you choose, you can count on Nest's nifty learning features that help you save on energy costs over time.
Which will you choose?
Now that you have a better idea of how the two thermostats compare, which one do you think you'll choose? If you already own Nest's current Learning Thermostat, is there anything about the Thermostat E that interests you? Give us a shout in the comments!
Android Central Newsletter
Get instant access to breaking news, the hottest reviews, great deals and helpful tips
Mikah Sargent is Senior Editor at Mobile Nations. When he's not bothering his chihuahuas, Mikah spends entirely too much time and money on home automation products. You can follow him on Twitter at @mikahsargent if you're so inclined.
Personally, I think the E looks cheap, almost like a fisher price toy or one of those cheap plastic lights designed to stick on walls that you put in a closet. I don't love the look of the regular Nest, and I say that as an owner of one, but I think the E is a step backwards in design.

I have 4 Nest thermostats in my house and could not be happier. Install was a breeze on all but 1 which had to hook up to a gas furnace for whole house heat and an hvac unit to cool. If they fit on the same base and I decide to move I would replace the units with the E's and take the nicer ones with me :)

Thank you for the informative article...good info.

If you move often, the increased compatibility of the "art" version should be well worth the $80 extra cost. Even 1 move where you end up with in incompatible furnace/cooler (for the E) recoupes the cost compared to the "art" version. It doesn't support evap coolers :(

I'm still torn on wether I should get the Nest or the Ecobee 3or4

I would suggest getting an ecobee, the ecobee's sensors make all the difference. Since the ecobee4 just came out in May, it will be much more expensive, you'll be able to find the ecobee3 for much cheaper. Each ecobee comes with the thermostat and a room sensor. Additional sensors are available in a two pack and you can connect up to 32 room sensors to your ecobee. There's isn't that much difference between the ecobee3 & ecobee4 other than tweaks to the design and Alexa built-in to the ecobee4 (but if you already have an Amazon Echo device, you can control your ecobee3 with it, which is what I do)

That's what I've been hearing/reading. Thanks for the feedback!

There is no advantage to having additional room sensors unless your HVAC system is split into zones and is able to heat or cool the room with the room sensor individually. But with that being said, if you have zones, you would want a full thermostat in each zone instead, so I don't see the point of these room sensors besides information gathering that you can't act on.

I have used both nest and the ecobee3. I now only use the ecobee. The multiple sensor system works. The algorithms in the ecobee are just better. It has saved me more money then the nest ever did. With the multiple room sensors, of which I have 4 additional sensors, the house overall is way more comfortable than it was with the nest. Plus you can decide which sensors to use on individual programs etc. Or use the follow me feature and will only use the sensors that show occupancy etc. With the nest I had a 2.5 degree Celsius variation in temperature from the warmest room to the coolest room for example, because it only reads the temp where the thermostat is located, and even though it is a brand new house it is not in an ideal location and throws the temps in house off overall. The ecobee solves all this, my bills are significantly lower, and now I have a 0.5 degree Celsius variation from the top floor to.the basement. Lower bills and a more comfortable home. For me the ecobee wins hands down.

Well from my experience I finally got removed my Nest and bought 2 of the ecobees with the remote sensors. I also think that the ecobees have a much better interface. Also the software that runs your HVAC unit(s) is more flexible.

No hold temp, no way to enable/disable schedule, no built in AI... Going Ecobee

You can turn scheduling on/off (as well as have it learn your temp settings, which you can also enable/disable). When paired to your phone, it will automatically go from "eco" mode to your set temp when you come home and vice versa, kind of like a smart hold temp. And it has nest sense, which has a bunch of improved automatic functions to increase efficiency. Not sure what kind of AI level you are looking for....it's a thermostat...

Doesn't have a way to disable schedule unless you delete every dot or turn the system off completely

I have a large long ranch house with 2 furnaces on each end of the house. I work from home most of the week and my wife is always home, but we are usually only in one half of the house during the day and the other at night. I'm trying to figure out if 2 Nest or 2 Ecobees would better fit my house. I like how the Nest learns your schedule and optimizes it. I like how the Eco has its remote sensors. Does any one have any experience with either system and a ranch style home with 2 furnaces? Also does the Nest have the ability to dehumidify the house with the cooling system, like the Eco?

I have 2 HVAC systems in my home (1: basement and 1st floor and 2: upstairs) and as I stated above I finally rid myself of the Nest for 2 ecobees instead. Just think they are easier to work with, you can buy extra sensors, and they also do somethings easily while the Nest cannot. If they were really similar I wouldn't have bothered selling my Nest.
Android Central Newsletter
Get instant access to breaking news, the hottest reviews, great deals and helpful tips
Thank you for signing up to Android Central. You will receive a verification email shortly.
There was a problem. Please refresh the page and try again.