Multi-language support in Google Now delayed until summer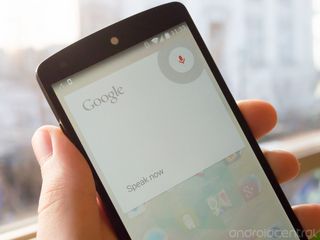 Google is now delaying support for seamlessly switching between languages on the fly with its Google Now search. Originally planned for a roll-out within the next few days, the feature is now delayed for a launch later this summer due to the discovery of some last minute bugs.
"Multi-language support is complicated stuff and they found some bugs during their final testing phase that they wanted to fix before making the feature generally available," a Google spokesperson told CNET, and the publication is saying that the feature "is now expected to ship later this summer."
Multi-language support would allow multi-lingual users to select up to seven different languages so that they can seamlessly conduct a search in one language, look up information in another language, and launch an app in a whole new language for example. This would all be enabled without requiring users to alter the app's settings when switching from one language to the next.
Is this a feature that you're excited about? Let us know in the comments.
Source: CNET
Get the Android Central Newsletter
Instant access to breaking news, the hottest reviews, great deals and helpful tips.
It is summer. Posted via Android Central App

Lol I saw that Posted from my Nexus 7 2013 running Android L or Samsung galaxy S5

It said later this summer. I know u can read....right?

Nope, never learned. Hasn't held me back until today.

I think he was referring to the headline... Chill out...

Awesome feature, but I can wait until they make it work flawlessly :) Posted via Android Central App

Nice, now I can use Google now in English and Korean Posted via Android Central App

well I'm not getting a Moto 360 until this feature is fixed

Wonder which will come 1st... Posted via Android Central App

I only really speak one language, so it doesn't matter personally. I do wonder if this is really a feature that multilingual people will use much, rather than talking to their phone in their native tongue? Posted via Android Central App

My phone is set to English but I have contacts I message in Spanish. If Google now could handle the send text command in English with content in Spanish it would be great..
Posted via Android Central App

Good example, nice one. Posted via Android Central App

I could not give a better example. Contacts and Text messages are the ones that are the hardest to use with voice commands.
My phonebook has 20 different nationalities (and different names), I can correctly pronounce all of them but google wont understand the "native tongue"
My only solution for now is to use "phonetic" name for example Dietrichsen is pronounced Diet - Rich - Sen.
With text messages in different language that will be hands down the best feature

Yeah, I also wrap my head around that phonetic game in order to have names in Spanish be recognized (and Spanish is much closer to English) but it's surely a hassle and most people don't bother at all... From what I've seen amongst friends/family they'll either not use said functionally or they'll switch it to Spanish and end up not using it anyway cause of the more limited scope. You'd think the second most spoken language in the world (I think?) would get more Google love. They really need to work on this if Wear is gonna succeed...

I mix and match between Dutch and English constantly. One of the reasons I prefer SwiftKey over the Google keyboard (in the Google keyboard you need to select the language, SwiftKey recognizes it automatically). My phone is now set to English as is supplies more functionality and it is usually better when searching for information, but would love to do Dutch searches without having to go into the settings Posted via Android Central App

Native Spanish speaker here but I learned English at an early age (as lots of people do in Puerto Rico). I speak to my phone in English and would continue to do so if this went live but it'd be lovely if it could understand the Spanish pronunciation of names rather than me having to mispronounce most of the names in my contacts in order to get the phone to recognize them. Basically being able to say Cristina rather than Christina etc (doesn't help that I've got two Cristinas and one Christina in my contacts, but I have to pronounce that Ch for it to find any of them regardless).

Being in Canada and on the border with Quebec, Google voice commands are currently pretty much useless as it can't recognize any name or street name that might be based in French. That means no calls to anyone in my address book with a French name or navigating properly to a French address. For some people/addresses, I can think of how it might be said in English and use that but more often than not, Google Now just opens up a useless web search result for something that has not relation to what I asked it for. Hopefully this gets fixed soon. My BB, however, has absolutely no issues with French names... Though the voice commands don't have as many options and aren't as fast.

I would be glad if they add the function "ok Google" to other languages to.

Yes, please! Not only that, the rest of the world needs a more complete experience of Google now such as the English speaking countries. Posted via Android Central App

I mainly use English so this isn't a big deal, but I hope they finish their work on it soon! Posted via Android Central App

That will be awesome! As a Spanish teacher, I often search for authentic resources in the target language. Hurry up Google! School starts soon!