Movies purchased via Google Play have extra content in Movies Anywhere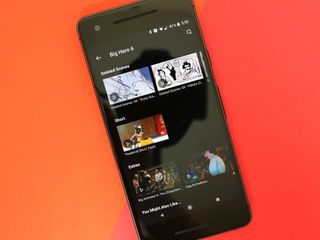 When Movies Anywhere launched this past October, it came as a true godsend for those with extensive digital libraries sprawled across multiple platforms. Being able to store and watch all your movies from Google Play, iTunes, Amazon, and Vudu in one location is still pretty magical, but it looks like there's an extra benefit for titles purchased on Google Play Movies that we didn't notice until now.
Google Play Movies has come a long way since its launch, but there are still certain areas where it's lacking – one of these being included extra content. There are some titles on Play Movies that come with behind-the-scenes clips and bloopers, but they're few and far between when compared to something like iTunes.
However, if you've purchased movies on Google Play and link your account to Movies Anywhere, you'll be able to watch any extra content that comes with those titles on other services in Movies Anywhere.
For example, if you purchased a movie like Big Hero 6 on Google Play Movies, you'll see that it doesn't come with any sort of extras. However, if you link your Google account to Movies Anywhere, you can jump to the Movies Anywhere app, open up Big Hero 6, and watch deleted scenes, interviews with some of the people behind the movie, and even the short Feast that aired before the movie in theaters.
Big Hero 6 on Google Play Movies (left) compared to Movies Anywhere (right). Note the disparity in extras.
I've checked multiple movies in my personal collection, and I can confirm that there's extra content for titles in Movies Anywhere that just isn't available in Play Movies – even though I originally purchased them through Google.
Movies Anywhere was already a game-changer, and this latest discovery just makes it even better.
Movies Anywhere lets you watch your digital movies on any service, and Google is a launch partner
Get the Android Central Newsletter
Instant access to breaking news, the hottest reviews, great deals and helpful tips.
Joe Maring was a Senior Editor for Android Central between 2017 and 2021. You can reach him on Twitter at @JoeMaring1.
I have the Diehard collection i purchased on GooglePlay and see the extras in the Movies Anywhere but not in GooglePlay Movies...Very cool :)

Movies Anywhere is amazing, I noticed this awhile back. It's nice to know that I can watch via any service I've purchased movies from and get the extras. I've only had one issue where I bought a movie (Atomic Blond) from Google Play that says it's Movies Anywhere enabled but I'm not seeing it anywhere else and there isn't a way to manually refresh.

Thanks for this. Just signed up and the main feature I appreciate is the ability to watch my movies in Spanish. My wife is Peruvian and her parents speak and understand a limited amount English. Chomecasting movies will become more enjoyable... Well for them. I'll be using this just for Chomecasting. Video doesn't fill the screen on my Note 8.

I've actually found that it also includes videos that were purchased through FandangoNow due to the fact that my FandangoNow account was linked to UltraViolet, and my UltraViolet account was linked to Vudu. So, any title that was purchased through a service that is linked to UltraViolet should also show up in your Movies Anywhere library as long as you have one video service, such as Vudu, that is linked to both movie lockers.

Not all UV movies will show up in MA. Movies distributed by Paramount will not show up right now because they aren't apart of Movies Anywhere.

You sir, are correct. I just noticed a TON of movies that I've claimed the UV codes for automatically populate in Amazon, Google Play and the other services I linked to Movies Anywhere, but weren't originally linked to my UV locker. I didn't go through and check every single title. So I guess if you have a UV code and it's also available in MA, it'll transfer to that also. I also had a couple titles I purchased through FandangoNow, which is not part of MA but is UV, also show up in UV because those titles were showing in my Vudu library, which is both UV and MA. So they must have been MA titles.

A lot of these extras are on VUDU too, so if you prefer that app you can check the extras there.

I want to buy zootopia but I don't understand the article

This is good to learn! However my excitement was lessened when I looked and it appears that such special features can *not* be downloaded to an Android device for offline viewing (like on a plane). For example, in my busy life, I am lucky to see the normal movie in the first place......the only way it seems I'll get to watch a movie with, say, "director's commentary," is while I am on a plane, or other offline scenario. Hopefully I simply overlooked the ability to download a movie's special features to my Android device?? Thanks!