MOTOACTV specs and features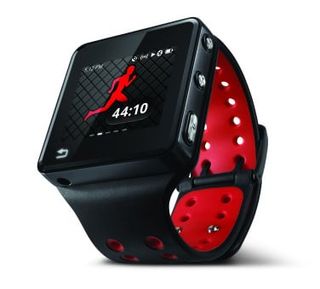 So here are the specs and features for the MOTOACTV, Motorola's answer for getting us all in better shape.
Ongoing tracking of fitness performance stats, including pace, distance, calories burned, and map of route covered, with automatic wireless syncing of workout data to MOTOACRV.com
8gb or 16gb of storage for endless playlists.
Sports a 1.6 inch full-color touch-screen display that is sweat-proof, rain-resistant and scratch-resistant Corning Gorilla Glass that auto-adjusts for indoor and outdoor lighting.
Option to sync with latest Android-powered smartphone to receive incoming calls and texts.
FM Radio capabilities for more song variety.
Up to five hours of battery life for outdoor workouts, 10 hours indoors, and nearly two weeks on standby.
Supports both Bluetooth 4.0 and ANT+ for wireless connectivity for your existing fitness sensors and your future ones
Size: 46mm x 46mm x 9.6mm
Weight: 35 g
It also runs Android (no word on what version, but probably doesn't matter here) and was stated to have a 600mhz processor.
Android Central Newsletter
Get instant access to breaking news, the hottest reviews, great deals and helpful tips
Ima get this for sure. Also first

I can see this really taking off. My hometown, San Diego, has TONS of people who wear old school feature watches that try to cram everything into a 1" greyscale display. If you are hating on this product and have never even considered running a race of any kind then you are not the target audience. Thousands of people last year ran marathons and a good amount of em have a high tech watch that doesn't even do half of what this does.

Yea Im sold. I was gonna turn a nano in to a watch but this seems much better and it connects to my phone. Next all i need is ICS on my SGSII

Finally - a device that has everything rolled into one! Music, GPS and Bluetooth that is compact enough to not be obtrusive. What took so long? Thank you Motorola!

Looking forward to this!! This will replace my Ipod touch for music, Blackberry for GPS tracking, Polar Watch + Chest Strap for Heart Rate Monitoring...best of all...IT'S WATERPROOF and COMPLETELY WIRELESS!

before I red this I thought it was going to be am app

red this? Is this some kind of play on words about Motorola's beloved color selection for its droid products?

I currently run with my Droid X straped to my arm, which is somewhat cumbersome...this looks like the device to have. So when is AC going to be giving one of these away? ;-)

Does it have a bicycle mode? I would love to wrap that around my handle bar. Does it connect to bluetooth headsets? If the answer is yes to both then I would highly consider purchasing one.

Yes to BT headset.. I am also curious about bike. I would guess that it would work in some capacity

Amazon is already has it for pre-order along with accessories including a bike mount :-) And yes it not only connects with a bluetooth headset is comes with one that doubles as a heart rate monitor, read from your ear canal. *correction it does not come with the the bluetooth headset, it's a separate purchase.

Can't wait till apple invents this in 2013..

So it does have ant+ I'm sold!

What about watch functions,does it have alarm or calendar and can you switch faces and can it be upgraded with firmware, just a few more details cause I'm almost sold
Android Central Newsletter
Get instant access to breaking news, the hottest reviews, great deals and helpful tips
Thank you for signing up to Android Central. You will receive a verification email shortly.
There was a problem. Please refresh the page and try again.