Mobile Nations fitness month week 3: Sleep and relaxation!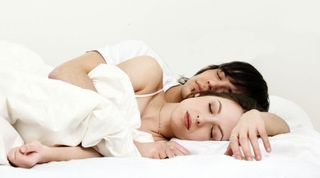 It's February and you know what that means? Mobile Nations Fitness Month! That's when we all get together to get in shape, share tips and tricks and recipes for success, review amazing apps and accessories, give away great prizes, and have a ton of fun! This year we're doing it a little differently, though. We're doing weekly themes, and that means every week you'll have new and exciting challenges, and new chances to win!
Week 2: Sleep and relaxation!
Relaxation, whether its full on mediation or just some simple breathing exercise, is how we keep our bodies and minds centered and balanced. Sleep is our reboot, when we write our daily cache to disk and run our system repairs so we're ready for the next day. As part of fitness month, we'll be reviewing a bunch of great apps and accessories that can help encourage, track, and train us to sleep and relax better and smarter. We'll also be doing THREE cool contests!
Resting Up contest
First is our Resting Up contest. Every day this week there'll be a thread in our health and fitness forums, and all you have to do to enter is tell us how you slept, napped, meditated, or did your breathing during the day. The idea is to get a little community pressure going so we all sleep and rest better and get healthier. If you have a food tracker, app, or anything else that helps you out, you can simply share your results each day!
This is a great way to keep us all motivated and accountable, and get a little healthy peer-pressure going! Plus, every day you enter is a chance to win a $20 gift certificate!
Resting MY Way contest
Second is our Nutrition MY Way contest. Just head on over to Resting MY Way thread in the forums and tell us how you use your mobile device, your phone or tablet, to sleep and rest better. What are your favorite apps? Yoga? Meditation? White noise? What are your go to accessories? We want to know! Tell it to us in the form of a story, like a blog post. We'll post the best entries on Friday, so get them in ASAP! Need more incentive? We'll pick one winner a week and send them a $100 gift certificate!
Comment to win contest
Last but certainly not least, leave a comment below telling us about your Mobile Nations Fitness Month goals and you'll be entered to win a Fitbit It's a great -- and super geeky! -- way to track multiple aspects of your healthy lifestyle. You want to win this, so hurry up and leave a comment NOW!
Android Central Newsletter
Get instant access to breaking news, the hottest reviews, great deals and helpful tips
Rene Ritchie has been covering the personal technology industry for almost a decade. Editorial Director at Mobile Nations, analyst at iMore, video and podcast host, you can follow him @reneritchie on [Snapchat](https://www.snapchat.com/add/reneritchie), [Instagram](https://instagram.com/reneritchie), or [Twitter](https://twitter.com/reneritchie).
My goals for fitness month is to get healthier, more fit and sleep better. Thanks Mobile Nations!

I want a fitbit so bad. I want to get in better shape and seeing all those stats visually would be very motivating.

Right now, my goal for Fitness Month is to get back into it. I'm still recovering from surgeries, so I can't fling myself fully, but I aim to walk at least 15 minutes a day at least.

Goal: Getting healthy to make sure I'm around for a long time for my son.

my goal this month is pretty simple, stay on course. i've been taking a lot of hikes and walks around town the last few months. now i'm just trying to maintain this higher level of activity.

My goal for this month is to run three miles in under 20 minutes. Currently, I am able to run three miles in about 23 minutes.

My goal is to not eat past 7:30p.m. and do push-ups during commercials when enjoying TV time...

My birthday is Dec 31 and my new year resolution this year is to look like Captain American by my birthday this year. Doing good do far. 13 lbs lost.

i want my clothes to fit again and not stretch to their very limits when i put them on... i want to be able to run without seeing body parts jiggle constantly... trust me... i need a fitbit..

My goal is to continue to eat healthy and have good portion control. Also, I have been walking at least 1 mile at lunch with co-workers, so I want to keep that up everyday!

My goal in a nutshell is to jumpstart myself into a more healthy lifestyle. I'm honestly not expecting any miracles in a 28-day period, so I'm not going to claim to want to lose x-inches or y-pounds or anything, but if I can manage to get myself to start a more-regular habit of eating right and exercising properly, that will be great. By the end of the year I want to be able to say I've done a 5k, and made myself healthier, and with any luck, MNFM will be a great way to kick that into gear.

My goal is to start getting 8 hours of sleep a night and to start eating heather lunches by bring my lunch to work.

My goal is to start eating healthier and get more active. It is time for a change and I think the fitbit would help motivate me even more.

I pretty much do whatever Georgia tells me to do.
Actually, I am 62 and have felt for many, many years that sleep and relaxation are the cornerstones of health.
Many other factors contribute to good sleep such as limiting caffeine and alcohol, eating correctly and getting some exercise to clear stress and burn energy so you can rest. Also, don't lie or cheat; pay your bills and don't spend more than you earn so you don't lie awake worrying. One of my life's axioms is "Always tell the truth, that way there is less to remember."
Aloha, I must go for my 2 mile walk now.

Just started back into the Gym, so this months goal is to make it to Gym 3 times a week and to walk around the local lake once a week (in Minnesota that is fairly good this time of the year).

LINK ERROR: The link Resting up contest has an extra h before http so it doesn't work. My fitness goal is to eat better but not very successful so far.

my fitness goal is to lose a few pounds. A fitbit might help.

My fitness goal is to continue to eat healthy and maintain moderate exercise throughout my pregnancy.

My fitness goals are to keep up with my couch to 5k schedule and monitoring my eating habits with MyFitnessPal. A FitBit would help! :)

training for a half marathon.

Since January 7, 2013 been hitting gym 7 days a week, twice on off days. Jogging 21+ miles a week. Hitting the pool 4 times a week. Down 11 pounds. A fitbit would be a wonderful tool in my workout routine!!

Going back to rowing and becoming a lighweight (70-72.5kg) again, shall be fun!

Still fighting to lose my pounds from Christmas...

With a new job, my goal is to develop a better sleep pattern so each day I am getting enough rest for the next one.

If there is something I love to do it's sleep. I, being a nerd, don't get enough (ie Like right now) sleep so I'm using this week to balance my addiction to gizmos to my need of good and natural sleep cycles. So, um pick me. It will validate my sleeping so I won't feel like I'm wasting time with the shut eye.

This month, my goals are to: - lose another 5 lbs (over the whole month)
- Get outside more often
- Climb 3x / wk
- Dance 2x / wk
- Eat fewer and less inflammatory foods
- What my calorie intake vs output
- Sleep more consistently
- Roll and stretch every other day
- Yoga 1x / wk The tech tools I'm using:
Nexus 7 / EVO 4G LTE
Zephyr HxM
MyFitnessPal
Endomondo Pro (Integrated into MyFitnessPal)
Runtastic Pro (Integrated into MyFitnessPal)
aTimer (Best multi-time timer I've seen yet!)
Zombies 5k
Fitness Test (And hopefully a FitBit one day very soon!)
Android Central Newsletter
Get instant access to breaking news, the hottest reviews, great deals and helpful tips
Thank you for signing up to Android Central. You will receive a verification email shortly.
There was a problem. Please refresh the page and try again.