Video: Hands-on preview of MixRadio for Android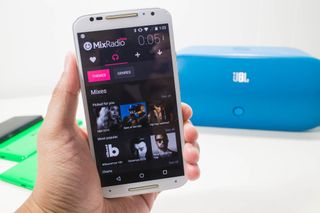 MixRadio, a popular music-streaming app on Windows Phone, is about to make its way to Android and iOS devices. It's currently in private beta and we don't know when it'll become widely available. We took it out for a spin and we're impressed with it so far.
Want to see it in action? Take a look at our hands-on video.
Windows Phone users are probably going to get jealous at how beautiful MixRadio looks on Android. It has been completely redesigned. Windows Phone users will get a similar look sometime in the summer.
The MixRadio app has four sections that you can quickly access by swiping left or right from the main screen: My Mix, Mixes, Be the DJ, and Offline Mixes. My Mix creates a personalized mix by from your favorite genres and artists. The playlists continues evolving as you like or dislike songs. The Mixes section lets you browse through various mixes depending on themes or genres. There are many to choose from. Be the DJ lets MixRadio create a mix depending on artists you've added.
What's great about adding artists to your My Mix playlist is that it dynamically suggests other artists who you might be interested in. For example, if you select Nicki Minaj, MixRadio pops up Beyonce and Rihanna in the artist selection screen.
My favorite feature on MixRadio is offline mixes. You can download any of the mixes, including your personalized My Mix, so you don't have to depend on cellular data while listening.
Wherever you are in the MixRadio app, the play timer stays on the top right corner. Tapping it shows what's currently playing. The two important buttons on this screen are the like and dislike buttons. Like a song to make sure your playlist plays more songs like it. The dislike button skips the song right away.
MixRadio is currently in private beta, but we like what we see so far. What do you think? Would you use it on your Android device? Let us know in the comments.
Any link ?
Or when will b launch date ?? Posted via the Android Central App

Can i get it now? Posted via zenfone

i just searched in the google play store i can't find this app :(

Its a private beta mate...as mentioned in the article...

Is it able to play local music stored on the phone like the Windows Phone version can?

This. Posted via the Android Central App

I hope so. I had a Lumia 521 for a few months between my Pre 2 and my Moto G. There were several little things that bugged me, but MixRadio made it hard to leave. Posted via Android Central App

I don't see why it wouldn't but we'll have to wait and see. Posted via the Android Central App

This is great news. Mix radio is one of the things I miss about Windows phone. Best streaming music service ever.

I hope to try this soon! Posted via the Android Central App

Can't wait to try this on Android! Posted via the Android Central App on my OnePlus One

Will this be free? via the beastly NOTE 4

Going forwards, it's hard to know.
When this was called Nokia Music it was free. Then it got re-branded to Nokia MixRadio and was still free, though you could also pay for a subscription to be able to skip more than the limit of skips you have per hour, When this moved to Microsoft, the "Nokia" brand was understandably dropped but the service remained virtually the same. However subscriptions were cancelled as Microsoft wasn't interested in keeping the service (as it overlays a bit with Xbox Music). Then Microsoft sold MixRadio to LINE. Will it still be free? Yes. Will it have a subscription model? Probably. Will it now have ads amidst the songs? Most likely.
So, in a way, it will probably function like Spotify, except here you don't need to know what song you want to listen to, you can let MixRadio play songs for you tailored to your tastes.

Can we play music stored in our phone ? Posted via the Android Central App

It looks so good though. Good memories from my Windows Phone days. Posted via the Android Central App

Enjoy guys! http://www.apkmirror.com/apk/mixradio/mixradio-beta/mixradio-beta-2-2-18... Posted via the Android Central App Nexus 6

The service looks great. I would be interested to give it a try. Perhaps what matters the most to me is the wide choice of artists / albums / compilations. I would also like to know when they will have artists in languages other than English. I listen to a lot of French music.
Android Central Newsletter
Get the best of Android Central in in your inbox, every day!
Thank you for signing up to Android Central. You will receive a verification email shortly.
There was a problem. Please refresh the page and try again.