MiniSuit BluBoard Bluetooth keyboard review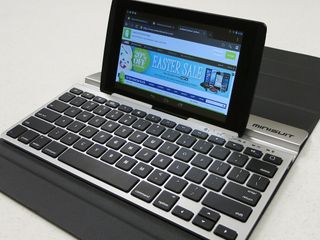 Last year we reviewed the MiniSuit Keyboard Case for Nexus 7, a well-designed tablet-specific Bluetooth keyboard. As it turns out, MiniSuit has more keyboard offerings for Android users. The cream of the crop is the MiniSuit BluBoard, a universal Bluetooth keyboard that works with Android, iOS, and Windows devices.
The BluBoard is designed for tablets up to 10-inches in size, making it quite a practical way to get typing work done on larger tablets. But it can also hold smaller tablets like my Tegra Note 7, as pictured. If you're looking for a full-sized keyboard for your Android and other mobile devices, this might be the one for you. Head past the break for a closer look at the BluBoard.
Fold that keyboard up
The MiniSuit BluBoard is a silver keyboard with black keys. It comes built into a non-removable black folio case. The front and back flaps of the folio can fold up under the keyboard during use, creating a steeper angle for the keyboard.
When not in use, the folio folds up and stays closed using magnets. The folio/keyboard is about one centimeter/half an inch thick when closed and weighs one pound. In other words, it's light, thin, and easy to carry along with your tablet or inside of a bag.
Keyboard construction
The keyboard itself measures 11 x 7 x 0.5 inches – about the size of your average 10 inch tablet. Just above the top row of keys are the Bluetooth button, power slider, and LED indicators for Caps Lock, battery, and Bluetooth. The Bluetooth button puts the keyboard into discovery mode. The power slider requires a little too much effort to push, but works well enough.
On the right side of the keyboard is a micro-USB port. The BluBoard has a built-in rechargeable battery that provides 120 hours of working use, according to MiniSuit. Having to charge the keyboard before its first use is a minor hassle, but after that it should hardly ever require additional charging. Luckily the keyboard can be used while charging, and it does come with a micro-USB cable.
Keys
The BluBoard has all of the most important keys you would need, though as with any small keyboard it does sacrifice a few useful ones. The top row of keys defaults to shortcut keys. Most of these only function with iOS, but Volume Down and Volume Up do work with Android. Shame it lacks a dedicated Home screen button for Android, unlike iOS and Windows. Pressing Escape does act as the Android back button, at least.
The BluBoard's Delete key actually acts as Backspace, deleting the character to the left of the cursor instead of the right. The keyboard lacks a true Delete key, nor does it have Insert, Page Up, Page Down, Home, and End keys that I could find. Those omissions could limit its utility for serious document editing, though most regular users probably won't mind too much.
Tablet stand
MiniSuit's BluBoard includes a built-in tablet stand that will hold most tablets up to 10-inches in screen size at an optimum angle. My 7-inch Tegra Note 7 fits just fine as well, though I've heard the slot might be too loose for phones. Just slide the tablet in and it should fit securely. Tablets can also be used in portrait orientation without issue.
The BluBoard's tablet slot has another downside: it's not case-friendly. If you use a case with your tablet, you'll probably have to remove it in order to get the tablet to fit within the slot. Not a big deal, really.
Android setup
Having positioned your tablet for use with the BluBoard, you'll then need to connect it via Bluetooth. The process is fairly simple:
Go to Settings and select Bluetooth.
Turn Bluetooth on.
Switch on the keyboard and press the Bluetooth button. The Bluetooth LED should start blinking.
After Android detects the keyboard, select it and Android will send a pairing request.
Android will display a series of six numbers for you to type on the keyboard. After typing them, don't forget to press Enter.
After a few seconds, the keyboard should be paired with Android. You're ready to type emails and leave positive comments on our articles!
You can test the keyboard by pressing Escape, which should back you out of the Bluetooth menu. Enjoy typing in various apps with keyboard support, or use keyboard shortcuts to launch apps and perform shortcuts within supported apps.
Overall Impression
Other than being a well-constructed keyboard, the MiniSuit BluBoard has two key advantages: compatibility and price. It's great to have one keyboard that will work with most or all of your tablets, be they Android, Apple, or Windows. Even if you replace whatever tablet you've got down the line, this keyboard should still work with it. Can't say that about a device-specific keyboard.
Then there's the price. Although the suggested retail price of the BluBoard is $89.95, both Amazon and MiniSuit sell it for $39.99. You can find cheaper Bluetooth keyboards, but they're usually smaller and don't come with a built-in case like the BluBoard. The versatility and build quality of the BluBoard make it a great buy for Android and other tablet users.
I think the main thing will be the reliability. The Nexus 7 MiniSuit has had a ton of bad comments on DOA or early failures. I'd personally pay more for that one or this to get something that lasts at least a couple years. This is something y'all should consider on product reviews: a poll for folks to respond with #days of trouble-free free use of hardware.
ADS

Well, we're certainly interested in hearing about reader experiences. This one has really strong user reviews at Amazon, at least.

Eh... Not really impressed. The slot to hold your phone/tablet is too small. No dedicated home or multi-task button. Many top buttons do nothing on Android. Just too many cons.

I'm surprised that there's no app available to remap the keys from iOS to Android. Really? Posted via Android Central App on my HP TouchPad (Schizoid PAC-ROM 4.2.2)

Looks good enough for its price. Serves its purpose well. I guess that's all that matters.
Android Central Newsletter
Get the best of Android Central in in your inbox, every day!
Thank you for signing up to Android Central. You will receive a verification email shortly.
There was a problem. Please refresh the page and try again.