Microsoft releases OneNote Clipper for Chrome, Springpad migration tool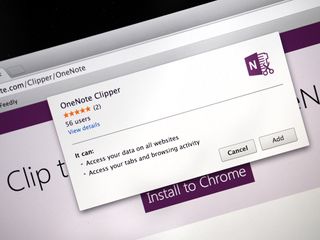 Microsoft has released a Chrome extension for their note-taking app OneNote called OneNote Clipper. You can install the extension either by going to the OneNote website, or the Chrome Web Store. From there, OneNote Clipper lets you save webpages and clips to OneNote to be viewed later.
But that's not all. Microsoft is also releasing a migration tool for Springpad users, letting them move their Springpad content over to OneNote. Springpad announced its shutdown last month, with service shutting down on June 25. Users can download their data in a ZIP file. To migrate their data to OneNote, users will will upload file to Microsofts migration tool, and Microsoft will notify you when the upload is complete. Springpad users will not need to sign up for OneNote to get their first notebook.
What do you think of OneNote Clipper for Chrome, and will any of you Springpad users be making the move to OneNote? Tell us below in the comments.
Source: OneNote, SpringPad to OneNote, via TheNextWeb
Sweet thanks! I absolutely love One Note. Use it for work every day and find myself using it more and more in my personal life.

Nice. I use One Note all the time. Using it on my Chromebook will make it easier. Meanwhile at Windows Phone. *cricket* Posted via Android Central App

I will stick with using Google Keep :)

I quit using all my other note taking apps for Keep

One note is pretty popular! Posted via Android Central App

After running around trying different note apps I settled with OneNote just this week, it's awesome I can export my data so easy!

The clipper falls way short of Evernote's. Onenote's is basically just a screenshot of the article, and while you can annotate the image once it's synced to your account, you can't really edit the content within the article. Evernote offers screenshots, article view, simplified article view, bookmarks, and full page, and you're able to annotate the images as well as edit the article's content. Evernote's web clipper is the primary reason why I use Evernote, not OneNote, as my cabinet. But OneNote is an excellent product, nonetheless.

I don't understand why I can't get onenote I'm in thailand. It says not available for your area. But I have office outlook with one note. But not android. Any ideas Posted via Android Central App
Android Central Newsletter
Get the best of Android Central in in your inbox, every day!
Thank you for signing up to Android Central. You will receive a verification email shortly.
There was a problem. Please refresh the page and try again.