Microsoft adds faster ways to earn Bing Rewards on Android and mobile browsers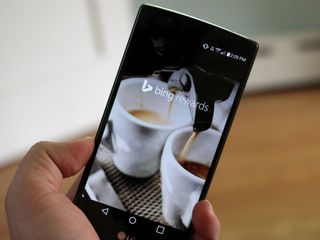 Microsoft is making it easier for Android and mobile web-based users of its Bing Rewards service to earn points and redeem them for items and more with an update to its interface.
In case you have not heard of Bing Rewards before, it's a free Microsoft program for US residents only that encourages them to use the company's Bing search service. People who sign up for the program can collect points when they use Bing which can then be exchanged for items like e-gift cards and more.
If you are using Bing Rewards from your mobile phone web browser, or via the Android app, Microsoft says you will be able to see these improvements:
Source: Microsoft
I love Bing Rewards, I've received tons of $5 Amazon gift cards.

Same. I've been doing it for years, have well over $50 bucks worth of Amazon GCs that I've amassed.

While I'm a Surface Pro 3 user/fan, I'll stick to Google search. It's always provided much more reliable and relevant results without any need for a rewards incentive to use it. Rewards points don't motivate me anyway whoever is offering them. Besides, I never search while logged into any account; Google or otherwise which I presume would be needed for this reward program.

Bing still gives relevant results. Posted via the Android Central App

You do need to be logged in, but it is really easy to do and you essentially only have to do it once.

Google is good for most searches, but Bing always seems better with pictures and video searches. Also their news searches are pretty good. The reward system though has made me use it more lately.

Bing is the default on my work computer(that they won't let us change), so this is really good. I can earn while I am working!

Same here. I've already redeemed over $50 in Amazon cards. I've currently have over 5k points. I'm holding off till Christmas to see whats out here.

In my experience Bing, in general does give subpar results vs google when looking for something very specific or when looking for answers to questions phrased as a question. However for the day to day it does just fine. The overall experience is close to google. Their rewards program has worked on me and im using it quite a bit versus not at all. And i pretty much get free Hulu and free Amazon Prime. (I get enough points for hulu in about 11 days and $5 amazon gcs per month ($50 prime student membership)). Works great.

I notice when binging about android roms/help/etc. bing is worst than Google.
I wonder why....Microsoft? Posted via Android Central App on 1+1

I agree that Google is better at web searches. Bing's strength is definitely in the image and video. But the reward points has tipped it for me, mainly because the rewards are useful.

I love bing awards! Free starbucks cards! Posted via Android Central App on 1+1

that is what my friends and i usually get too. but i might give the mobile version a try.

The app sucks plain and simple. It's a not very good web browser with Bing as the default search engine. Just use chrome with Bing as default and it works much better. If I NEED great specific results I use the Google app Posted via the Android Central App

Faster ways to cancel your accounts is more like it. My whole family lost theirs today. So even if you are legitimately searching, be warned.
Android Central Newsletter
Get the best of Android Central in in your inbox, every day!
Thank you for signing up to Android Central. You will receive a verification email shortly.
There was a problem. Please refresh the page and try again.