Advertisement Feature
Meet Ting, a different sort of mobile carrier that charges only for what you use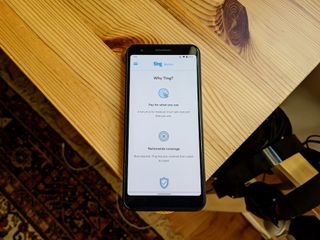 You have enough worries, so how much your phone bill is going to cost this month shouldn't be one of them. That's the idea behind Ting Mobile (opens in new tab), a mobile phone carrier that's doing things differently. If you've ever complained about how little control you have over your monthly cell phone bill, Ting Mobile could be perfect for you.
We all know that unlimited isn't really a thing. If it were, wireless carriers wouldn't offer so many plans with so-called unlimited data.
With Ting, there's a level of honesty that other carriers can't replicate. You pay only for the data you use with Ting, not those big buckets of data you keep shelling out for "just in case." Since most of us are on Wi-Fi all day, this is a no-brainer.
The average person spends just $23 a month with Ting and still has access to nationwide LTE and GSM calling, texting, data, calls to more than 60 countries, and international roaming.
You take total control with Ting! Using the free Ting app for Android and iOS, you monitor daily and monthly usage, set hard data limits, and see exactly what you'll pay for service at the end of the month. There are no hidden fees and no surprises. That's the Ting guarantee.
And support? It's amazing. You won't get the runaround with Ting. Instead, you'll get a real person offering real answers. Help is available 24/7 via mobile app, email, 1-800 number, and online chat.
Best of all, your current phone is likely compatible (opens in new tab), so you won't have to spend more money for a new model. Ting supports the latest and greatest offerings from Android and Apple, including the Samsung Galaxy Note 10, Apple iPhone 11, and the Pixel 3.
Ting features nationwide LTE coverage on the T-Mobile and Sprint networks, so you're covered coast to coast by today's best networks. The only difference is that you'll pay a fraction of your current cellphone bill.
There are no contracts with Ting. That means you can try out the service and network risk-free. Pop in a SIM card and you're ready to roll. It's that simple.
Ting is the ideal choice for families, individual users, and even gamers. Take back control of your phone bill without risk.
Ready to try Ting and sample today's most affordable wireless carrier?
Ting Mobile
Try Ting Mobile with a $50 credit. No contract, no bill surprises, no hassle.
Android Central Newsletter
Get the best of Android Central in in your inbox, every day!
Android Central Newsletter
Thank you for signing up to Android Central. You will receive a verification email shortly.
There was a problem. Please refresh the page and try again.