This is the essential NaNoWriMo survival kit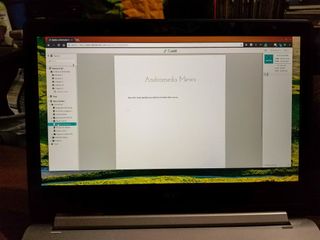 November has dawned, and while for many people this means No Shave November or prepping for the holidays, for me and hundreds of thousands of other fiction writers around the world, November is for writing a novel. For us, November is NaNoWriMo, National Novel Writing Month, where we try to write a complete novel of 50,000 words or more inside of a month without losing our minds in the process.
We're six days into the chaos, so I've collected my survival kit. These include the technology, apps, and accessories that I use to survive when I'm spending hours each night staring at a screen and manically typing.
Dabble Writer
The most important aspect of NaNoWriMo is having a writing program that is easy to use and does absolutely everything that you want it to. In years past I've used Google Docs, Scrivener, Word, and even one year where I tried to write by hand. Out of all the programs I've played with, though, my experience with Dabble Writer has been the best, hands down.
This is a web program that lets you manage your novel, add chapters, scenes, edit and adjust your plotline, and so much more. It's all online, and while there isn't a mobile app available quite yet, it does everything you need it to without getting in the way of your actual goal — writing a novel. There is even a special mode for NaNoWriMo, which will automatically sync your word count with the main NaNo website, making keeping your word count up to date simple and easy. There's even a feature to export to word to back up your manuscript, and since everything is saved on the cloud you can bounce from one computer to the next without having to worry about losing work in the process.
Dabbler usually requires a monthly subscription of about $4.99, but they're running a trial for anyone participating in NaNoWriMo, which will give you free access through December 6th. Additionally, NaNo participants can 20% off for the year, and NaNoWriMo winners can grab it for 50% for a year.
Download: Dabble Writer ($4.99/month)
Starbucks app
During November, I tend to spend basically every spare moment tucked into a corner typing away towards that 50k goal. Doing that without something to keep me going can be pesky, so I tend to drink coffee. A lot of coffee. To make sure that I get that perfect latte, and that I'm not wasting perfectly good writing time waiting in line, I use my Starbucks app.
I can order ahead and pick up my drink when I arrive, and I can get as much espresso as will fit into a cup, to make sure that those neurons are still firing properly. It's also easy to load up a caffeine budget on the app, and since I'm a gold member, I even earn myself free goodies in the process.
Download: Starbucks (free) (opens in new tab)
Evernote
Trying to keep track of everything that my brain throws at me for a new story is never an easy prospect, and in the days before smartphones, you could generally find me carting around a folder filled with printouts, scrawled notes, pictures I'd taken, and anything else I thought I might need during the course of my writing.
Evernote made that so much easier. I can add notes, create Notebooks to hold information for characters or settings, and save photos to those Notebooks as well. With the web clipper for Chrome, I can also snag important snippets and save links, and it's all synced between my mobile device and computer. I can even draw doodles for family crests of chunks of map that pop into my head at an inopportune moment.
Download: Evernote (free) (opens in new tab)
Chromebook
While apps and programs to write with are all handy, they don't do me any good if I don't have a solid device to do the actual writing on. While I have a desktop and a MacBook that I could be using, I've found that my Chromebook gets the job done so well that I haven't touched either of them since Halloween.
My Chromebook is light, easy to use, and when it comes time to go hunting for inspiration it's a convertible, so I can use it more like a tablet. While the first few hours of writing without a caps lock was a little bit jarring, once I got into the swing of things I never looked back. Because I only open the window I'm writing in, there aren't really any distractions to keep me from working on my novel.
While I'm using an Asus Chromebook, the one that will do you the best is the Samung Chromebook Plus. Convertible, light, easy to use, and available for about $425 (opens in new tab), it does an awesome job of letting you strike out distractions and just get right to work.
See at Amazon (opens in new tab)
Spotify Music
Getting into the right mood for whatever scene I'm working on can easily be the most difficult part of sitting down to write each day. That's where music comes in. While I've got a solid 30GB of saved music on an external drive, in the last few years I've made the jump to Spotify Music. I pay $14.99 (opens in new tab) each month for the family plan, and it's worth every last penny.
I've got access to an absolutely massive collection of just about every genre, with playlists that Spotify creates from my listening trends, and thousands upon thousands of playlists for a specific genre or mood. It's also easy to transfer my own music into Spotify through local files so that I can listen to everything all from one place. Being able to jump between radio stations, playlists, local files, and even top music around the world, all without ever being interrupted by a commercial makes it easier to jump into my story and get to work.
Download: Spotify (free, subscriptions) (opens in new tab)
Are you writing?
NaNoWriMo is a non-profit that aims to get people writing and telling the stories that matter to them. While writing a novel is always difficult, doing it in just 30 days is a marathon, and having some help makes it easy to hit your goals everyday. Have you ever participated in NaNoWriMo? Do you use any of these apps to help you write? Let us know about it in the comments below!
Jen is a staff writer who spends her time researching the products you didn't know you needed. She's also a fantasy novelist and has a serious Civ VI addiction. You can follow her on Twitter.
I'm gonna start right now. It was the best of times, it was the worst of times, the X was cheap and good, but nobody brought any water.

Charles Dickens X Hunter S. Thompson fanfic?

Yes! Set in a Las Vegas orphanage in the mid-1980s.

https://frinkiac.com/video/S04E17/5yUMjAQYlCdoVYLplQt-K3_Qc70=.gif

Not a writer but I enjoyed the article and may forward it on to some others who try to do NaNoWriMo.

I'm British, so I'm not allowed to participate because it's National. Maybe one day we will have InNoWriMo... A man can dream... *sigh*

My great-great-great-great-great-great grandpappy didn't fight the Redcoats just so some Brit could write the Great American Novel! ...pay no heed to the fact that my family was still pickling herring back in Denmark at that point.

Dabble Writer link just reloads the article...

Thanks for the heads up, that's been fixed!

I've been using the Write! app (writeapp.co) for two years now, and it's my go-to for distraction-free writing.

Ooh, I hadn't seen that one before. Maybe I'll check it out after NaNo has ended.

I prefer ILYS.com as my writing tool, best for getting in the flow, imho, mH

I was an Evernote evangelist from the start, but reducing functionality to force users into recurring payments was a business practice that I was unable to condone. I would have dealt with advertising or paid a larger, one-time fee for the app, but $35 and $70 per year didn't cut it. The alternatives aren't as good, but for free or as part of a larger subscription, I'm accepting the minor headaches.

I suppose anyone diving into this isn't really a pro concerned about privacy, but I'm really hesitant to use anything online for writing, any online storage medium (like google docs unless you can additionally encrypt your own stuff), or writing on something like a Chromebook. I know, it's extreme, but I'm really not sold on the online stuff nor do I see any of the benefits programs like Dabble would provide. Was there anything essential in the article? The only actual suggestion I saw was for Dabble, everything else was more distractions than things to help you write. I do need to go back to writing, so in a way I'm thankful for the article, been slacking for months now, maybe I can get a chapter done by the end of the month. Cheers.

I see the essential phone didn't make it in the essential survival kit

Scrivener is my go-to, though I wish they'd update the look a little.
Android Central Newsletter
Get the best of Android Central in in your inbox, every day!
Thank you for signing up to Android Central. You will receive a verification email shortly.
There was a problem. Please refresh the page and try again.